Open Access This article is
freely available
re-usable
Review
The Janus Face of VEGF in Stroke
1
Department of Pharmaceutical Biosciences, School of Pharmacy, University of Oslo, 0371 Oslo, Norway
2
Institute for Behavioral Sciences, Faculty of Health Sciences, OsloMet—Oslo Metropolitan University, 0166 Oslo, Norway
*
Author to whom correspondence should be addressed.
Received: 28 March 2018 / Accepted: 1 May 2018 / Published: 4 May 2018
Abstract
:
The family of vascular endothelial growth factors (VEGFs) are known for their regulation of vascularization. In the brain, VEGFs are important regulators of angiogenesis, neuroprotection and neurogenesis. Dysregulation of VEGFs is involved in a large number of neurodegenerative diseases and acute neurological insults, including stroke. Stroke is the main cause of acquired disabilities, and normally results from an occlusion of a cerebral artery or a hemorrhage, both leading to focal ischemia. Neurons in the ischemic core rapidly undergo necrosis. Cells in the penumbra are exposed to ischemia, but may be rescued if adequate perfusion is restored in time. The neuroprotective and angiogenic effects of VEGFs would theoretically make VEGFs ideal candidates for drug therapy in stroke. However, contradictory to what one might expect, endogenously upregulated levels of VEGF as well as the administration of exogenous VEGF is detrimental in acute stroke. This is probably due to VEGF-mediated blood–brain-barrier breakdown and vascular leakage, leading to edema and increased intracranial pressure as well as neuroinflammation. The key to understanding this Janus face of VEGF function in stroke may lie in the timing; the harmful effect of VEGFs on vessel integrity is transient, as both VEGF preconditioning and increased VEGF after the acute phase has a neuroprotective effect. The present review discusses the multifaceted action of VEGFs in stroke prevention and therapy.
Keywords:
growth factor; VEGF; stroke; ischemia; exercise
Acknowledgments
The present work was supported by the Research Council of Norway, grant # 262647.
Conflicts of Interest
The authors declare no conflict of interest.
Abbreviations
| | |
| --- | --- |
| VEGF | Vascular Endothelial Growth Factor |
| ERK | Extracellular Signal-Regulated Kinase |
| PI3K | Phosphoinositide 3-Kinase |
| HIF | Hypoxia Inducible Factor |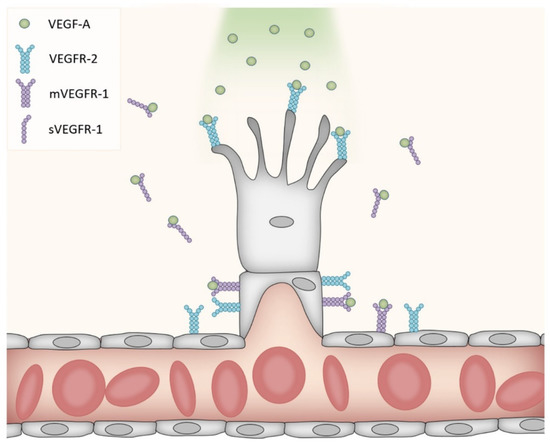 Figure 1. VEGF-A-mediated vascular sprouting. VEGFR-2 is expressed on endothelial cells (shown in gray) including proliferating cells, where it binds VEGF-A, which then induces sprouting. One form of VEGFR-1 is expressed on mature endothelial cells, while another form is secreted (sVEGFR-1). Both forms of VEGFR-1 bind VEGF-A, hence preventing the binding of VEGF-A to VEGFR-2 on non-sprouting parts of the blood vessel (decoy function). This is important to guide the growing vessel in the right direction and prevent the sprouting of neighboring cells.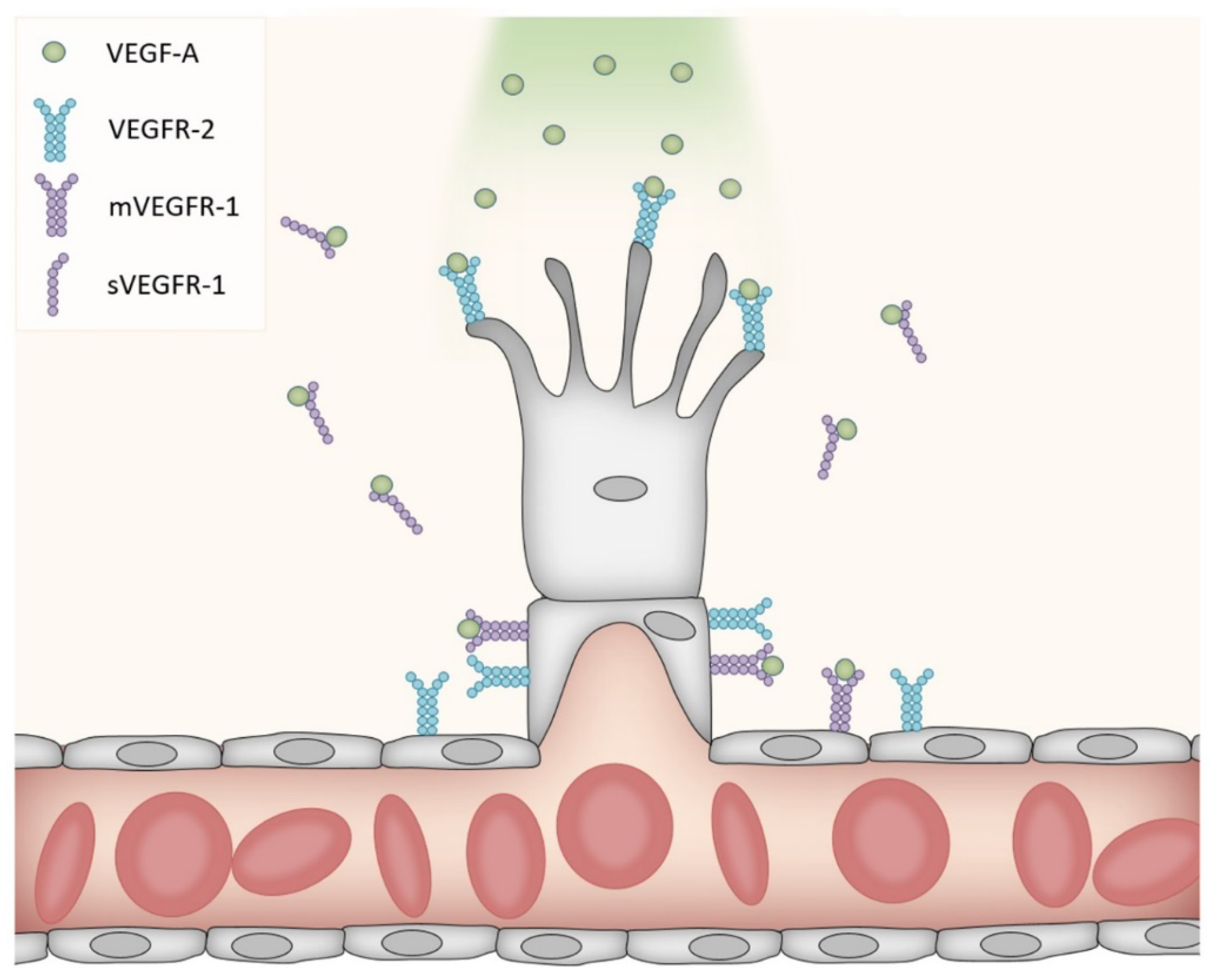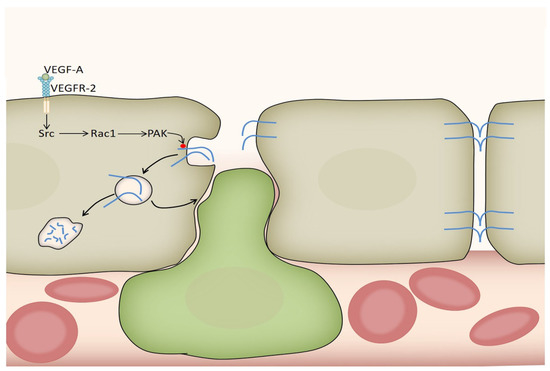 Figure 2. VEGF-A mediated disruption of the blood brain barrier (BBB). VEGF-A binds to VEGFR-2 on endothelial cells (shown in gray) of the BBB leading to the activation of the VEGFR-2–Src–Rac1–PAK pathway. Activated PAK phosphorylates (red dot) the internal tail of the cell-adhesion molecule VE-cadherin (blue), leading to its internalization and subsequently to the disruption of the intercellular junctions of the BBB. Internalized VE-cadherin is then either recycled to the membrane or degraded. The green cell exemplifies a systemic immune cell that is allowed to enter the brain through the fenestrated vessel wall along with other molecules that are normally prevented from entering when the BBB is intact. An intact adherent junction between two endothelial cells in the absence of a VEGF-A signal is shown to the left.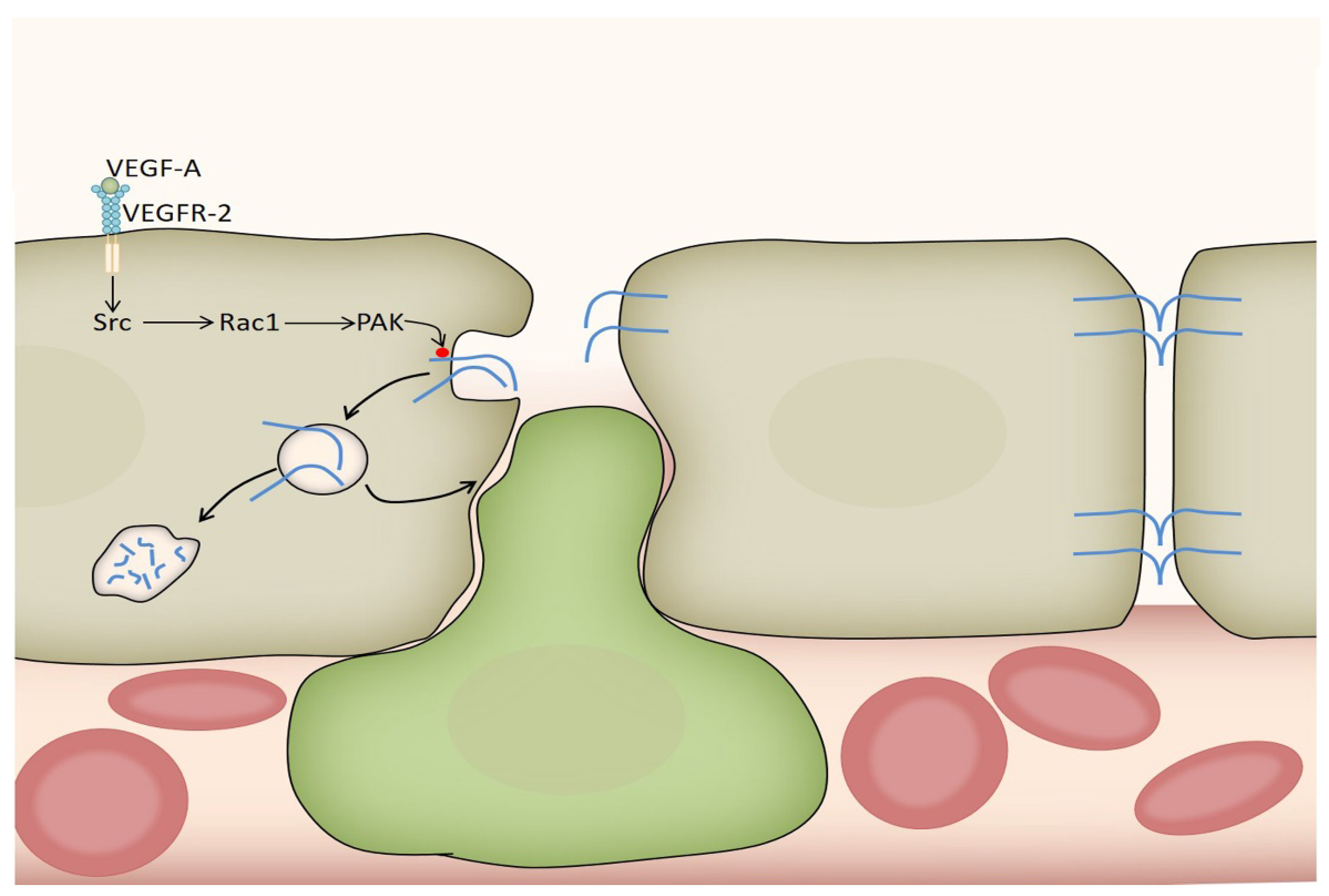 Figure 3. Effects of VEGF-A in cerebral stroke–timeline. Before stroke onset, the upregulation of VEGF-A (large arrow labelled VEGF-A), preconditioning or exercise decreases the risk of stroke as well as the outcome after stroke. The latter is, at least partly, due to the increased formation of collateral (angiogenic effects) and direct neuroprotective effects of VEGF-A. In the acute phase (0–24 h after stroke onset), the systemic administration of VEGF-A at levels leading to angiogenesis, or the intrinsic upregulation of VEGF-A lead to a leaky BBB and corresponding detrimental effects. The application of low non-angiogenic doses (e.g., via a cerebral artery) as well as the intraventricular or topical application of VEGF-A have a neuroprotective effect, even in the acute phase. In the later phase (>24 h) after stroke, increased levels of VEGF-A decrease stroke-induced neural damage.

© 2018 by the authors. Licensee MDPI, Basel, Switzerland. This article is an open access article distributed under the terms and conditions of the Creative Commons Attribution (CC BY) license (http://creativecommons.org/licenses/by/4.0/).