ScFvs as Allosteric Inhibitors of VEGFR-2: Novel Tools to Harness VEGF Signaling
Laboratory of Biomolecular Research, Paul Scherrer Institut, 5232 Villigen, Switzerland
*
Authors to whom correspondence should be addressed.
Received: 30 March 2018 / Revised: 23 April 2018 / Accepted: 23 April 2018 / Published: 1 May 2018
Abstract
Vascular Endothelial Growth Factor Receptor 2 (VEGFR-2) is the main mediator of angiogenic signaling in endothelial cells and a primary responder to VEGF. VEGF dependent VEGFR-2 activation regulates endothelial cell migration and proliferation, as well as vessel permeability. VEGF is presented as an antiparallel homodimer, and its binding to VEGFR-2 brings two receptors in close proximity. Downstream signaling is triggered by receptor dimerization, kinase activation, and receptor internalization. Our aim was to further investigate allosteric inhibition using binders targeting extracellular subdomains 4–7 of VEGFR-2 as an alternative to existing anti-angiogenic therapies, which rely on neutralizing VEGF or blocking of the ligand-binding site on the receptor. We applied phage display technology to produce single chain antibody fragments (scFvs) targeting VEGFR-2. Selected antibody fragments were characterized using biophysical and biological assays. We characterized several antibody fragments, which exert their inhibitory effect of VEGFR-2 independent of ligand binding. These reagents led to rapid clearance of VEGFR-2 from the cell surface without kinase activation, followed by an increase in intracellular receptor-positive vesicles, suggesting receptor internalization. Our highly specific VEGFR-2 binders thus represent novel tools for anti-angiogenic therapy and diagnostic applications.
View Full-Text
►

▼

Figures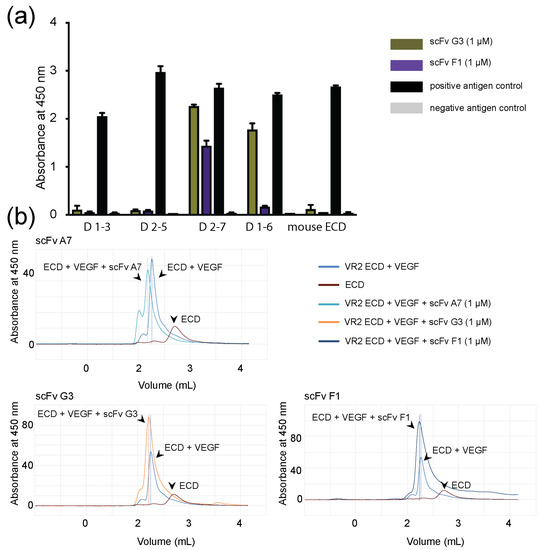 Figure 1
This is an open access article distributed under the
Creative Commons Attribution License
which permits unrestricted use, distribution, and reproduction in any medium, provided the original work is properly cited (CC BY 4.0).

Share & Cite This Article
MDPI and ACS Style
Ballmer-Hofer, K.; A.C. Hyde, C.; Schleier, T.; Avramovic, D. ScFvs as Allosteric Inhibitors of VEGFR-2: Novel Tools to Harness VEGF Signaling. Int. J. Mol. Sci. 2018, 19, 1334.
Note that from the first issue of 2016, MDPI journals use article numbers instead of page numbers. See further details here.
Related Articles
Comments
[Return to top]