Molecular Analysis of Sensory Axon Branching Unraveled a cGMP-Dependent Signaling Cascade
1
Max-Delbrück-Center, Robert-Rössle-Str. 10, 13092 Berlin, Germany
2
Interfaculty Institute of Biochemistry, University of Tübingen, Hoppe-Seyler-Str. 4, 72076 Tübingen, Germany
*
Author to whom correspondence should be addressed.
†
Current address: Institute of Molecular Life Sciences, University of Zürich, Winterthurerstrasse 190, CH-8057 Zürich, Switzerland.
Received: 15 March 2018 / Revised: 15 April 2018 / Accepted: 20 April 2018 / Published: 24 April 2018
Abstract
Axonal branching is a key process in the establishment of circuit connectivity within the nervous system. Molecular-genetic studies have shown that a specific form of axonal branching—the bifurcation of sensory neurons at the transition zone between the peripheral and the central nervous system—is regulated by a cyclic guanosine monophosphate (cGMP)-dependent signaling cascade which is composed of C-type natriuretic peptide (CNP), the receptor guanylyl cyclase Npr2, and cGMP-dependent protein kinase Iα (cGKIα). In the absence of any one of these components, neurons in dorsal root ganglia (DRG) and cranial sensory ganglia no longer bifurcate, and instead turn in either an ascending or a descending direction. In contrast, collateral axonal branch formation which represents a second type of axonal branch formation is not affected by inactivation of CNP, Npr2, or cGKI. Whereas axon bifurcation was lost in mouse mutants deficient for components of CNP-induced cGMP formation; the absence of the cGMP-degrading enzyme phosphodiesterase 2A had no effect on axon bifurcation. Adult mice that lack sensory axon bifurcation due to the conditional inactivation of Npr2-mediated cGMP signaling in DRG neurons demonstrated an altered shape of sensory axon terminal fields in the spinal cord, indicating that elaborate compensatory mechanisms reorganize neuronal circuits in the absence of bifurcation. On a functional level, these mice showed impaired heat sensation and nociception induced by chemical irritants, whereas responses to cold sensation, mechanical stimulation, and motor coordination are normal. These data point to a critical role of axon bifurcation for the processing of acute pain perception.
View Full-Text
►

▼

Figures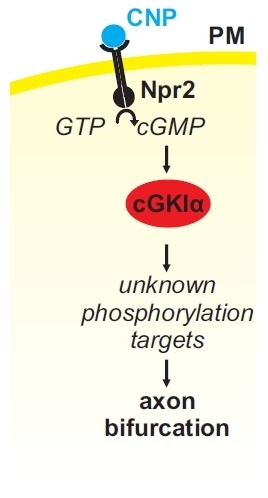 Graphical abstract
This is an open access article distributed under the
Creative Commons Attribution License
which permits unrestricted use, distribution, and reproduction in any medium, provided the original work is properly cited (CC BY 4.0).

Share & Cite This Article
MDPI and ACS Style
Dumoulin, A.; Ter-Avetisyan, G.; Schmidt, H.; Rathjen, F.G. Molecular Analysis of Sensory Axon Branching Unraveled a cGMP-Dependent Signaling Cascade. Int. J. Mol. Sci. 2018, 19, 1266.
Note that from the first issue of 2016, MDPI journals use article numbers instead of page numbers. See further details here.
Related Articles
Comments
[Return to top]