Retinal Cyclic Nucleotide-Gated Channels: From Pathophysiology to Therapy
Center for Integrated Protein Science Munich (CIPSM), Department of Pharmacy—Center for Drug Research, Ludwig-Maximilians-Universität München, Butenandtstr, 5-13, 81377 Munich, Germany
*
Author to whom correspondence should be addressed.
Received: 1 February 2018 / Revised: 28 February 2018 / Accepted: 6 March 2018 / Published: 7 March 2018
Abstract
The first step in vision is the absorption of photons by the photopigments in cone and rod photoreceptors. After initial amplification within the phototransduction cascade the signal is translated into an electrical signal by the action of cyclic nucleotide-gated (CNG) channels. CNG channels are ligand-gated ion channels that are activated by the binding of cyclic guanosine monophosphate (cGMP) or cyclic adenosine monophosphate (cAMP). Retinal CNG channels transduce changes in intracellular concentrations of cGMP into changes of the membrane potential and the Ca
2+
concentration. Structurally, the CNG channels belong to the superfamily of pore-loop cation channels and share a common gross structure with hyperpolarization-activated cyclic nucleotide-gated (HCN) channels and voltage-gated potassium channels (KCN). In this review, we provide an overview on the molecular properties of CNG channels and describe their physiological role in the phototransduction pathways. We also discuss insights into the pathophysiological role of CNG channel proteins that have emerged from the analysis of CNG channel-deficient animal models and human CNG channelopathies. Finally, we summarize recent gene therapy activities and provide an outlook for future clinical application.
View Full-Text
►

▼

Figures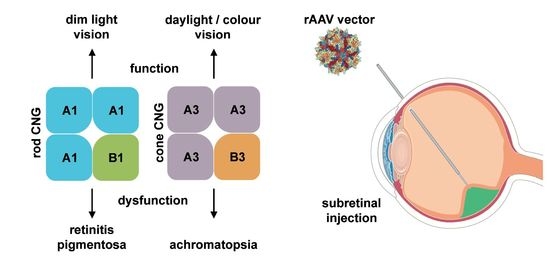 Graphical abstract
This is an open access article distributed under the
Creative Commons Attribution License
which permits unrestricted use, distribution, and reproduction in any medium, provided the original work is properly cited (CC BY 4.0).

Share & Cite This Article
MDPI and ACS Style
Michalakis, S.; Becirovic, E.; Biel, M. Retinal Cyclic Nucleotide-Gated Channels: From Pathophysiology to Therapy. Int. J. Mol. Sci. 2018, 19, 749.
Note that from the first issue of 2016, MDPI journals use article numbers instead of page numbers. See further details here.
Related Articles
Comments
[Return to top]