The rs2910164 Genetic Variant of miR-146a-3p Is Associated with Increased Overall Mortality in Patients with Follicular Variant Papillary Thyroid Carcinoma
1
Genomic Medicine, Medical University of Warsaw, 02-097 Warsaw, Poland
2
Centre of New Technologies, University of Warsaw, 02-097 Warsaw, Poland
3
Department of Nuclear Medicine & Endocrine Oncology, Maria Sklodowska-Curie Memorial Cancer Center and Institute of Oncology, 02-781 Warsaw, Poland
4
Department of Pathology, Maria Sklodowska-Curie Memorial Cancer Center and Institute of Oncology, 02-781 Warsaw, Poland
5
Department of Physiology and Cell Biology, The Ohio State University, Columbus, OH 43210, USA
*
Author to whom correspondence should be addressed.
Received: 27 January 2018 / Revised: 18 February 2018 / Accepted: 20 February 2018 / Published: 26 February 2018
Abstract
Aberrant expression of the sodium-iodide symporter (NIS) and the resistance to post-operative radioactive iodide treatment is a crucial cause of higher mortality of some thyroid cancer patients. In this study, we analyzed the impact of miR-146a on the expression and function of NIS and on the overall survival of thyroid cancer patients. The study included 2441 patients (2163 women; 278 men); including 359 cases with follicular variant of papillary thyroid carcinoma (fvPTC). miR:
NIS
interactions were analyzed in cell lines using in vivo binding and inhibition assays and radioactive iodine uptake assays. Tumor/blood DNA was used for rs2910164 genotyping. Overall survival was assessed retrospectively. In the results, we showed that miR-146a-3p directly binds to and inhibits
NIS
. Inhibition of miR-146a-3p restores the expression and function of
NIS,
increasing radioactive iodine uptake. Rs2910164 functional variant within miR-146a-3p is associated with increased overall mortality among fvPTC female patients. The deaths per 1000 person-years were 29.7 in CC carriers vs. 5.08 in GG/GC-carriers (HR = 6.21,
p = 0.006
). Higher mortality of CC vs. GG/GC carriers was also observed in patients with lower clinical stage (HR = 22.72,
p
< 0.001), smaller tumor size (pT1/pT2) (HR = 25.05,
p < 0.001
), lack of extrathyroidal invasion (HR = 9.03,
p
= 0.02), lack of nodular invasion (HR = 7.84,
p = 0.002
), lack of metastases (HR = 6.5,
p
= 0.005) and older (age at diagnosis >50 years) (HR = 7.8,
p = 0.002
). MiR-146a-3p underwent somatic mutations in 16.1% of analyzed specimens, mainly towards the deleterious C allele. In this report we propose a novel molecular marker of the clinical outcome of fvPTC patients. Rs2910164 increases the overall mortality with inhibition of NIS and disruption of radioiodine uptake as a possible mechanism.
View Full-Text
►

▼

Figures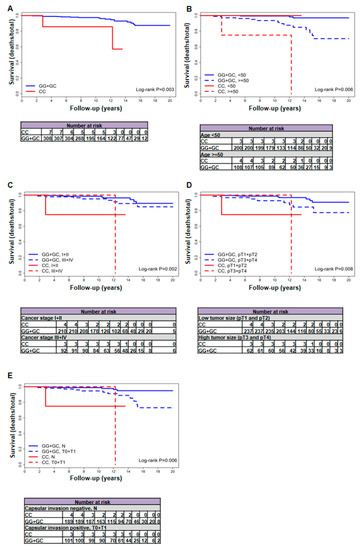 Figure 1
This is an open access article distributed under the
Creative Commons Attribution License
which permits unrestricted use, distribution, and reproduction in any medium, provided the original work is properly cited (CC BY 4.0).

Share & Cite This Article
MDPI and ACS Style
Kotlarek, M.; Kubiak, A.; Czetwertyńska, M.; Świerniak, M.; Gierlikowski, W.; Kolanowska, M.; Bakuła-Zalewska, E.; Jhiang, S.M.; Jażdżewski, K.; Wójcicka, A. The rs2910164 Genetic Variant of miR-146a-3p Is Associated with Increased Overall Mortality in Patients with Follicular Variant Papillary Thyroid Carcinoma. Int. J. Mol. Sci. 2018, 19, 655.
Note that from the first issue of 2016, MDPI journals use article numbers instead of page numbers. See further details here.
Related Articles
Comments
[Return to top]