Open Access This article is
freely available
re-usable
Review
The Zinc Sensing Receptor, ZnR/GPR39, in Health and Disease
Department of Physiology and Cell Biology and The Zlotowski Center for Neuroscience, Faculty of Health Sciences, POB 653, Ben-Gurion Ave. Ben-Gurion University of the Negev, Beer Sheva 84105, Israel
Received: 7 January 2018 / Accepted: 29 January 2018 / Published: 1 February 2018
Abstract
:
A distinct G-protein coupled receptor that senses changes in extracellular Zn2+, ZnR/GPR39, was found in cells from tissues in which Zn2+ plays a physiological role. Most prominently, ZnR/GPR39 activity was described in prostate cancer, skin keratinocytes, and colon epithelial cells, where zinc is essential for cell growth, wound closure, and barrier formation. ZnR/GPR39 activity was also described in neurons that are postsynaptic to vesicular Zn2+ release. Activation of ZnR/GPR39 triggers Gαq-dependent signaling and subsequent cellular pathways associated with cell growth and survival. Furthermore, ZnR/GPR39 was shown to regulate the activity of ion transport mechanisms that are essential for the physiological function of epithelial and neuronal cells. Thus, ZnR/GPR39 provides a unique target for therapeutically modifying the actions of zinc in a specific and selective manner.
Keywords:
zinc; ZnR/GPR39; zinc signaling; neuron; keratinocyte; epithelium; intestine; colon; bone
1. Introduction
The symptoms of zinc deficiency are particularly prominent in the digestive, immune, nervous, endocrine, and integumentary systems [
1
,
2
,
3
,
4
,
5
]. In many cases dietary zinc supplementation can ameliorate the symptoms and indeed zinc supplementation is widely used to treat diarrhea, the common cold, and skin conditions. The mechanisms underlying the roles of zinc have been revealed in the last two decades, but there is still a lot to learn about the pathways and regulation of zinc ions (Zn
2+
). Initially, Zn
2+
was identified as a structural element and cofactor in enzymes [
6
,
7
] and transcription factors [
8
,
9
,
10
]. It is estimated that about 3000 proteins contain Zn
2+
binding sites, and interaction with Zn
2+
regulates or modulates the activity of these proteins, thereby affecting numerous cellular processes [
11
]. Cellular Zn
2+
is associated with these proteins with a very high affinity and is considered a tightly bound pool of Zn
2+
[
10
,
12
]. The labile Zn
2+
pool in cells includes proteins that interact with Zn
2+
via histidines, cysteines, or glutamate/aspartate residues; most prominent are the metallothioneiens (MTs) Zn
2+
binding proteins [
13
]. This is a dynamic pool that releases Zn
2+
upon redox signaling and oxidative or nitrosative stress, and contributes to cellular signaling [
14
,
15
,
16
,
17
,
18
]. In addition, cytosolic Zn
2+
rise, likely mediated by Zn
2+
transporters on the endoplasmic reticulum (ER), was monitored in mast cells following activation of the immunoglobulin receptor [
19
,
20
]. Subsequent studies determined that Zn
2+
transporters found on various cellular organelles induce changes in cytosolic or organellar Zn
2+
and thereby modulate cellular signaling [
21
,
22
,
23
,
24
,
25
,
26
]. Indeed, Zn
2+
transport from the ER, Golgi, or mitochondria plays an important role in the function of mammary gland or prostate epithelial cells and other secretory cells [
27
,
28
,
29
]. Similar release of Zn
2+
, from the ER, during cardiac function regulates Ca
2+
leakage from the ER in these cells [
30
,
31
]. These studies established Zn
2+
as a second messenger that is released following diverse stimuli and triggers the regulation of kinases or phosphatases as well as protein expression [
20
,
32
]. Cellular Zn
2+
is buffered by interaction with proteins and formation of complexes to rapidly reduce levels of Zn
2+
to the picomolar range [
17
,
33
]. Importantly, transient changes in extracellular levels of Zn
2+
can also occur following release of Zn
2+
-containing vesicles. Such vesicular Zn
2+
is found in neurons, epithelial Paneth cells of the intestine or the salivary gland, as well as in pancreatic β-cells [
34
]. The vesicular Zn
2+
can be released during normal activity of the cells; for example, Zn
2+
is released into the synapse during neuronal activity or is secreted from β-cells or mammary epithelial cells [
35
,
36
,
37
,
38
,
39
,
40
]. Release of Zn
2+
from cells can also occur following cellular injury and cell death, which liberates Zn
2+
from the numerous Zn
2+
-binding proteins or cellular organelles [
41
]. Extracellular Zn
2+
can interact with specific binding sites on numerous proteins and regulate their activity. For example, extracellular Zn
2+
allosterically modulates numerous neuronal receptors, i.e.,
N
-methyl-
d
-aspartate (NMDA), γ-Aminobutyric acid (GABA), or glycine receptors, thereby modulating the excitatory and inhibitory responses [
42
,
43
,
44
,
45
,
46
]. In epithelial cells, extracellular Zn
2+
regulates the activity of purinergic receptors and the store-operated Ca
2+
(SOC), representing an important link between Zn
2+
and intracellular Ca
2+
[
47
,
48
,
49
]. Application of Zn
2+
was also suggested to upregulate the phosphatidylinositol-4,5-bisphosphate 3 (PI3) kinase/AKT pathway [
50
] or mitogen-activated protein kinases (MAPKs) [
51
], both essential to cell survival and proliferation.
2. Identification of a Zn2+-Sensing Receptor, ZnR/GPR39
In addition to the large numbers of Zn
2+
homeostatic proteins described above, a distinct target for extracellular Zn
2+
is the plasma membrane G-protein coupled receptor that is sensitive to Zn
2+
, ZnR/GPR39 [
52
,
53
,
54
]. G-protein coupled receptors are a large family of seven-transmembrane proteins that mediate cellular signaling in response to a diverse array of extracellular stimuli [
55
]. The endogenous Zn
2+
, released during physiological activity, acts as a first messenger and triggers intracellular Ca
2+
signaling via the specific Gαq-coupled receptor ZnR/GPR39 [
34
,
56
]. Activity of ZnR/GPR39 in tissues relevant to Zn
2+
signaling has been identified in neurons, colon epithelial cells (colonocytes), skin epidermal cells (keratinocytes), pancreatic cells, prostate cancer cells, salivary gland cells, and in bones [
57
,
58
,
59
,
60
,
61
]. In neurons, stimulation of the mossy fibers triggers ZnR/GPR39-dependent Ca
2+
rises in postsynaptic CA3 (Cornu Ammonis 3) neurons [
62
] that are diminished in the presence of a non-permeable Zn
2+
chelator, or in the absence of the Zn
2+
transporter-3 (ZnT3), which is responsible for synaptic Zn
2+
accumulation. Similar ZnR/GPR39 responses were observed in postsynaptic neurons of the auditory brainstem nucleus, the dorsal cochlear nucleus [
63
]. Importantly, ZnR/GPR39 activity was shown to enhance neuronal inhibitory tone, and zinc deficiency is associated with epilepsy and seizures, suggesting the significant physiological role of ZnR/GPR39 [
53
,
64
,
65
,
66
,
67
,
68
]. Luminal application of Zn
2+
to colon epithelial cells, colonocytes, was sufficient to activate the plasma membrane ZnR/GPR39 [
69
], which is highly expressed in this tissue [
70
,
71
]. In colonocytes, ZnR/GPR39 activated cellular pathways that are strongly associated with cell growth, MAP, and PI3 kinases. The prominent role of zinc supplementation in digestive system function, taste disorders, and salivary secretion suggests that ZnR/GPR39 may play an important role in the physiological functions of this system. A specific role for zinc in wound healing and the strong link between its deficiency and skin lesions suggested that ZnR/GPR39 may mediate cell proliferation and wound healing, thereby contributing to skin health. A recent study also describes ZnR/GPR39 expression in the oviduct, where it colocalized with a higher concentration of Zn
2+
but its activity has not been studied [
72
]. While a link to Zn
2+
physiology is still not clear, ZnR/GPR39 was also associated with adipocyte and myoblast proliferation and differentiation [
73
,
74
]. Activation of ZnR/GPR39 was triggered by transient changes in extracellular Zn
2+
. While exogenous application of Zn
2+
may trigger ZnR/GPR39 activation, the endogenous sources of vesicular Zn
2+
may be the physiological trigger of ZnR/GPR39 activation, i.e., Zn
2+
released from neuronal vesicles, salivary gland vesicles, pancreatic enzymes, or Paneth cells in the intestinal epithelium [
35
,
36
,
37
,
38
,
39
,
40
,
75
]. In addition, extracellular Zn
2+
levels may transiently change following efflux mediated by Zn
2+
transporters, such as ZnT6 [
76
], or following injury and cell death [
41
].
3. ZnR/GPR39-Dependent Signaling
4. ZnR/GPR39 Regulation of Physiological Functions
4.1. ZnR/GPR39 Regulates Ion Transport Mechanisms
Downstream to activation of ZnR/GPR39, it has been shown that transport of Na+, K+, and Cl− are regulated. The movement of these ions is essential for the physiological functions of epithelial cells and neurons.
The ubiquitously expressed Na
+/
H
+
exchanger (NHE) is upregulated following cytoplasmic acidification, to induce recovery of intracellular pH [
118
]. Activation of ZnR/GPR39 upregulates NHE activity in colonocytes, keratinocytes, and neurons [
41
,
57
,
69
,
89
,
109
], thereby providing a Zn
2+
-dependent homeostatic mechanism. Colonocytes are constantly exposed to cellular acidification, for example by short-chain fatty acid penetration [
119
], which can be recovered by NHE activity. Indeed, activation of ZnR/GPR39 in colonocytes and native colon tissues induced activation of NHE, downstream to the Ca
2+
signaling and ERK1/2 activation, which enhanced the recovery of the colonocytic pH [
57
,
69
]. Thus, ZnR/GPR39 plays a role in pH homeostasis that is essential for colonocytes' survival. Importantly, Na
+
-dependent H
+
export can lower the extracellular pH. In keratinocytes, ZnR/GPR39 upregulation of NHE activity was also mediated via the same signaling pathway [
41
]. The extracellular acidification triggered by ZnR/GPR39-dependent activation of NHE may be required for migration of cells during wound healing or for the formation of an effective permeability barrier [
120
,
121
]. Intracellular acid loading in neurons affects neuronal excitability and results from metabolic H
+
generation during repetitive firing [
122
]. Neuronal ZnR/GPR39 activation following release of Zn
2+
, concomitant with the neurotransmitter, resulted in increased NHE activity, thus relieving the metabolic acidification [
109
]. However, acidification of neuronal surfaces, by upregulating NHE activity, may contribute to tissue acidosis during ischemic neuronal injury [
123
]. Interestingly, ZnR/GPR39 itself is inactive at acidic pH [
109
], suggesting a homeostatic mechanism that can attenuate ZnR/GPR39 activation of NHE and excessive tissue acidification.
The K
+
/Cl
−
cotransporters (KCC) family is responsible for mediating Cl
−
efflux and thereby maintaining cell volume, as well as transepithelial ion transport and neuronal excitability [
124
]. These transporters are highly regulated via their phosphorylation and changes in surface expression [
125
,
126
]. In neurons, KCC2 is crucial for mediating Cl
−
efflux and thereby rendering the GABA
A
and glycine receptors inhibitory [
127
,
128
,
129
,
130
]. Activation of ZnR/GPR39 results in enhanced K
+
-dependent Cl
−
transport, which is mediated by KCC2 [
62
,
131
]. This Zn
2+
-dependent upregulation is abolished in the absence of ZnR/GPR39, or its downstream Ca
2+
and MAPK activation. Moreover, Gαq-dependent signaling triggered by ZnR/GPR39 enhances KCC2 surface expression and thereby upregulates KCC2-dependent Cl
−
transport [
62
]. Similar upregulation of K
+
-dependent Cl
−
transport was also monitored following ZnR/GPR39 activation in colonocytes [
91
]. Loss of Cl
−
and Na
+
into the colon lumen, via CFTR (cystic fibrosis transmembrane conductance regulator) upregulation for example, produces the driving force for water loss, thereby inducing diarrhea [
132
]. Yet, Cl
−
absorption pathways are not fully identified. Activation of ZnR/GPR39 in native colon epithelial tissue or in colonocytic cell lines resulted in activation of KCC1, which was mitogen activated kinase (MAPK)-dependent [
91
]. Moreover, KCC1 expression was shown to be basolateral, thereby providing a pathway for modulation of Cl
−
absorption in the colon.
4.2. ZnR/GPR39 Regulates Tight Junction Formation
Formation of epithelial barriers strongly depends on expression of junctional proteins, such as E-cadherin of the adherens junctions and zonula occludens-1 (ZO-1) or occludin of the tight junctions. This physical barrier is essential for the function of all epithelia and is particularly important in regions exposed to pathogens, such as the digestive tract. A role for Zn
2+
in modulating colon epithelial tight junctions was previously described, but the prolonged application in that study may have resulted in changes of intracellular Zn
2+
and not only activation of ZnR/GPR39 [
133
,
134
]. Using siRNA silencing of ZnR/GPR39 in Caco-2 colonocytic cell line revealed that ZnR/GPR39 was essential for Zn
2+
-dependent upregulation of tight junction formation, thus establishing that ZnR/GPR39 has a specific role in enhancing tight junctional complexes and epithelial barrier function [
89
]. It was further established that these colonocytic cells release Zn
2+
in a manner that activates the ZnR/GPR39-dependent formation of the barrier, since a chelator of extracellular Zn
2+
attenuated tight junction formation. Colon from ZnR/GPR39 deficient mice exhibited diminished expression level for the tight junction protein occludin, further revealing an important role of ZnR/GPR39 in barrier formation in vivo [
90
]. This loss of tight junctions may underlie some of the immune system effects associated with Zn
2+
deficiency: as the permeation of pathogens is easier, inflammation may be prevalent during Zn
2+
deficiency. A recent study showed that Zn
2+
enhanced the expression of protein kinase C ζ (PKCζ), which was associated with ZnR/GPR39 levels, and linked to tight junction formation during
Salmonella enterica serovar Typhimurium
infection [
135
].
5. A Role for ZnR/GPR39 in Disease
6. Conclusions
ZnR/GPR39 is an important regulator of Zn
2+
-dependent signaling, functional in numerous epithelial cells, bone cells, and neurons—all tissues associated with Zn
2+
homeostasis. Transient changes in extracellular Zn
2+
occur during physiological activity and are sufficient to activate ZnR/GPR39. While dietary or serum zinc itself has been suggested to affect the physiological function or pathological conditions in these tissues, these changes in zinc concentration do not directly reflect local or cellular changes in the concentrations of the ionic Zn
2+
. In addition, Zn
2+
interacts with a multitude of intracellular or extracellular proteins and modulates their activity, as described in the introduction; therefore, changes in Zn
2+
concentration may affect many proteins and cellular functions and not just ZnR/GPR39 activity. Thus, this micronutrient is a poor therapeutic compound with inconsistent effects. However, elucidation of ZnR/GPR39 as a regulator of Zn
2+
-dependent cellular signaling can offer a novel handle to effective therapeutic approaches that will depend on ZnR/GPR39 agonists. Of note, ZnR/GPR39 is a member of the G-protein coupled receptor family, which is currently considered a major candidate for targeted therapies [
184
,
185
]. Finally, what regulates the activity of Zn
2+
transporters is only partially understood; for example, it was previously shown that intracellular Zn
2+
activation of metal-responsive elements regulates ZnT expression or that phosphorylation of ZIP regulates their expression [
24
,
25
]. In this context, a possible link between ZnR/GPR39 and the transporters may be a key to understanding Zn
2+
homeostasis and is an important aim for future studies. Thus ZnR/GPR39 may serve as a specific and efficacious handle to modulate Zn
2+
homeostatic proteins and signaling, thereby ameliorating physiological processes to enhance recovery.
Acknowledgments
Michal Hershfinkel was supported by Israeli Science Foundation grant #891/14 and Bi-National US Israel Science Foundation grant (2011126).
Conflicts of Interest
The author declares no conflict of interest.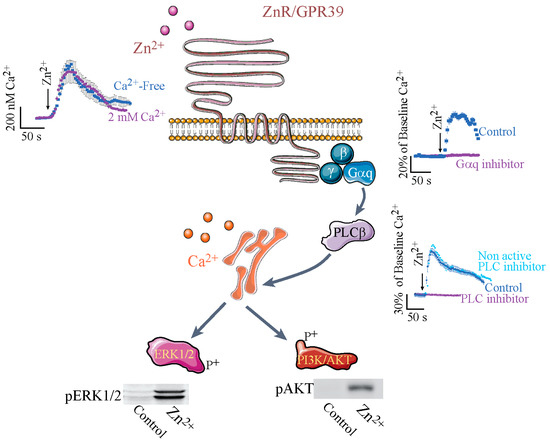 Figure 1. Schematic representations of common Zn2+ sensing receptor, ZnR/GPR39, signaling in epithelial cells. Extracellular signal–regulated kinases, ERK; Phosphatidylinositol-4,5-bisphosphate 3 (PI3) kinase/AKT, PI3K/AKT; Phospholipase C, PLC.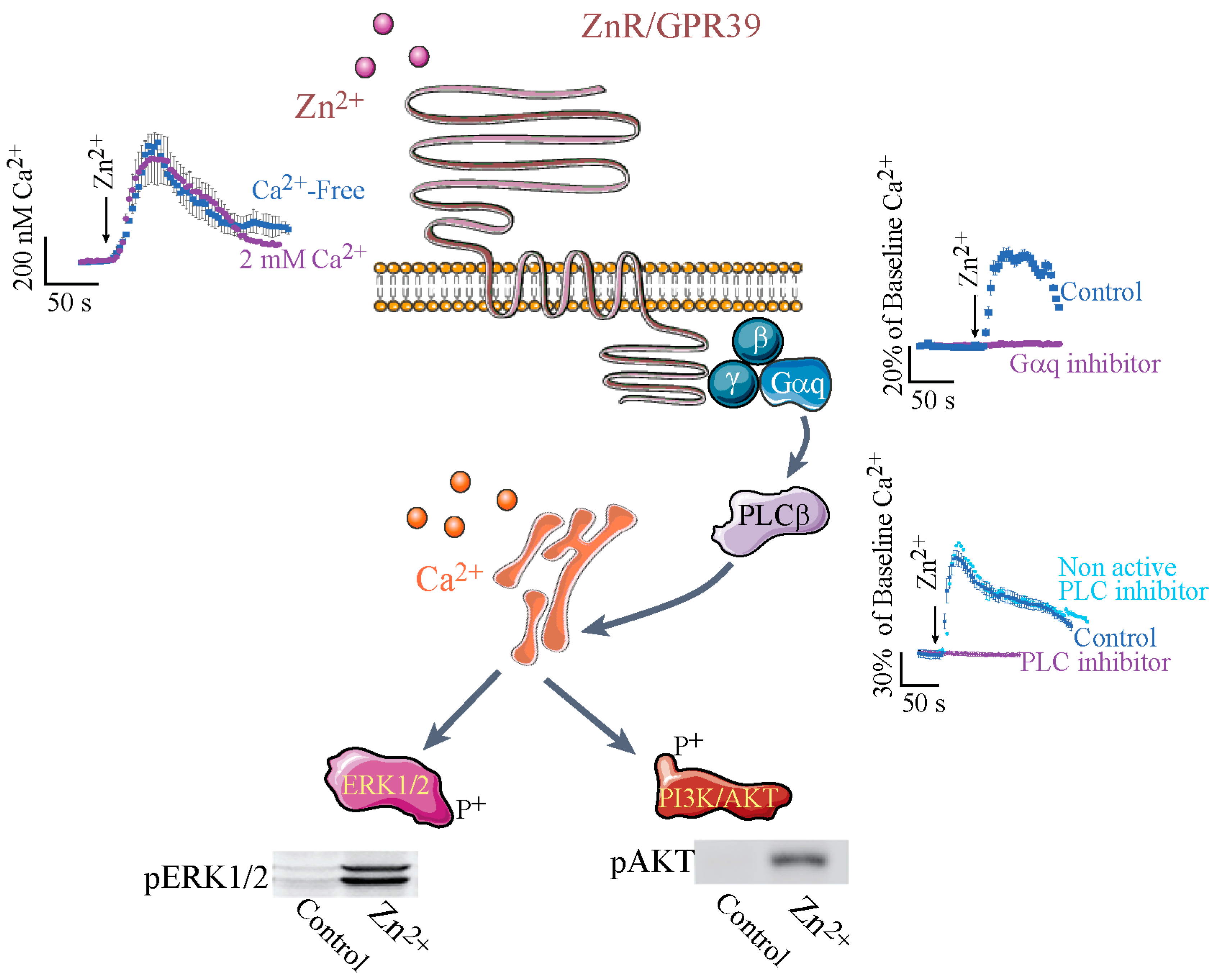 © 2018 by the author. Licensee MDPI, Basel, Switzerland. This article is an open access article distributed under the terms and conditions of the Creative Commons Attribution (CC BY) license (http://creativecommons.org/licenses/by/4.0/).