Open Access This article is
freely available
re-usable
Review
Methodology of Drought Stress Research: Experimental Setup and Physiological Characterization
1
Department of Plant Physiology and Biochemistry, St. Petersburg State University, St. Petersburg 199034, Russia
2
Department of Biochemistry, St. Petersburg State University, St. Petersburg 199904, Russia
3
Department of Bioorganic Chemistry, Leibniz Institute of Plant Biochemistry, Halle (Saale) 06120, Germany
4
Institute of Analytical Instrumentation, Russian Academy of Science, St. Petersburg 190103, Russia
5
All-Russia Research Institute for Agricultural Microbiology, St. Petersburg 196608, Russia
6
Department of Genetics and Biotechnology, St. Petersburg State University, St. Petersburg 199034, Russia
7
Department of Scientific Information, Russian Academy of Sciences Library, St. Petersburg 199034, Russia
†
These authors contributed equally on the manuscript.

Received: 23 November 2018 / Accepted: 14 December 2018 / Published: 17 December 2018
Abstract
:
Drought is one of the major stress factors affecting the growth and development of plants. In this context, drought-related losses of crop plant productivity impede sustainable agriculture all over the world. In general, plants respond to water deficits by multiple physiological and metabolic adaptations at the molecular, cellular, and organism levels. To understand the underlying mechanisms of drought tolerance, adequate stress models and arrays of reliable stress markers are required. Therefore, in this review we comprehensively address currently available models of drought stress, based on culturing plants in soil, hydroponically, or in agar culture, and critically discuss advantages and limitations of each design. We also address the methodology of drought stress characterization and discuss it in the context of real experimental approaches. Further, we highlight the trends of methodological developments in drought stress research, i.e., complementing conventional tests with quantification of phytohormones and reactive oxygen species (ROS), measuring antioxidant enzyme activities, and comprehensively profiling transcriptome, proteome, and metabolome.
Keywords:
drought stress; drought models; drought tolerance; oxidative stress; phytohormones; polyethylene glycol (PEG); stress markers
2. Experimental Models of Drought Stress
Despite a large variety of available drought models, according to their basic setup, all of these techniques can be classified as soil-based, aqueous culture–based, or agar-based. The common feature of all drought stress models is reduction of the water potential in the substrate or medium surrounding plant roots. However, individual methods have different applicability limitations and vary in terms of the scientific questions they can address. Therefore, the advantages and disadvantages of each model need to be carefully considered prior to experiment planning.
2.1. Soil-Based Drought Models
2.2. Drought Models Based on Hydroponic Aqueous Culture
2.3. Agar-Based Drought Models
3. Physiological and Biochemical Characterization of Drought Stress
Adequate and correct application of an experimental drought stress model requires comprehensive characterization at the levels of physiology, biochemistry, and molecular biology. These experiments deliver objective information on the actual functional state of the plant organism and its metabolic response to stress. This block of data is necessary to confirm the stressed state of experimental plants (i.e., development of stress response) and to estimate the severity of stress-related alterations. Accordingly, a panel of physiological and biochemical markers of drought stress ideally accompanies any study relying on modeling setups. Importantly, these markers can be used for dynamic characterization of plant adaptive responses throughout the whole experiment, i.e., acquisition of stress kinetics (
Table 2
). Thus, ideally, selection of the markers needs to consider all steps of drought response, starting from drought perception. It is assumed that drought is recognized by roots, which send a chemical message to the shoot [
83
]. Abscisic acid (ABA) plays a key role in this signaling [
84
]. This effector is synthesized in response to hydraulic signals in vascular tissues and further transported to leaf epidermis cells. Resulting stomata closure results in suppression of xylem transport, decreased turgor, and root growth arrest [
37
].
3.1. Water Status and Photosynthetic Parameters as Markers of Drought Stress
3.2. Changes in Phytohormone Patterns as Markers of Drought Stress
Plant response to environmental stress is a complex process, precisely tuned by multiple regulatory systems [
12
,
106
]. In particular, dehydration triggers activation of signal transduction cascades, including long-distance transport steps mediated by phytohormones [
107
]. Specifically, drought-induced stomata closure is regulated by abscisic acid (ABA) and relies on ABA-dependent signaling pathways [
108
]. Upon dehydration, ABA tissue content in Arabidopsis leaves can be increased up to 30-fold [
107
]. In a time-course study of the drought-avoidance response performed with Arabidopsis, early accumulation of ABA and induction of associated signaling genes coincided with a decrease in stomata conductance, as revealed by a panel of physiological, biochemical, and molecular biology methods [
12
]. Therefore, increased ABA in leaf cells represents a reliable marker of drought stress in model experiments [
35
].
Besides ABA, several other hormones and their interaction networks have an impact on the control of stomata conductance during water deficit. Thus, auxins, cytokinins, and ethylene are prone to inhibit the ABA-mediated stomata closure mechanism, whereas brassinosteroids, isoleucinyl jasmonates, and jasmonic and salicylic acids support the effects of ABA [
109
]. Jasmonic acid and its derivatives play a significant role in plant response to drought in terms of opening and closing of stomata [
110
], acting in an interplay with ABA and starting ABA signaling transduction [
111
]. In contrast to jasmonates and ABA, ethylene is involved in the stimulation of stomata opening via inhibition of nicotinamide adenine dinucleotide phosphate, reduced form (NADPH) oxidase in the leaves of plants, responsible for the launch of ROS-dependent stomata closure pathways [
112
], but ethylene also induces senescence. Thus, despite their impact on drought response, the mentioned phytohormones have complex patterns of effects [
107
]. Therefore, their use as drought stress markers is hardly possible. Similarly, their potential to be applied as phytoeffectors in the field is limited. Apart from cost, bioavailability, and stability issues, it would require an extremely balanced mixture of suitable hormones, adapted in each case to the plant species, developmental stage, and status.
3.3. Metabolites as Markers of Drought Stress
Various abiotic stressors are known to affect the profiles of plant metabolites [
113
]. Indeed, the process of metabolic adjustment, i.e., accumulation of osmotically active and metabolically neutral solutes, such as different sugars, amino acids (predominantly proline and glycine), betaine, polyamines, and organic acids, under drought conditions is well documented [
20
]. Metabolic adjustment is the second step in plant adaptation to drought (after stomata closure) and is critical in maintaining the water status and physiological activity of plant cells, especially during relatively short-term drought [
5
,
114
]. To address the tissue contents of drought-protective metabolites, different methodological approaches can be employed. On the one hand, each group of metabolites can be analyzed individually (for example, analysis of betaine [
115
] and inositol [
116
] levels). On the other hand, entire profiles of primary metabolites can be addressed by comprehensive gas chromatography–mass spectrometry (GC-MS)-based hyphenated techniques, giving access to relative [
117
,
118
] and absolute [
119
] amounts of individual analytes. For a complete understanding of plant response to drought, an analysis of plant hormones and secondary metabolites can be equally essential. In this regard, Ahmed et al. reported upregulation of phenolic metabolites in the leaves of
Gossypium barbadense
L. under water deficit conditions [
120
], and Ma et al. demonstrated a drought-related increase of the expression levels of flavonoid genes and upregulation of leaf flavonoids in
Triticum aestivum
[
121
].
It is important to mention that accumulation of sugars in the background of reactive oxygen species (ROS) overproduction (usually accompanying plant response to drought) might result in enhanced formation of reactive carbonyl compounds (RCCs) and glycation of plant proteins [
72
,
122
], similar to the mechanism recently reported to occur under plant aging [
123
]. Additional in vitro experiments with peptide and protein models showed formation of various glycoxidative modifications of lysyl and arginyl residues [
124
,
125
,
126
,
127
] prospectively, with an impact on pro-inflammatory properties of glycated proteins [
128
]. Hence, these modifications might affect nutritional properties of plant-derived foods. Moreover, the processes of DNA damage and reparation (associated also with the PARP/PARG system [
69
]) can impact protein glycation as well [
129
,
130
].
Remarkably, metabolic adjustment in different plants has both common and species-specific features. Thus, some osmoprotective metabolites, like glycine betaine, are specific for certain plant species, e.g., sugar beet (
Beta vulgaris
), spinach (
Spinacia oleracea
), and barley (
Hordeum vulgare
) [
131
], while increased proline content, which is apparently a crucial and the most conserved response to drought, is characteristic for a wide range of plants [
132
]. Obviously, such metabolites can be used as nonspecific and species-specific markers of drought stress. It is important to remember that metabolic adjustment is efficient only on a relatively short time scale, whereas when drought persists for longer times, increased accumulation of compatible solutes can be energy- and resource-intensive for the plant. In cases of severe stress, when soil water content is largely depleted, metabolic adjustment may have only a small effect on water uptake, or even be detrimental by taking too many resources from the plants [
18
,
133
].
3.4. Protective Proteins as Markers of Drought Stress
Underlying the long-term adaptation of plant organisms to drought is a pronounced increase in the expression of drought-specific genes, such as
Solanum tuberosum
DS2 (StDS2) [
134
], late embryogenesis abundant (LEA) [
135
]. Accordingly, biosynthesis of a broad array of drought-protective proteins, predominantly chaperones, LEA proteins, and enzymes of antioxidant defense (referred to below in detail), is upregulated. Chaperones form the group of proteins involved in the formation and maintenance of the native protein structure [
136
], mostly represented by so-called heat shock proteins: the ubiquitous polypeptides, originally described with respect to a heat shock response, but actually involved in an array of stress adaptation responses [
137
]. Currently, special attention is being paid to the role of heat shock proteins in drought tolerance [
138
]. Xiang et al. found that overexpression of the heat shock protein Osnsp50.2 in rice leaf reduced water loss and increased resistance of plants to drought-related osmotic stress [
139
]. It was also shown that increased expression of chaperone-like proteins ERD10 and ERD14 in
A. thaliana
cells impacted the prevention of luciferase, alcohol dehydrogenase, and citrate synthase inactivation in firefly [
140
].
LEA proteins represent another class of polypeptides involved in adaptation to water deficiency. These proteins were discovered more than 35 years ago in a study of embryogenesis and germination of cotton seeds [
141
]. The key feature of the LEA proteins underlying their drought-protective properties is their high hydrophilicity [
142
]. These molecules are known to prevent mechanical damage of mitochondria, chloroplasts, and other cellular structures by forming a membrane-protecting shield, thereby preventing peroxidation of membrane lipids [
111
,
143
]. The constitutive expression level of LEA proteins can be considered as a marker of drought resistance. Thus, it was shown that more LEA genes are overexpressed in drought-resistant
Gossypium tomentosum
cultivars than drought-sensitive ones [
144
].
3.5. Oxidative Stress Associated with Drought
4. Conclusions
The comprehensive literature survey clearly demonstrates the importance of an appropriate experimental design of reversible stress induction under reproducible and long-term stable laboratory conditions. Currently, PEG-induced drought stress models in particular are state of the art. Stress characterization methods include a set of standards but also species-specific small-molecule metabolites and enzymes indicative of the elucidation of drought tolerance mechanisms in plants. In this context, multiple modifications of the drought model experimental setups allow monitoring different aspects of plant functional states, in agreement with specific objectives. Currently, the progress of studies focused on improving plant drought resistance is associated with molecular biology and omics techniques, in an effort to eventually understand and genetically or chemically influence plant responses to drought periods.
Author Contributions
N.O., J.S., A.D., and E.T. wrote the draft; O.A.K. and A.K. prepared tables and figures and contributed to the manuscript; T.G. and T.B. supervised the work of A.D., O.A.K., and J.S.; V.Z. and I.T. contributed to writing the manuscript and critical reading; A.F. and L.A.W. initiated and supervised the whole work and wrote the final version of the manuscript.
Funding
This research was funded by the Russian Science Foundation (project number 17-16-01042).
Conflicts of Interest
The authors declare no conflict of interest.
Abbreviations
| | |
| --- | --- |
| 2D | two-dimensional |
| ABA | abscisic acid |
| APx | ascorbate peroxidase |
| CAT | catalase |
| DHA | dehydroascorbate |
| DHAR | dehydroascorbate reductase |
| GC-MS | gas chromatography–mass spectrometry |
| GR | glutathione reductase |
| GSH | reduced glutathione |
| GSSG | oxidized glutathione |
| LEA | late embryogenesis abundant |
| LRWC | leaf relative water content |
| MDHA | monodehydroascorbate |
| MDHAR | monodehydroascorbate reductase |
| NADPH | nicotinamide adenine dinucleotide phosphate |
| PAM | pulse amplitude modulation |
| PARP | poly (ADP-ribose) polymerase |
| PEG | polyethylene glycol |
| PS II | photosystem II |
| RCC | reactive carbonyl compound |
| ROS | reactive oxygen species |
| SOD | superoxide dismutase |
| St | Solanum tuberosum |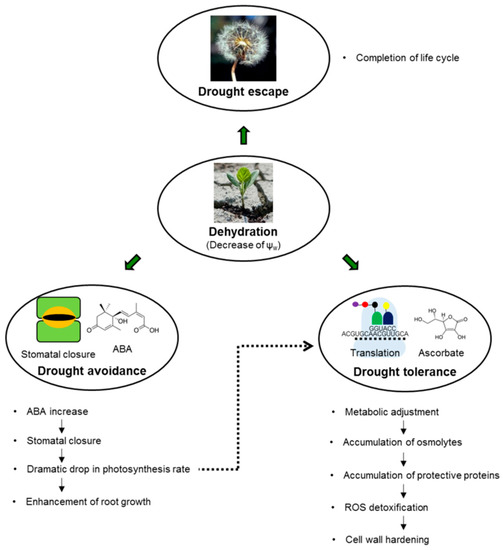 Figure 1. The main drought resistance strategies employed by plants to counter water deficit periods (drought escape, drought avoidance, and drought tolerance) and the main steps of the plant response to dehydration.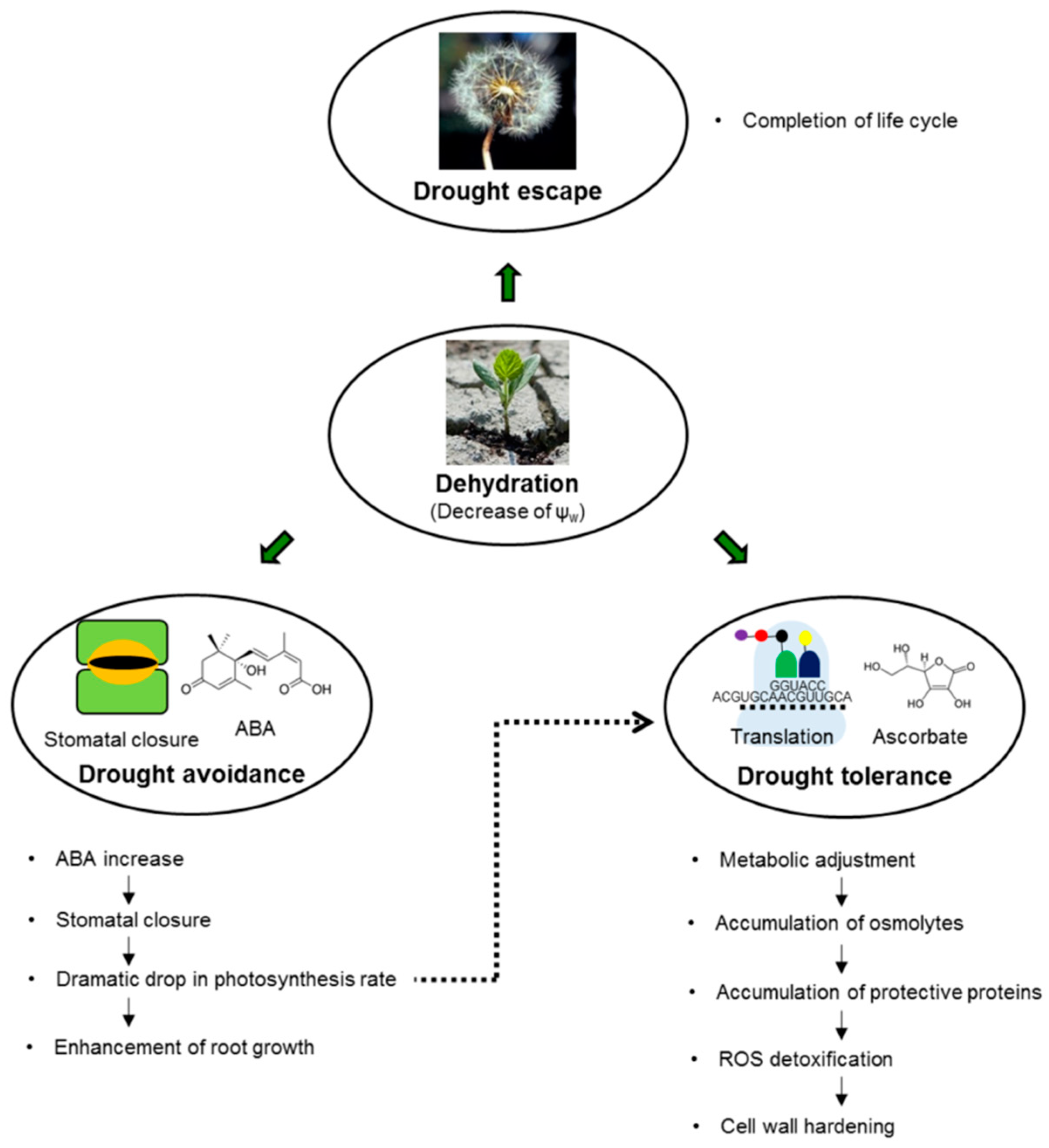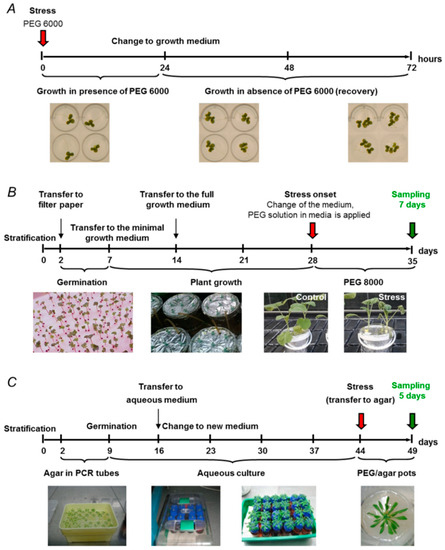 Figure 2.
Experimental drought models based on osmotic stress and established by supplementation of growth medium with polyethylene glycol (PEG): (
A
)
Lemna minor
model, established with aqueous growth medium supplemented with PEG6000 ([
68
]); (
B
)
Brassica napus
model, established with aerated aqueous culture supplemented with PEG8000; and (
C
) agar-based PEG infusion
Arabidopsis thaliana
model, established by overlaying solidified agar medium with PEG8000 solution for five days.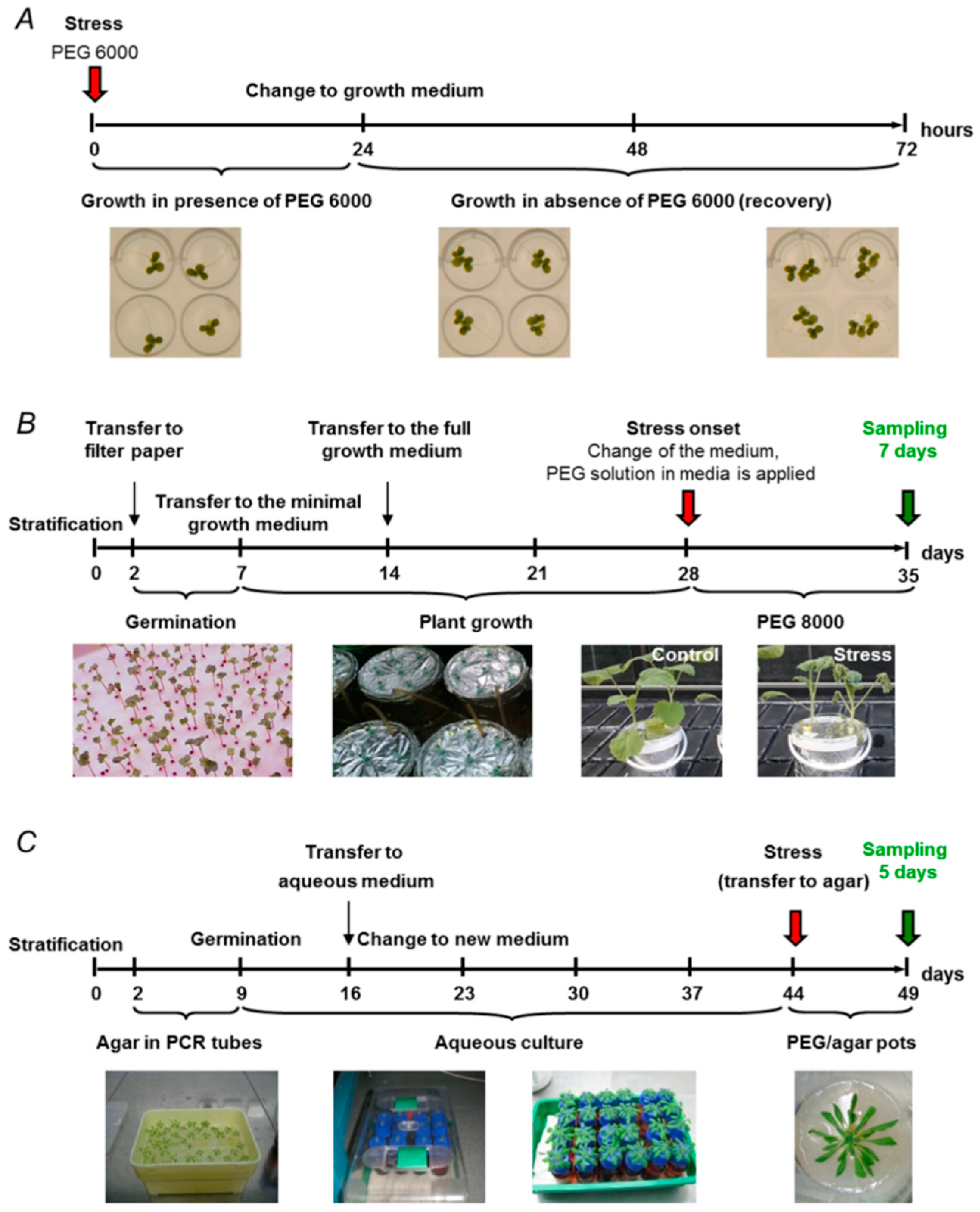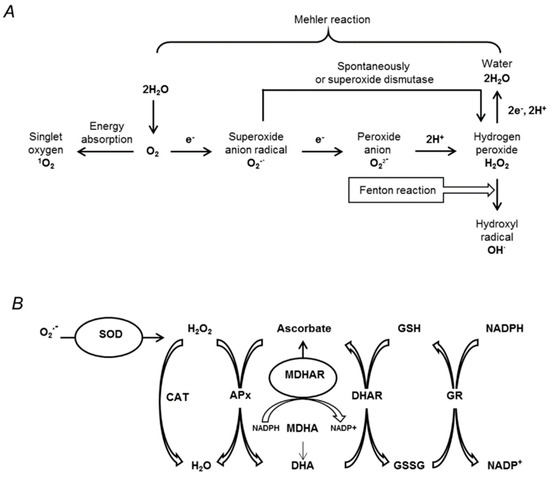 Figure 3. (A) The main pathways of reactive oxygen species (ROS) generation in plants and (B) the major pathways of plant enzymatic antioxidant defense. SOD, superoxide dismutase; CAT, catalase; APx, ascorbate peroxidase; MDHA, monodehydroascorbate; MDHAR, monodehydroascorbate reductase; DHA, dehydroascorbate; DHAR, dehydroascorbate reductase; GSH, reduced glutathione; GSSG, oxidized glutathione; GR, glutathione reductase.

© 2018 by the authors. Licensee MDPI, Basel, Switzerland. This article is an open access article distributed under the terms and conditions of the Creative Commons Attribution (CC BY) license (http://creativecommons.org/licenses/by/4.0/).