Loss of Mitochondrial AAA Proteases AFG3L2 and YME1L Impairs Mitochondrial Structure and Respiratory Chain Biogenesis
Department of Pediatrics and Adolescent Medicine, First Faculty of Medicine, Charles University in Prague and General University Hospital in Prague, 12808 Prague, Czech Republic
*
Author to whom correspondence should be addressed.
Received: 15 October 2018 / Revised: 28 November 2018 / Accepted: 4 December 2018 / Published: 7 December 2018
Abstract
Mitochondrial protein quality control is crucial for the maintenance of correct mitochondrial homeostasis. It is ensured by several specific mitochondrial proteases located across the various mitochondrial subcompartments. Here, we focused on characterization of functional overlap and cooperativity of proteolytic subunits AFG3L2 (AFG3 Like Matrix AAA Peptidase Subunit 2) and YME1L (YME1 like ATPase) of mitochondrial inner membrane AAA (ATPases Associated with diverse cellular Activities) complexes in the maintenance of mitochondrial structure and respiratory chain integrity. We demonstrate that loss of AFG3L2 and YME1L, both alone and in combination, results in diminished cell proliferation, fragmentation of mitochondrial reticulum, altered cristae morphogenesis, and defective respiratory chain biogenesis. The double AFG3L2/YME1L knockdown cells showed marked upregulation of OPA1 protein forms, with the most prominent increase in short OPA1 (optic atrophy 1). Loss of either protease led to marked elevation in OMA1 (OMA1 zinc metallopeptidase) (60 kDa) and severe reduction in the SPG7 (paraplegin) subunit of the m-AAA complex. Loss of the YME1L subunit led to an increased Drp1 level in mitochondrial fractions. While loss of YME1L impaired biogenesis and function of complex I, knockdown of AFG3L2 mainly affected the assembly and function of complex IV. Our results suggest cooperative and partly redundant functions of AFG3L2 and YME1L in the maintenance of mitochondrial structure and respiratory chain biogenesis and stress the importance of correct proteostasis for mitochondrial integrity.
View Full-Text
►

▼

Figures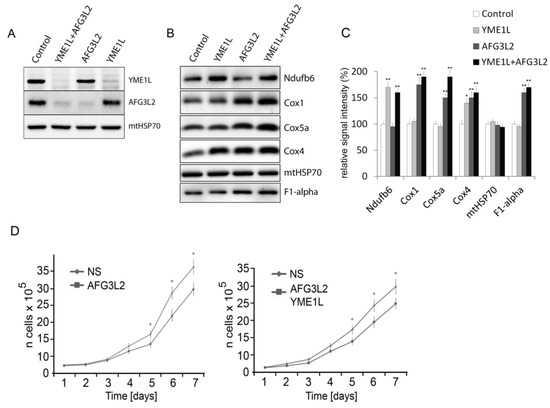 Figure 1
This is an open access article distributed under the
Creative Commons Attribution License
which permits unrestricted use, distribution, and reproduction in any medium, provided the original work is properly cited (CC BY 4.0).

Share & Cite This Article
MDPI and ACS Style
Cesnekova, J.; Rodinova, M.; Hansikova, H.; Zeman, J.; Stiburek, L. Loss of Mitochondrial AAA Proteases AFG3L2 and YME1L Impairs Mitochondrial Structure and Respiratory Chain Biogenesis. Int. J. Mol. Sci. 2018, 19, 3930.
Note that from the first issue of 2016, MDPI journals use article numbers instead of page numbers. See further details here.
Related Articles
Comments
[Return to top]