Interactive Responses of
Solanum Dulcamara

to Drought and Insect Feeding are Herbivore Species-Specific

1

Molecular Interaction Ecology, Institute of Water and Wetland Research, Radboud University, P.O. Box 9010, 6500 GL Nijmegen, The Netherlands

2

Molecular Plant Physiology, Institute for Water and Wetland Research, Radboud University, PO Box 9010, 6500 GL Nijmegen, The Netherlands

3

German Centre for Integrative Biodiversity Research (iDiv) Halle-Jena-Leipzig, Deutscher Platz 5e, 04103 Leipzig, Germany

4

Institute of Computer Science, Martin Luther University Halle-Wittenberg, Von-Seckendorff-Platz 1, 06108 Halle, Germany

5

Molecular Ecology, Institute of Biology, Dahlem Centre of Plant Sciences, Freie Universität Berlin, Albrecht-Thaer-Weg 6, 14195 Berlin, Germany

6

Molecular and Laser Physics, Institute for Molecules and Materials, Radboud University, PO Box 9010, 6500 GL Nijmegen, The Netherlands

7

Institute of Biodiversity, Friedrich Schiller University Jena, Dornburger-Str. 159, 07743 Jena, Germany

*

Author to whom correspondence should be addressed.

Received: 29 October 2018 / Revised: 27 November 2018 / Accepted: 30 November 2018 / Published: 3 December 2018
Abstract
In nature, plants are frequently subjected to multiple biotic and abiotic stresses, resulting in a convergence of adaptive responses. We hypothesised that hormonal signalling regulating defences to different herbivores may interact with drought responses, causing distinct resistance phenotypes. To test this, we studied the hormonal and transcriptomic responses of
Solanum dulcamara
subjected to drought and herbivory by the generalist
Spodoptera exigua
(beet armyworm; BAW) or the specialist
Leptinotarsa decemlineata
(Colorado potato beetle; CPB). Bioassays showed that the performance of BAW, but not CPB, decreased on plants under drought compared to controls. While drought did not alter BAW-induced hormonal responses, it enhanced the CPB-induced accumulation of jasmonic acid and salicylic acid (SA), and suppressed ethylene (ET) emission. Microarray analyses showed that under drought, BAW herbivory enhanced several herbivore-induced responses, including cell-wall remodelling and the metabolism of carbohydrates, lipids, and secondary metabolites. In contrast, CPB herbivory enhanced several photosynthesis-related and pathogen responses in drought-stressed plants. This may divert resources away from defence production and increase leaf nutritive value. In conclusion, while BAW suffers from the drought-enhanced defences, CPB may benefit from the effects of enhanced SA and reduced ET signalling. This suggests that the fine-tuned interaction between the plant and its specialist herbivore is sustained under drought.
View Full-Text
►

▼

Figures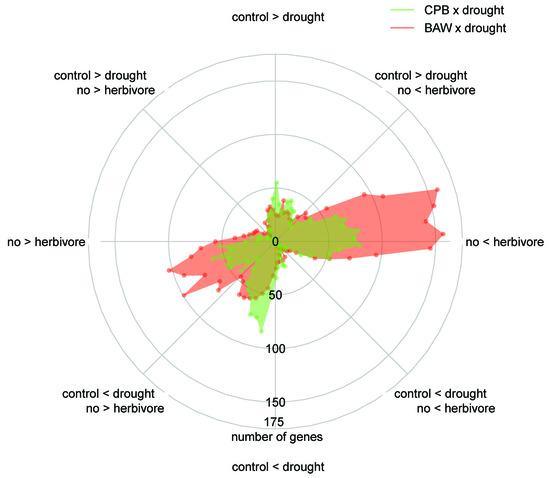 Graphical abstract
This is an open access article distributed under the
Creative Commons Attribution License
which permits unrestricted use, distribution, and reproduction in any medium, provided the original work is properly cited (CC BY 4.0).

Share & Cite This Article
MDPI and ACS Style
Nguyen, D.; Poeschl, Y.; Lortzing, T.; Hoogveld, R.; Gogol-Döring, A.; Cristescu, S.M.; Steppuhn, A.; Mariani, C.; Rieu, I.; Van Dam, N.M. Interactive Responses of Solanum Dulcamara to Drought and Insect Feeding are Herbivore Species-Specific. Int. J. Mol. Sci. 2018, 19, 3845.
Note that from the first issue of 2016, MDPI journals use article numbers instead of page numbers. See further details here.
Related Articles
Comments
[Return to top]