Open Access This article is
freely available
re-usable
Review
Wnt/β-Catenin Signaling Pathway Governs a Full Program for Dopaminergic Neuron Survival, Neurorescue and Regeneration in the MPTP Mouse Model of Parkinson's Disease
1
Department of Biomedical and Biotechnological Sciences (BIOMETEC), Pharmacology Section, Medical School, University of Catania, Via Santa Sofia 97, 95123 Catania, Italy
2
OASI Research Institute-IRCCS, Section of Neuropharmacology, Via Conte Ruggero 73, 94018 Troina (EN), Italy
Received: 17 October 2018 / Accepted: 17 November 2018 / Published: 24 November 2018
Abstract
:
Wingless-type mouse mammary tumor virus (MMTV) integration site (Wnt) signaling is one of the most critical pathways in developing and adult tissues. In the brain, Wnt signaling contributes to different neurodevelopmental aspects ranging from differentiation to axonal extension, synapse formation, neurogenesis, and neuroprotection. Canonical Wnt signaling is mediated mainly by the multifunctional β-catenin protein which is a potent co-activator of transcription factors such as lymphoid enhancer factor (LEF) and T-cell factor (TCF). Accumulating evidence points to dysregulation of Wnt/β-catenin signaling in major neurodegenerative disorders. This review highlights a Wnt/β-catenin/glial connection in Parkinson's disease (PD), the most common movement disorder characterized by the selective death of midbrain dopaminergic (mDAergic) neuronal cell bodies in the subtantia nigra pars compacta (SNpc) and gliosis. Major findings of the last decade document that Wnt/β-catenin signaling in partnership with glial cells is critically involved in each step and at every level in the regulation of nigrostriatal DAergic neuronal health, protection, and regeneration in the 1-methyl-4-phenyl-1,2,3,6-tetrahydropyridine (MPTP) mouse model of PD, focusing on Wnt/β-catenin signaling to boost a full neurorestorative program in PD.
Keywords:
Parkinson's disease; cell death; dopaminergic neurons; Wnt/β-catenin signaling; glia–neuron cross-talk; neurodegeneration; neuroprotection; neurorepair
1. Introduction
Based on this background, this work highlights Wnt/β-catenin signaling and its cross-talk with survival and neuroinflammatory pathways as a pivotal actor for mDAergic neuronal maintenance, protection, repair, and regeneration in mice affected by MPTP-induced nigrostriatal degeneration.
After a brief introduction of Wnt/β-catenin signaling, its potential role in dictating mDAergic neuron vulnerability to major key risk factors such as aging, gene mutations, neurotoxin exposure, and neuroinflammation is summarized, along with the potential therapeutical implications for PD in the light of recent published findings in the field.
2. The Key Interactors of the Wnt/β-catenin Signaling Cascade
3. The MPTP Mouse Model Highlights Neuroinflammation as a Critical Risk Factor for PD
4. Dysregulated Wnt/β-catenin Signaling Is Linked to Gene Defects in PD
5. A Wnt1 Self-Protective Regulatory Loop Engaged by Astrocyte–Neuron Cross-talk Safeguards mDAergic Neurons
Because astrocytes play key roles in the maintenance of neuronal homoestasis, energy metabolism, and in particular the defense against oxidative stress, an impairment of astrocyte–neuron cross-talk as a function of aging and neurodegenerative conditions may contribute to disease progression and impair the ability of mDAergic neurons to repair upon injury, reviewed in References [
17
,
18
,
19
,
53
]. Astrocytes are known to secrete both inflammatory and anti-inflammatory factors, as well as anti-oxidant, neurotrophic, and survival factors, and play a critical role in modulating microglial activity. Importantly, glial fibrillary acidic protein (GFAP)-expressing astrocytes can contribute to cell genesis both as stem cells and as important cellular elements of the neurogenic microenvironment, with implications for self-recovery/neurorepair [
53
,
56
]. However, under severe neurodegenerative conditions, astrocytes' neuroprotective properties may be downregulated with harmful consequences for astrocyte–microglial and glial–neuron interactions, leading to increased mDAergic neuron vulnerability and/or neuronal death [
53
,
56
].
5.1. In Vivo Studies Uncover Wnt Signaling Intermediacy as Chief Player in Glial Modulation
5.2. In Vitro Studies Pinpoint Wnt1/Fzd1/β-catenin Survival Pathway for mDAergic Neurons
6. Deficient Wnt Signaling with Age: A Leading Risk Factor for Nigrostriatal DAergic Neuron Integrity
7. Wnt/β-catenin Signaling Is Required for DAergic Neurorepair and Regeneration
8. Targeting Wnt Signaling as a
"Wn(t)dow"

of Opportunity for mDAergic Neurorescue
9. Concluding Remarks and Future Directions
A central challenge in the field of neurodegenerative disorders is developing therapeutic strategies that boost neuroprotection and neurorepair, and that help endogenous regenerative programs in the injured brain. This work summarized several lines of evidences supporting a key role for the canonical Wnt/Fzd-1/β-catenin pathway contributing to the maintainance of mDAergic neuron survival and functionality within the adult intact and PD midbrain. Accumulating data from the studies of genes mutated in PD underscore the pivotal role of Wnt signaling pathways for the function of mDAergic neurons in health and disease states. New potential associations between the Wnt pathway and mitochondrial dynamics, lysosomal biogenesis, vesicle trafficking, apoptosis, autophagy, immunoregulation, and cell cycle, affecting key functions in neuroprogenitors, post-mitotic neurons, and glial cells are starting to be unveiled.
Notably, Wnt1-induced neuroprotection is closely related to the astroglial response to oxidative stress and inflammation upon injury, and requires Fzd-1 receptor and β-catenin stabilization coupled to GSK-3β inhibition to promote mDAergic neuron survival. Reactive astrocytes upregulate Wnt/β-catenin signaling. This astrocyte-dependent property might help in mitigating excessive inflammation as observed during aging and neurodegeneration. Importantly, Wnt signaling at the neuroimmune interface plays a pivotal role in the regulation of neuroprogenitors, post-mitotic neurons, and microglial cell functions in PD. Also, pharmacological manipulation of microglial oxidative and nitrosative status, either in vitro or in vivo, can activate a beneficial Wnt/β-catenin signaling, thus affording neuroprotection and inducing a successful neurogenesis rescue. Therefore, modulating these astroglia changes may represent a powerful ground for novel therapeutic intervention strategies to prevent, delay progression, and/or ameliorate pathology.
Together, these studies suggest that Wnt-induced pathways are required for the regulation of a panel of processes linked to mDAergic neuroprotection, neurorepair, and regeneration after injury, and include the re-expression of genetic neurodevelopmental programs for DA neuroprogenitor acquisition of the mature mDAergic phenotype, DA neuron formation, and migration, as well as their survival and maintenance within a hostile microenvironment thanks to Wnt's immunomodulatory properties.
Given that the activity of Wnt signaling in the brain declines with the aging process, this results in the inhibition of Wnt-mediated self-protective, neuroreparative/neurorestorative, and immunomodulatory mDAergic programs. Because Wnt/β-catenin signaling controls the expression of a wide panel of direct and indirect target genes, mis-regulation of this signaling cascade may be involved in various age-dependent diseases associated with impaired neurogenesis, including PD. Notably, the signaling mechanisms contributing to neuronal death and NSC impairment in the aged PD brain target the Wnt/β-catenin signaling pathway. Coupled to the increasing evidence on the key role of Wnt/β-catenin signaling cascades in neurodevelopment, neurodegeneration, and regeneration, developing targeted in situ pharmacological interventions/cell manipulations that boost the inherent Wnt-dependent regenerative potential have implications for both restorative and regenerative approaches in PD.
Notably, given the multitude of roles of Wnt/β-catenin signaling in the control of tissue homeostasis and disease, there is an increasing interest in targeting this pathway. From a therapeutic viewpoint, the Wnt signaling pathways presents several challenges to the development of a targeted neuroprotective drug, and further studies are still needed to elucidate the complex Wnt signaling circuitry. For example, the Wnt pathway itself is protective in different tissues, but the receptor context may influence the regulation of canonical Wnt signaling by agonist or antagonists. In addition, the cellular context, the presence of gene mutations, and the interaction with a panel of environmental risk factors, such as aging and inflammation, may finally mediate the tissue-/cell-specific response.
As a whole, the understanding of the intricate signaling networks of Wnt/β-catenin signaling is critical for the identification of new potential therapeutic targets and the development of pharmacologic and cellular approaches for neurodegenerative diseases, including PD.
Acknowledgments
I wish to aknowledge the contribution of past and present members of the Marchetti laboratory and S. Pluchino and members of his laboratory contributing to this work. In particular, I wish to thank Francesca Lepiscopo, Cataldo Tirolo, Nuccio Testa, Salvo Caniglia, and Maria F. Serapide. Over the years, the BM research program received support from different funding agencies, in particular the Italian Ministry of Health (Cur. Res. and Finalized Res. projects 2000-2018), the Italian Ministry of Education, University and Research (MIUR), the OASI Research Institute-IRCCS, Troina, Italy OASI (IRCCS), Troina (EN) Italy, and BIOMETEC, at the University of Catania, Medical School, Catania, Italy.
Conflicts of Interest
The author declares no conflicts of interest.
Abbreviations
| | |
| --- | --- |
| Dkk | Dkkopf |
| DA | Dopamine |
| DAergic | Dopaminergic |
| DAT | DA transporter |
| Fzd | Frizzled |
| GFAP | glial fibrillary acid protein |
| GSK-3β | glycogen synthase kinase-3β |
| iNOS | inducible nitric oxide |
| IFN-g | interferon-g |
| IL-1a | interleukin-1a |
| IL-1b | interleukin-1b |
| LRP5/6 | LDL receptor-related protein 5/6 |
| LRRK2 | leucine-rich repeat kinase 2 |
| MB | midbrain/hindbrain |
| MPTP | 1-methyl-4-phenyl-1,2,3,6-tetrahydropiridine |
| MPP+ | 1-methyl-4-phenyl-1,2,3,6-tetrahydropyridine |
| NO | nitric oxide |
| Phox | NADPH oxidase |
| ONOO− | peroxynitrite |
| PD | Parkinson's disease |
| ROS | reactive oxygen species |
| RNS | reactive nitrogen species |
| 6-OHDA | 6-hydroxydopamine |
| NSC | stem/neuroprogenitor cell |
| SNpc | subtantia nigra pars compacta |
| SVZ | subventricular zone |
| TH | tyrosine hdroxylase |
| TNF-a | tumor necrosis factor a |
| VM | ventral midbrain |
| Wnt1 | Wingless-type MMTV integration site 1 |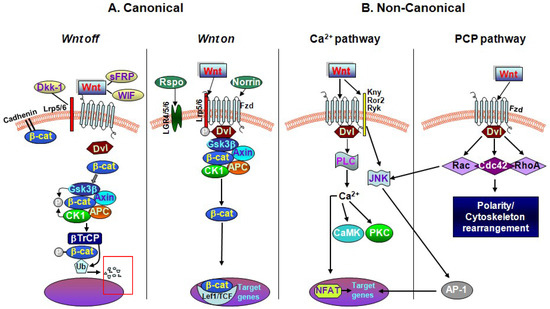 Figure 1.
Schematic representation of canonical Wingless-type mouse mammary tumor virus (MMTV) integration site (Wnt) pathway and non-canonical Wnt/Ca
2+
and Wnt/planar cell polarity (PCP) pathways [
38
,
39
,
40
,
41
,
42
,
43
]. (
A
) In the Wnt off state (i.e., in the absence of a Wnt ligand), cytoplasmic β-catenin is constantly degraded by the action of the Axin complex. Casein kinase 1 (CK1) and glycogen synthase kinase 3β (GSK-3β) sequentially phosphorylate the amino terminal region of β-catenin, resulting in β-catenin ubiquitination and proteasomal degradation (red box). In the Wnt on state, canonical Wnt/β-catenin pathway activation starts with Wnt binding Frizzled (Fzd) receptor and the co-receptor low-density lipoprotein receptor-related protein 5/6 (LRP5/6), which induces the recruitment of Dishevelled (Dvl) leading to the inhibition of the β-catenin destruction complex formed by Axin, adenomatous polyposis coli (APC), GSK-3β, and CK1. This inhibition causes the accumulation of β-catenin, which is no longer phosphorylated by the destruction complex. β-catenin then translocates to the nucleus where it activates transcription of Wnt target genes. (
B
) In the non-canonical Wnt/Ca
2+
pathway, the binding of Wnt to Fzd activates the heterotrimeric G-proteins. These signal through phospholipase C (PLC) and inositol 1,4,5-triphosphate (IP3) to induce the release of intracellular Ca
2+
and the activation of protein kinase C (PKC) and Ca
2+
/calmodulin-dependent protein kinase II (CaMKII). Multiple interactions are possible between the targets of the Wnt/Ca
2+
and the canonical Wnt/β-catenin pathway at different points. Additionally, Kny, Ror2, or Ryk receptors with Fzd receptors can activate c-Jun N-terminal kinase (JNK), promoting target gene expression through activator protein 1 (AP-1). In non-canonical Wnt/PCP pathway, Wnt proteins bind to Fzd, which activates small guanosine triphosphatases (GTPases) proteins Rho and Rac and c-Jun N-terminal kinase via Dvl. This interaction results in cytoskeletal regulation and involves polarized cell shape changes and cytoskeleton rearrangement.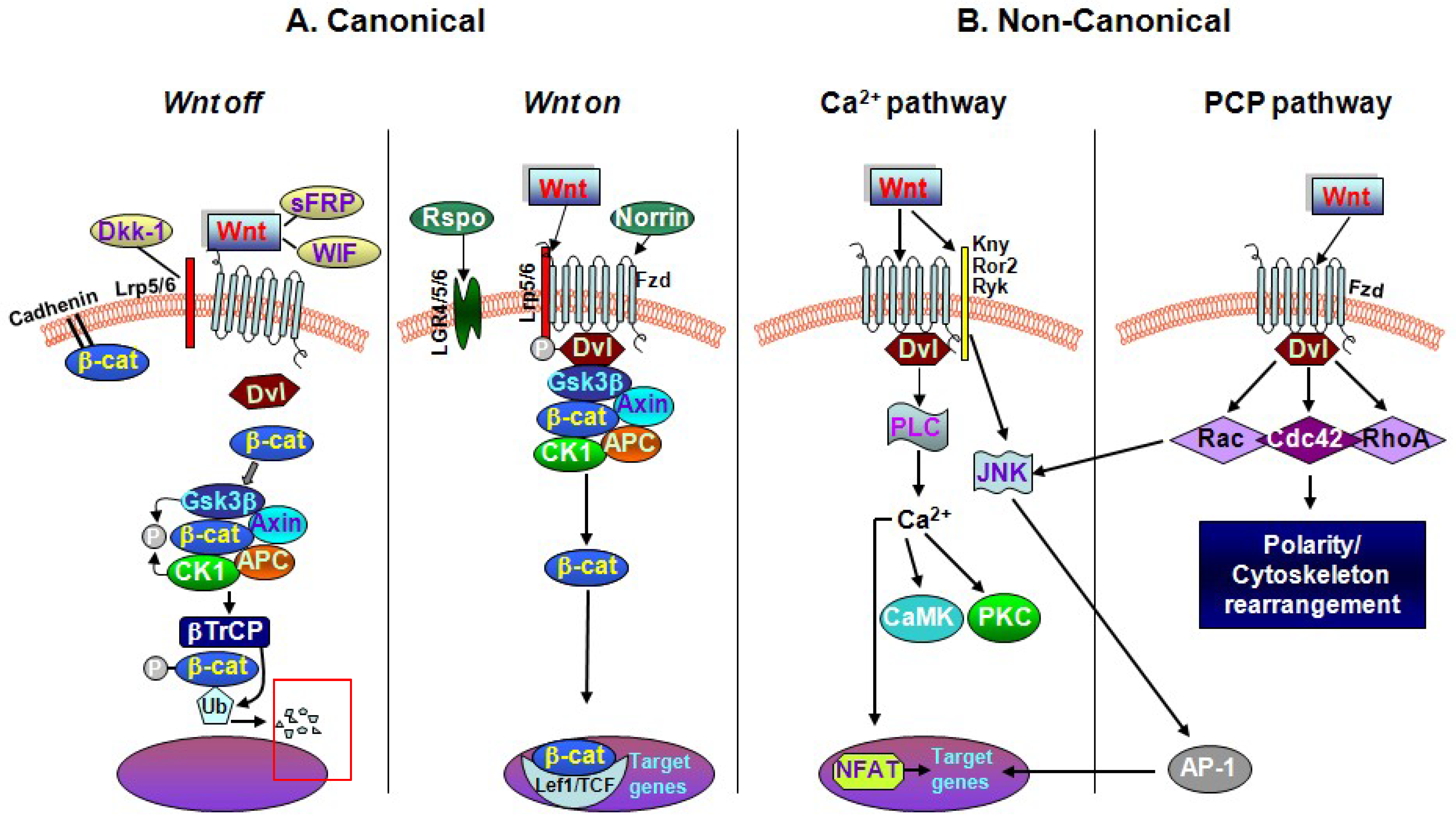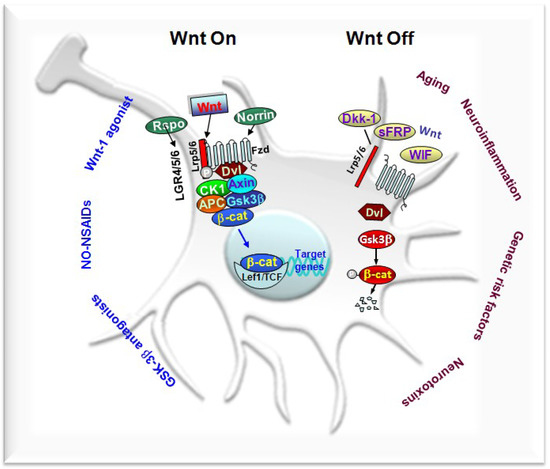 Figure 2.
Schematic illustration of Wnt1/β-catenin signaling regulation of midbrain dopaminergic (mDAergic) neuron survival/death according to our published findings [
49
,
50
,
51
,
52
,
53
,
54
,
55
,
56
,
57
]. Major environmental factors including aging, inflammation, and 1-methyl-4-phenyl-1,2,3,6-tetrahydropyridine (MPTP) exposure may increase oxidative load and a panel of endogeneous Wnt antagonists (Dickkopf1 (Dkk1), Wnt inhibitory factor (WIF), frizzled-related proteins (sFRPs)) that, in synergy with genetic mutations and dysfunctional glia–neuron interactions, antagonize canonical Wnt/β-catenin signalling ("Wnt off") in mDA neurons. Upregulation of active GSK-3β then leads to β-catenin degradation promoting DA neuron death. In the presence of canonical Wnt1-like agonists (such as R-spondin (Rspo) or Norrin), GSK-3β antagonists, or nitric oxide non-steroidal anti-inflammatory drug (NO-NSAID) treatments, activation of Wnt/β-catenin ("Wnt on") contributes to maintaining the integrity of mDA neurons via blockade of GSK-3β-induced phosphorylation and proteasomal degradation of the neuronal pool of β-catenin. β-catenin then translocates into the nucleus and associates with a family of transcription factors regulating the expression of Wnt target genes involved in mDAergic neuron survival. Schematic drawing based on published results on Wnt signaling in PD [
49
,
50
,
51
,
52
,
53
,
54
,
55
,
56
,
57
].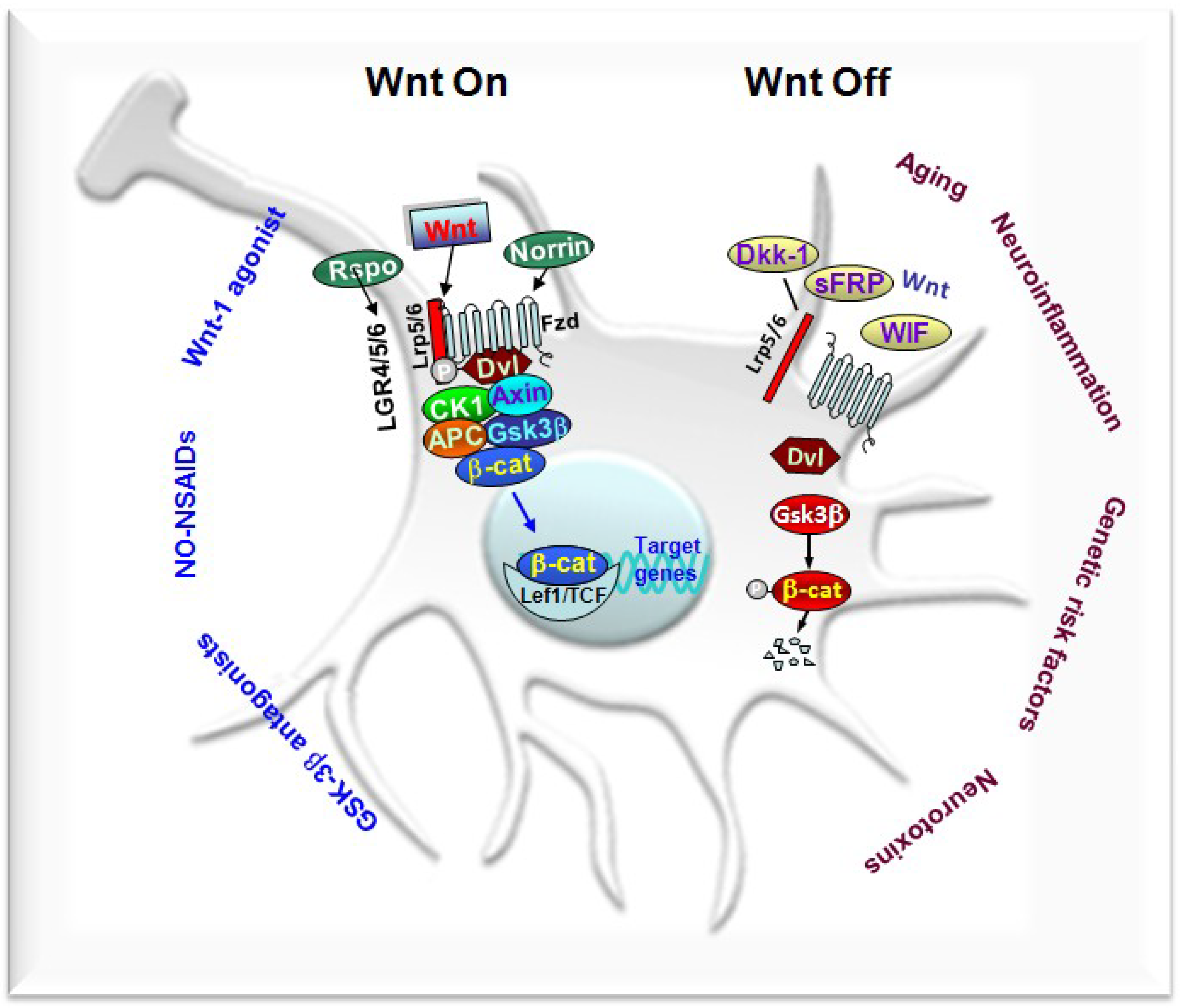 Figure 3.
Schematic illustration of Wnt1/β-catenin signaling as a key player in glia–neuron cross-talk. A simplified scheme linking reactive astrocytes, mcroglia, and Wnt/β-catenin signaling to mDAergic neuron survival/death is summarized according to our published findings [
49
,
50
,
51
,
52
,
53
,
54
,
55
,
56
,
57
]. Upon injury, a number of conditons, including astrocyte activation, the genetic and hormonal background (i.e., gender and estrogens), and endogenous and exogenous activators of Wnt/β-catenin signaling components (i.e., GSK-3β-antagonists), can promote astrocyte beneficial effects via the expression of a panel of growth/neurotrophic factors, particularly Wnt1, contributing to the survival, repair, and neurorescue of DA neurons, via direct neuronal effects (see
Figure 2
) and through the inhibition of the microglia-M1 activated phenotype. Astrocytes of the ventral midbrain, via activation of Wnt/β-catenin signaling, can also promote neurogenesis and DAergic neurogenesis from adult neural stem/progenitor cells. By contrast, aging, MPTP exposure, and genetic mutations exacerbate microglia activation, with upregulation of a wide panel of pro-inflammatory mediators including tumor necrosis factor α (TNF-α), interleukin 1β (IL-1β), Wnt5a, inducible nitric oxide synthase (iNOS-derived) nitric oxide (NO) and reactive oxygen (ROS) and reactive nitrogen (RNS) species. Neurotoxic injury or increased oxidative load as a result of gene–environment interactions may antagonize Wnt/β-catenin signaling in DA neurons by upregulating active GSK-3β, leading to β-catenin degradation and increased DA neuron vulnerability.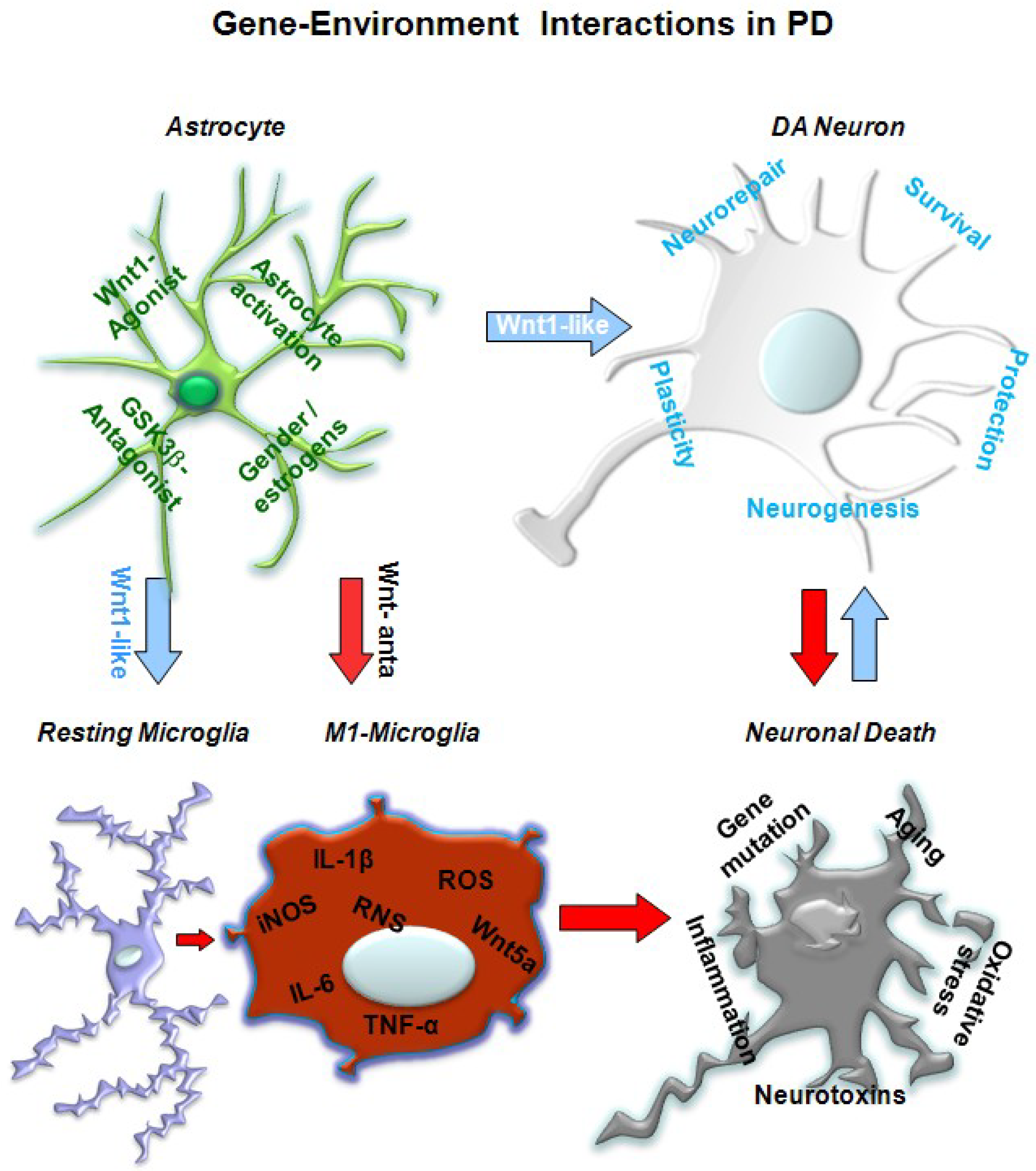 © 2018 by the author. Licensee MDPI, Basel, Switzerland. This article is an open access article distributed under the terms and conditions of the Creative Commons Attribution (CC BY) license (http://creativecommons.org/licenses/by/4.0/).