Cathepsin S Alters the Expression of Pro-Inflammatory Cytokines and MMP-9, Partially through Protease—Activated Receptor-2, in Human Corneal Epithelial Cells
1
Department of Pharmacology and Pharmaceutical Sciences, School of Pharmacy, University of Southern California, Los Angeles, CA 90007, USA
2
Department of Ophthalmology, Roski Eye Institute, Keck School of Medicine, University of Southern California, Los Angeles, CA 90007, USA
*
Author to whom correspondence should be addressed.
Received: 31 October 2018 / Accepted: 6 November 2018 / Published: 9 November 2018
Abstract
Cathepsin S (CTSS) activity is increased in tears of Sjögren's syndrome (SS) patients. This elevated CTSS may contribute to ocular surface inflammation. Human corneal epithelial cells (HCE-T cells) were treated with recombinant human CTSS at activity comparable to that in SS patient tears for 2, 4, 8, and 24 h. Acute CTSS significantly increased HCE-T cell gene and protein expression of interleukin 6 (IL-6), interleukin 8 (IL-8), tumor necrosis factor-α (TNF-α), and interleukin-1β (IL-1β) from 2 to 4 h, while matrix metalloproteinase 9 (MMP-9), CTSS, and protease-activated receptor-2 (PAR-2) were increased by chronic CTSS (24 h). To investigate whether the increased pro-inflammatory cytokines and proteases were induced by CTSS activation of PAR-2, HCE-T cells were transfected with PAR-2 siRNA, reducing cellular PAR-2 by 45%. Cells with reduced PAR-2 expression showed significantly reduced release of IL-6, TNF-α, IL-1β, and MMP-9 into culture medium in response to acute CTSS, while IL-6, TNF-α, and MMP-9 were reduced in culture medium, and IL-6 and MMP-9 in cell lysates, after chronic CTSS. Moreover, cells with reduced PAR-2 expression showed reduced ability of chronic CTSS to induce gene expression of pro-inflammatory cytokines and proteases. CTSS activation of PAR-2 may represent a potential therapeutic target for amelioration of ocular surface inflammation in SS patients.
View Full-Text
►

▼

Figures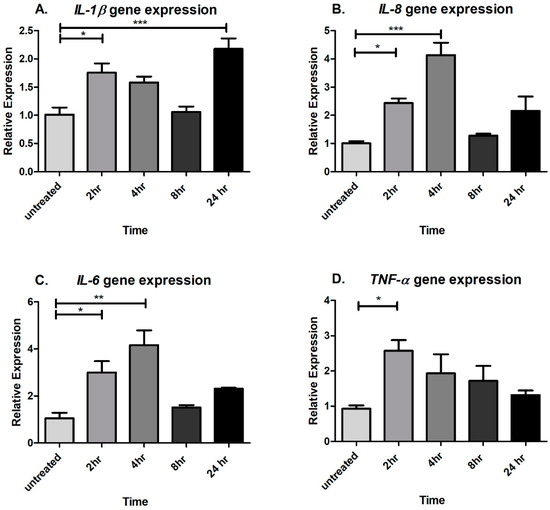 Figure 1
This is an open access article distributed under the
Creative Commons Attribution License
which permits unrestricted use, distribution, and reproduction in any medium, provided the original work is properly cited (CC BY 4.0).

Share & Cite This Article
MDPI and ACS Style
Klinngam, W.; Fu, R.; Janga, S.R.; Edman, M.C.; Hamm-Alvarez, S.F. Cathepsin S Alters the Expression of Pro-Inflammatory Cytokines and MMP-9, Partially through Protease—Activated Receptor-2, in Human Corneal Epithelial Cells. Int. J. Mol. Sci. 2018, 19, 3530.
Note that from the first issue of 2016, MDPI journals use article numbers instead of page numbers. See further details here.
Related Articles
Comments
[Return to top]