Activation of CREBZF Increases Cell Apoptosis in Mouse Ovarian Granulosa Cells by Regulating the ERK1/2 and mTOR Signaling Pathways
1
Department of Clinical Veterinary Medicine, College of Veterinary Medicine, Northwest A&F University, Yangling 712100, Shaanxi, China
2
Key Laboratory of Animal Biotechnology of the Ministry of Agriculture, Northwest A&F University, Yangling 712100, Shaanxi, China
3
Department of Basic Veterinary Medicine, College of Veterinary Medicine, Yangzhou University, Yangzhou 225009, Jiangsu, China
4
Jiangsu Co-Innovation Center for Prevention and Control of Important Animal Infectious Diseases and Zoonoses, Yangzhou 225009, Jiangsu, China
*
Author to whom correspondence should be addressed.
†
These authors contributed equally to this work.
Received: 30 September 2018 / Revised: 27 October 2018 / Accepted: 30 October 2018 / Published: 8 November 2018
Abstract
CREBZF, a multifunction transcriptional regulator, participates in the regulation of numerous cellular functions. The aims of the present study were to detect the localization of CREBZF expression in the ovary and explore the role of CREBZF and related mechanisms in the apoptosis of ovarian granulosa cells. We found by immunohistochemistry that CREBZF was mainly located in granulosa cells and oocytes during the estrous cycle. Western blot analysis showed that SMILE was the main isoform of CREBZF in the ovary. The relationship between apoptosis and CREBZF was assessed via CREBZF overexpression and knockdown. Flow cytometry analysis showed that CREBZF induced cell apoptosis in granulosa cells. Western bolt analysis showed that overexpression of CREBZF upregulated BAX and cleaved Caspase-3, while it downregulated BCL-2. Furthermore, overexpression of CREBZF inhibited the ERK1/2 and mTOR signaling pathways through the phosphorylation of intracellular-regulated kinases 1/2 (ERK1/2) and p70 S6 kinase (S6K1). Moreover, we found that CREBZF also activated autophagy by increasing LC3-II. In summary, these results suggest that CREBZF might play a proapoptotic role in cell apoptosis in granulosa cells, possibly by regulating the ERK1/2 and mTOR signaling pathways.
View Full-Text
►

▼

Figures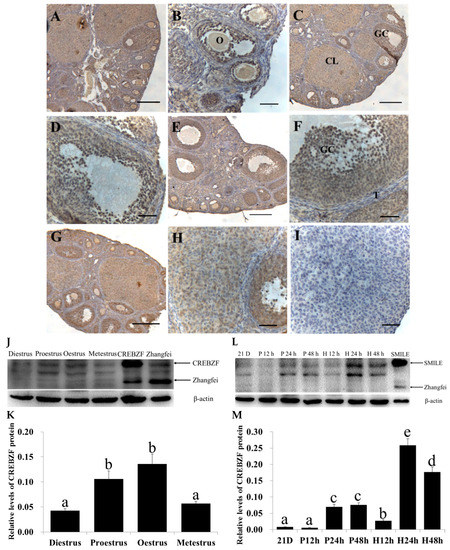 Figure 1
This is an open access article distributed under the
Creative Commons Attribution License
which permits unrestricted use, distribution, and reproduction in any medium, provided the original work is properly cited (CC BY 4.0).

Share & Cite This Article
MDPI and ACS Style
Chen, F.; Wen, X.; Lin, P.; Chen, H.; Wang, A.; Jin, Y. Activation of CREBZF Increases Cell Apoptosis in Mouse Ovarian Granulosa Cells by Regulating the ERK1/2 and mTOR Signaling Pathways. Int. J. Mol. Sci. 2018, 19, 3517.
Note that from the first issue of 2016, MDPI journals use article numbers instead of page numbers. See further details here.
Related Articles
Comments
[Return to top]