A Comparison of Proteins Expressed between Human and Mouse Adipose-Derived Mesenchymal Stem Cells by a Proteome Analysis through Liquid Chromatography with Tandem Mass Spectrometry
1
Department of Infectious, Respiratory, and Digestive Medicine, Graduate School of Medicine, University of the Ryukyus, Okinawa 903-0215, Japan
2
Department of Regenerative Medicine, Graduate School of Medicine, University of the Ryukyus, Okinawa 903-0215, Japan
3
Department of Basic Laboratory Sciences, School of Health Sciences in the Faculty of Medicine, University of the Ryukyus, Okinawa 903-0215, Japan
4
Okayama Saidaiji Hospital, Okayama 704-8192, Japan
5
Division of Pediatric Dentistry, Graduate School of Medical and Dental Science, Niigata University, Niigata 951-8514, Japan
6
Department of Urology, Okayama University Graduate School of Medicine, Dentistry and Pharmaceutical Sciences, Okayama 700-8558, Japan
*
Authors to whom correspondence should be addressed.
Received: 29 September 2018 / Revised: 27 October 2018 / Accepted: 4 November 2018 / Published: 6 November 2018
Abstract
Adipose-derived mesenchymal stem cells (ADSCs) have become a common cell source for cell transplantation therapy. Clinical studies have used ADSCs to develop treatments for tissue fibrosis, such as liver cirrhosis and pulmonary fibroma. The need to examine and compare basic research data using clinical research data derived from mice and humans is expected to increase in the future. Here, to better characterize the cells, the protein components expressed by human ADSCs used for treatment, and mouse ADSCs used for research, were comprehensively analyzed by liquid chromatography with tandem mass spectrometry. We found that 92% (401 type proteins) of the proteins expressed by ADSCs in humans and mice were consistent. When classified by the protein functions in a gene ontology analysis, the items that differed by >5% between human and mouse ADSCs were "biological adhesion, locomotion" in biological processes, "plasma membrane" in cellular components, and "antioxidant activity, molecular transducer activity" in molecular functions. Most of the listed proteins were sensitive to cell isolation processes. These results show that the proteins expressed by human and murine ADSCs showed a high degree of correlation.
View Full-Text
►

▼

Figures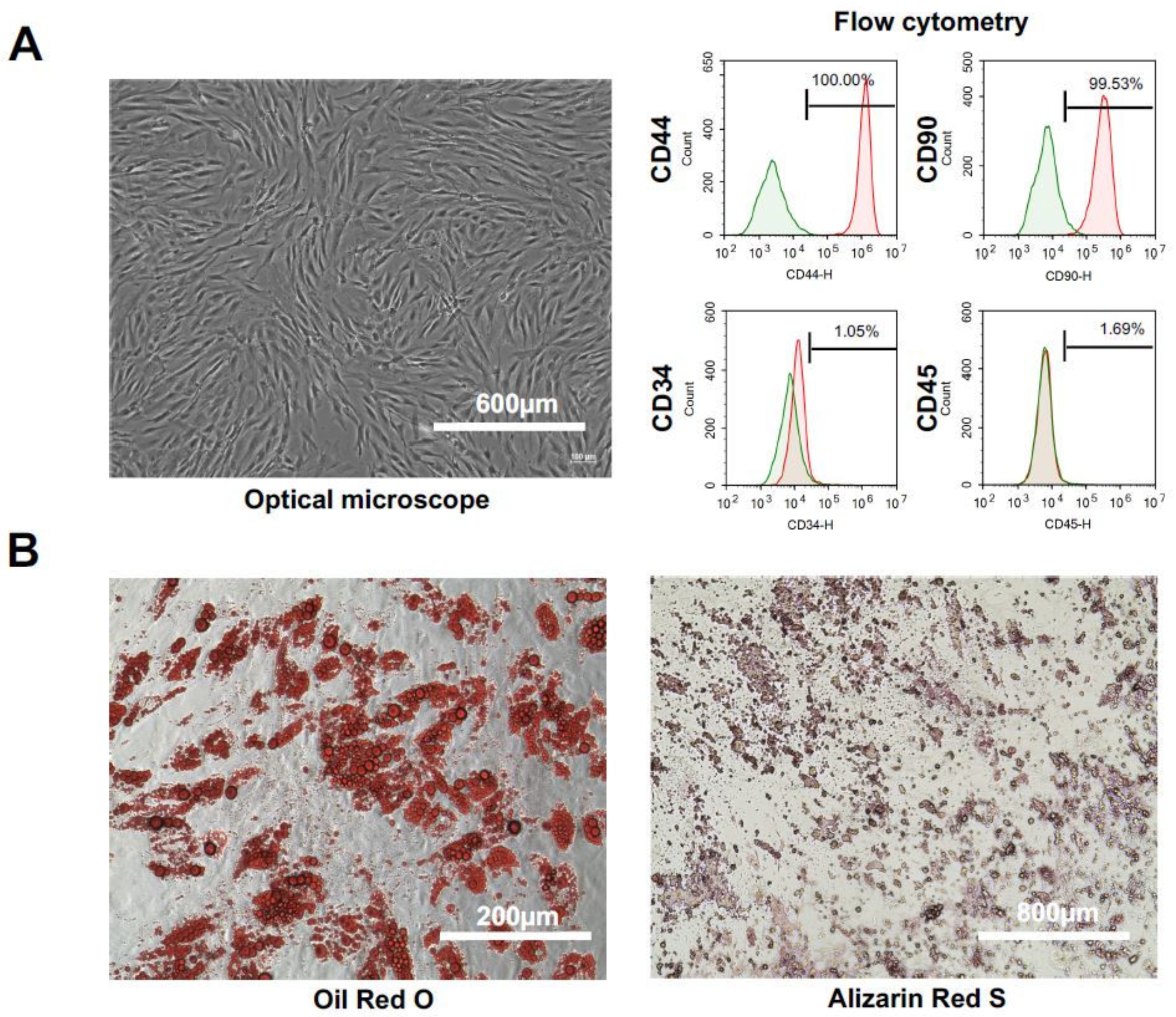 Figure 1
This is an open access article distributed under the
Creative Commons Attribution License
which permits unrestricted use, distribution, and reproduction in any medium, provided the original work is properly cited (CC BY 4.0).

Share & Cite This Article
MDPI and ACS Style
Nahar, S.; Nakashima, Y.; Miyagi-Shiohira, C.; Kinjo, T.; Kobayashi, N.; Saitoh, I.; Watanabe, M.; Noguchi, H.; Fujita, J. A Comparison of Proteins Expressed between Human and Mouse Adipose-Derived Mesenchymal Stem Cells by a Proteome Analysis through Liquid Chromatography with Tandem Mass Spectrometry. Int. J. Mol. Sci. 2018, 19, 3497.
Note that from the first issue of 2016, MDPI journals use article numbers instead of page numbers. See further details here.
Related Articles
Comments
[Return to top]