Melatonin Improves Oocyte Maturation and Mitochondrial Functions by Reducing Bisphenol A-Derived Superoxide in Porcine Oocytes In Vitro
1
Department of Biotechnology, College of Engineering, Daegu University, 201 Daegudae-ro, Jillyang, Gyeongsan, Gyeongbuk 38453, Korea
2
Department of Biological Science, College of Natural Sciences, Wonkwang University, 460 Iksandae-ro, Iksan, Jeonbuk 54538, Korea
*
Authors to whom correspondence should be addressed.
Received: 5 October 2018 / Revised: 26 October 2018 / Accepted: 29 October 2018 / Published: 31 October 2018
Abstract
Bisphenol A (BPA) is synthetic organic compound that exhibits estrogen-like properties and it induces mitochondrial superoxide production. Melatonin (Mela) protects against BPA-mediated cell damage and apoptosis. However, the antioxidative effects of Mela against BPA-induced superoxide production in porcine oocytes are still not known. In this study, we investigated the antioxidative effects of Mela against BPA-derived superoxide on oocyte maturation in pigs. To investigate the effects of the superoxide specific scavenger, Mito-TEMPO, on porcine oocyte maturation in response to BPA exposure apoptosis proteins, we treated the oocytes with Mito-TEMPO (0.1 µM) after pre-treating them with BPA (75 µM) for 22 h. As expected, the reduction in meiotic maturation and cumulus cell expansion of cumulus-oocyte-complexes (COCs) in the BPA (75 µM) treated group was recovered (
p
< 0.01) by treatment with Mito-TEMPO (0.1 µM). An increase in the levels of mitochondrial apoptotic proteins (AIF, cleaved Cas 3 and cleaved Parp1) in response to BPA-induced damage was also reduced by Mito-TEMPO treatment in porcine COCs. Interestingly, we confirmed the positive effects of Mela with respect to superoxide production upon BPA exposure during oocyte maturation and also confirmed the reduction in mitochondrial apoptosis in Mela (0.1 µM)-treated porcine COCs. These results provide evidence for the first time that antioxidative effects of Mela on BPA-derived superoxide improve porcine oocyte maturation.
View Full-Text
►

▼

Figures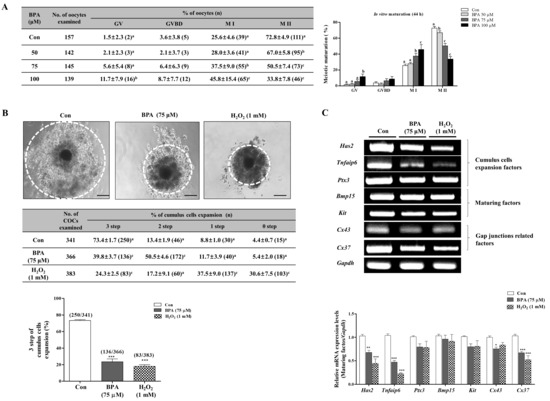 Figure 1
This is an open access article distributed under the
Creative Commons Attribution License
which permits unrestricted use, distribution, and reproduction in any medium, provided the original work is properly cited (CC BY 4.0).

Share & Cite This Article
MDPI and ACS Style
Park, H.-J.; Park, S.-Y.; Kim, J.-W.; Yang, S.-G.; Kim, M.-J.; Jegal, H.-G.; Kim, I.-S.; Choo, Y.-K.; Koo, D.-B. Melatonin Improves Oocyte Maturation and Mitochondrial Functions by Reducing Bisphenol A-Derived Superoxide in Porcine Oocytes In Vitro. Int. J. Mol. Sci. 2018, 19, 3422.
Note that from the first issue of 2016, MDPI journals use article numbers instead of page numbers. See further details here.
Related Articles
Comments
[Return to top]