Open Access This article is
freely available
re-usable
Review
Targeting Cytokines as Evolving Treatment Strategies in Chronic Inflammatory Airway Diseases
Division of Pulmonary, Allergy and Critical Care Medicine, Department of Medicine, The University of Alabama at Birmingham, Birmingham, AL 35294, USA
*
Author to whom correspondence should be addressed.
Received: 28 September 2018 / Accepted: 27 October 2018 / Published: 30 October 2018
Abstract
:
Cytokines are key players in the initiation and propagation of inflammation in chronic inflammatory airway diseases such as chronic obstructive pulmonary disease (COPD), bronchiectasis and allergic asthma. This makes them attractive targets for specific novel anti-inflammatory treatment strategies. Recently, both interleukin-1 (IL-1) and IL-6 have been associated with negative health outcomes, mortality and a pro-inflammatory phenotype in COPD. IL-6 in COPD was shown to correlate negatively with lung function, and IL-1beta was induced by cigarette smoke in the bronchial epithelium, causing airway inflammation. Furthermore, IL-8 has been shown to be a pro-inflammatory marker in bronchiectasis, COPD and allergic asthma. Clinical trials using specific cytokine blockade therapies are currently emerging and have contributed to reduce exacerbations and steroid use in COPD. Here, we present a review of the current understanding of the roles of cytokines in the pathophysiology of chronic inflammatory airway diseases. Furthermore, outcomes of clinical trials in cytokine blockade as novel treatment strategies for selected patient populations with those diseases will be discussed.
Keywords:
COPD; allergic asthma; bronchiectasis; cytokines; IL-1β; IL-6; IL-8
2. Mediators of Chronic Inflammatory Airway Diseases
Cytokines are polypeptides and secreted by various cell types, including inflammatory cells and the airway epithelium [
24
]. They have autocrine, paracrine, or endocrine functions to regulate immunity and inflammation. Chemokines are cytokines that serve as chemotactic agents or chemoattractants for other cells. Furthermore, there is redundancy in cytokine-induced effects with different cytokines acting either synergistically or antagonistically. Interleukins are a subgroup of cytokines and can be classified as pro- or anti-inflammatory. Key pro-inflammatory interleukins are IL-1β, IL-6, and IL-8; they can activate the immune system and contribute to the acute inflammatory response by promoting antigen presentation, inflammatory cell activation, and expression of enzymes involved in matrix degradation [
25
]. Important anti-inflammatory interleukins include IL-1ra and IL-10, which can be secreted by alveolar macrophages and attenuate lung inflammation [
26
,
27
]. IL-10 can also inhibit the production of pro-inflammatory cytokines by activation of T (thymus) cells and monocytes [
28
].
There is increasing evidence for cytokine dysregulation in many chronic pulmonary diseases. In allergic asthma, IL-4 and IL-13 are produced by antigen-presenting cells, which lead to IgE production by B (bone marrow) cells and subsequent mast cell degranulation. In addition, eosinophils are stimulated by IL-5 that is produced by Th2 cells [
29
]. The airway epithelium can also produce specific cytokines favoring Th2 and/or Th17 cell differentiation, such as IL-33 promoting IL-5 production and eosinophilia [
30
]. Altogether, these secreted cytokines can initiate an asthmatic attack.
Many cytokines, including IL-1β and IL-6, have been shown to have a major role in COPD [
31
]. Additionally, IL-1β levels were shown to be increased in the acute respiratory distress syndrome [
1
,
32
].
The following paragraphs will focus on interleukins and their roles in three major chronic inflammatory airway diseases including COPD, bronchiectasis, and allergic asthma.
3. Current Cytokine Specific Treatment Strategies
With the frequency and severity of airway inflammation in chronic lung disorders, a growing area of interest has been centered on the identification of factors that drive disease, including cytokines/chemokines, and their potential as viable therapeutic targets.
Th2 cytokines are the primary targets for biologic therapeutics for chronic airway diseases associated with eosinophilic inflammation. So far, anti-IL-5 therapy in asthma has been approved and cleared by the Food and Drug Administration (FDA), and clinical trials have been performed since 2000 with the first inhibitor, mepolizumab, which was approved for its use in 2015. Mepolizumab was shown to promote a reduction in eosinophils, acute exacerbations, and the need for steroids [
91
,
92
]. In recent years, two additional anti-IL-5 antibodies (reslizumab and benralizumab) have been approved by the FDA for their safety and efficacy in reducing asthma exacerbations [
93
,
94
]. IL-5 therapeutics are currently being studied for an indication in COPD; phase 3 trials are currently being conducted using benralizumab and mepolizumab. The first results showed that benralizumab displayed a mild beneficial effect on lung function, while treatment with mepolizumab reduced COPD exacerbations [
95
,
96
].
Similar to the IL-5 treatment strategies in COPD, an anti-IL-4 antibody has been studied in a clinical trial as an indication for asthma, and the IL-4 receptor α inhibitor, dupilumab, has shown notable improvements in exacerbations and lung function from asthmatic patients that are already on dual therapy with ICSs and LABA [
97
,
98
]. Recently, dupilumab was approved by the FDA for its asthma indication but has not been examined for its efficacy in COPD to date. The anti-IL-13 therapeutics lebrikizumab and tralokinumab were used in phase 3 clinical asthma trials; however, the inhibitors showed negligible to no effects on lung function or exacerbation reduction [
99
].
4. Future Therapeutic Strategies
Several pro-inflammatory cytokines have been shown to be upregulated and characterized as contributors to disease severity in asthma, COPD, and CF bronchiectasis making them appropriate therapeutic targets. These will be discussed in detail in the following paragraphs.
4.1. Inhibition of IL-1β as Therapeutic Strategy
Altogether, these data highlight the involvement of IL-1β in smoke and CF-related inflammatory airway disease and IL-1β inhibition as potential future therapeutic application.
The impact of canakinumab on pulmonary function in COPD was also assessed in a phase 1/2 study, which included 147 participants. Individuals received either drug or placebo intravenous infusion at weeks 1, 5, 7, and thereafter every 4 weeks for a total of 45 weeks. The primary outcome measure did not show any significant difference in lung function between groups. Is this study alone sufficient to "disqualify" canakinumab, or were the studied outcome measures just not sensitive enough? Should the study have been conducted for a longer time and should COPD stages, progression, or COPD-associated inflammation have been assessed instead? These are all valid questions and may have contributed to a different outcome; therefore, this study alone should not preclude the use of canakinumab as a potential future therapy in COPD.
Nevertheless, caution should be taken when using IL-1 inhibitory therapy due to the primary role of IL-1β activating the inflammasome and protecting against respiratory infections. IL-1 inhibition may render patients with chronic inflammatory respiratory disorders more susceptible to active airway infection and exacerbations. Therefore, targeted approaches to suppress the inflammatory response need to be assessed thoroughly and used wisely for certain subgroups of patients.
4.2. IL-6 Blocking Antibody Therapy
IL-6 can be produced by both inflammatory and primary lung epithelial cells in response to a variety of different stimuli [
116
,
117
,
118
]. The age-dependent onset of frailty, loss of lung function, and increased prevalence of COPD suggests involvement of aging related mechanisms or "inflammaging". One concept characterizes aging as a proinflammatory condition due to the underlying immune dysfunction with COPD. Therefore, emphysema development has been shown to represent an "accelerated aging phenotype" [
119
,
120
]. Aging-related pro-inflammatory cytokines, especially IL-6, have been linked to negative health outcomes and mortality, and speculated to result in persistent, low grade activation of chronic inflammation [
121
]. Other explanations for this aging-associated rise in circulating IL-6 levels include increased oxidative stress or persistent viral infections (herpes or cytomegalovirus) as observed in the frail and elderly [
122
,
123
]. Characterizing the mechanism of IL-6 in affecting frailty, lung disease (specifically COPD), and adverse outcomes may prove to be an important field of future research. In CF bronchiectasis, Nixon and co-authors demonstrated that IL-6 sputum levels were negatively associated with FEV1 and forced vital capacity (FVC) with IL-6 decreasing after antibiotic treatment [
124
].
Analyzing the role of IL-6 in asthma revealed that IL-6 mRNA was constitutively present in mouse primary lung epithelial cells, but not in resident immune cells. Interestingly, IL-6-induced IL-4 production during Th2 differentiation has been shown to inhibit Th1 differentiation [
125
] and, together with transforming growth factor (TGF)-β, IL-6 has also been documented to promote Th17 cell differentiation [
126
,
127
]. Asthmatic patients (including allergic and intrinsic asthma) were shown to have increased IL-6 serum and BAL fluid levels [
118
,
128
,
129
]. Two studies showed that the levels of IL-6 in sputum of asthmatic patients inversely correlated with FEV1 [
130
,
131
]. This also held true in obese asthma patients [
132
].
These studies indicate that IL-6 seems to be directly involved in both the pathogenesis of asthma as well as its associated progressive loss of lung function.
Blocking antibodies to IL-6 and its receptor have been studied in other inflammatory diseases, such as rheumatoid arthritis and Crohn's disease. Clinical trials for tocilizumab, a blocking antibody for the IL-6 receptor, revealed decreased IL-6 levels, improved disease activity scores, and symptoms in rheumatoid arthritis. The antibody was approved in 2010 but has not been tested in chronic inflammatory airway diseases to date [
133
]. Therefore, targeting IL-6 could be a potential novel and promising treatment strategy to suppress not only chronic airway but also its associated systemic inflammation, COPD-associated frailty and decline in lung function.
4.3. Inhibition of IL-8 Signaling as an Anti-Inflammatory Therapy Approach
4.4. Future Approaches Targeting IL-17 and IL-23
5. Conclusions
Managing chronic lung disorders and chronic airway inflammation are global concerns, and their prevalence is increasing due to an aging population and a substantial increase of particulate matter air pollution over recent decades. Developing a better understanding of pro-and anti-inflammatory cytokines that regulate and/or drive disease severity serves as a beneficial tool in the development of modern therapeutics. Even though extensive progress has been made thus far, most of our therapeutic approaches for chronic inflammatory airway diseases target broadly with significant side effects. Recent attempts of specific anti-cytokine therapies have only shown some benefits. Future research is needed to help find novel and more specific targets, or for more in-depth evaluation of the specific therapies we already have. In addition, the right patient subgroups and timing for initiation of treatment need to be thoroughly investigated, since inflammation is needed to activate a proper immune response. This might be the explanation for some of the negative results of current clinical anti-cytokine trials. Therefore, it is worth conducting long-term studies with anakinra and canakinumab, if lung function or disease progression is an outcome measure. Furthermore, other outcome measures might be more appropriate when assessing anti-inflammatory treatments, such as exacerbation or hospitalization frequency. Hopefully, further research will help in the future to not only identify novel treatments for chronic inflammatory lung disorders but also aid in a better understanding of their pathophysiology.
Funding
This work was supported by the Flight Attendant Medical Research Institute (YFAC152003 to S.K.) and the Cystic Fibrosis Foundation (CFF KRICK1610 to S.K.) and the NIH (K99HL131866/R00HL131866 to J.B. and T32 HL007457 to J.G.).
Conflicts of Interest
The authors declare no conflict of interest.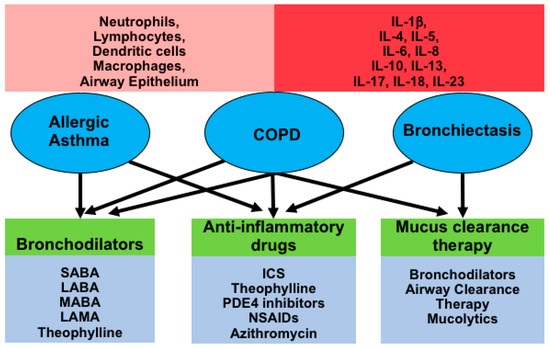 Figure 1. Diagram depicting inflammatory airway diseases in circles (allergic asthma, COPD and bronchiectasis), which all show airway inflammation with involvement of various cell types and the main cytokines (red rectangles), and current common therapies (green/blue rectangles) used for their treatment. Abbreviations: SABA, short-acting β2-adrenoreceptor agonists; LABA, long-acting β2-adrenoreceptor agonists; MABA, dual muscarinic antagonist-β2-agonist compounds; PDE4, phosphodiesterase 4; SAMA, short-acting muscarinic receptor antagonists, LAMA, long-acting muscarinic receptor antagonists; ICS, inhaled corticosteroids; NSAIDs, nonsteroidal anti-inflammatory drugs.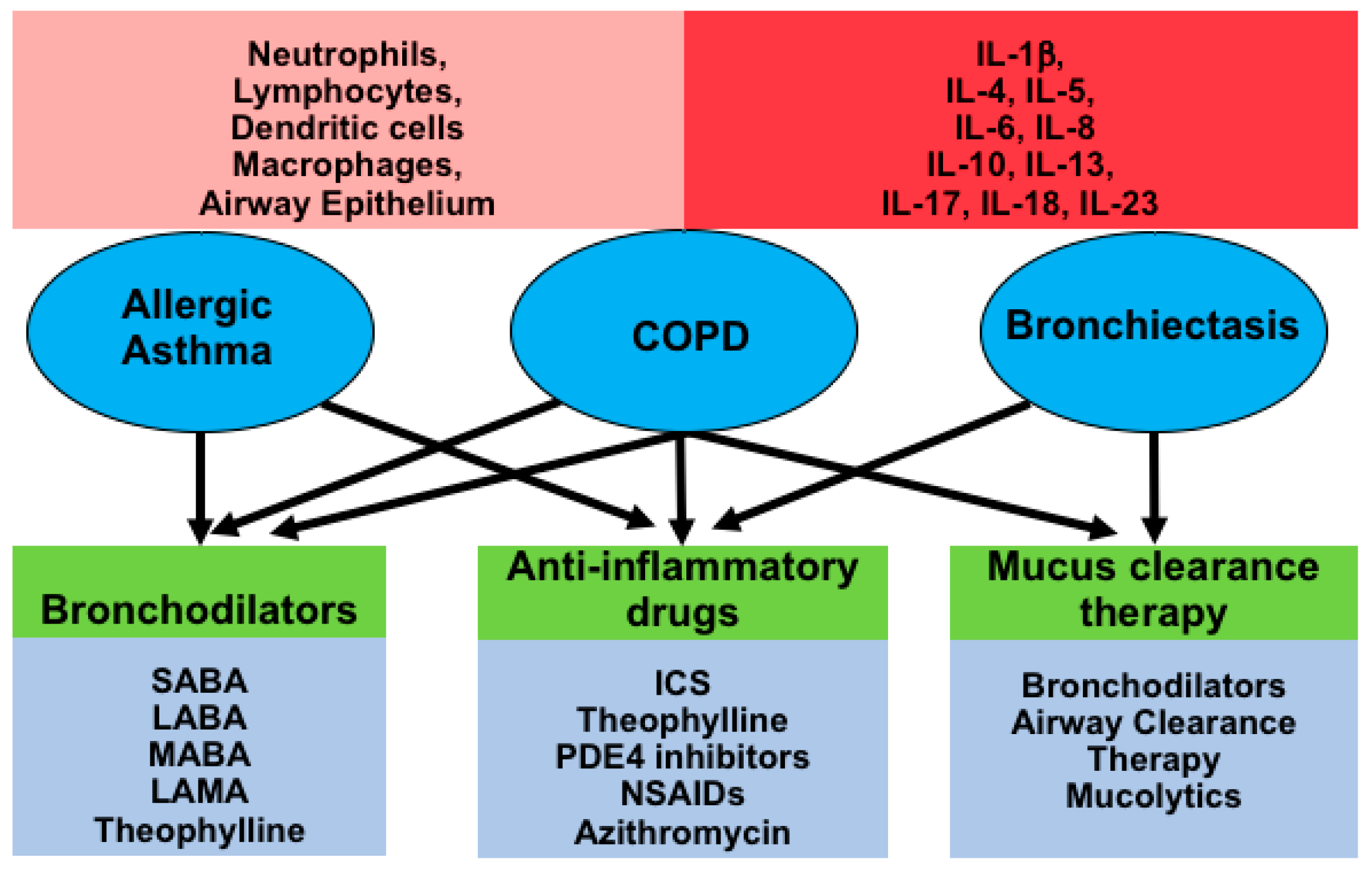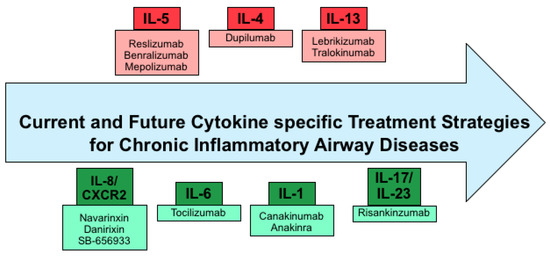 Figure 2. Diagram depicting current and future cytokine specific therapy options, with pink boxes representing established therapies and light green boxes representing therapies that are currently under investigation—cytokines are in either red or green.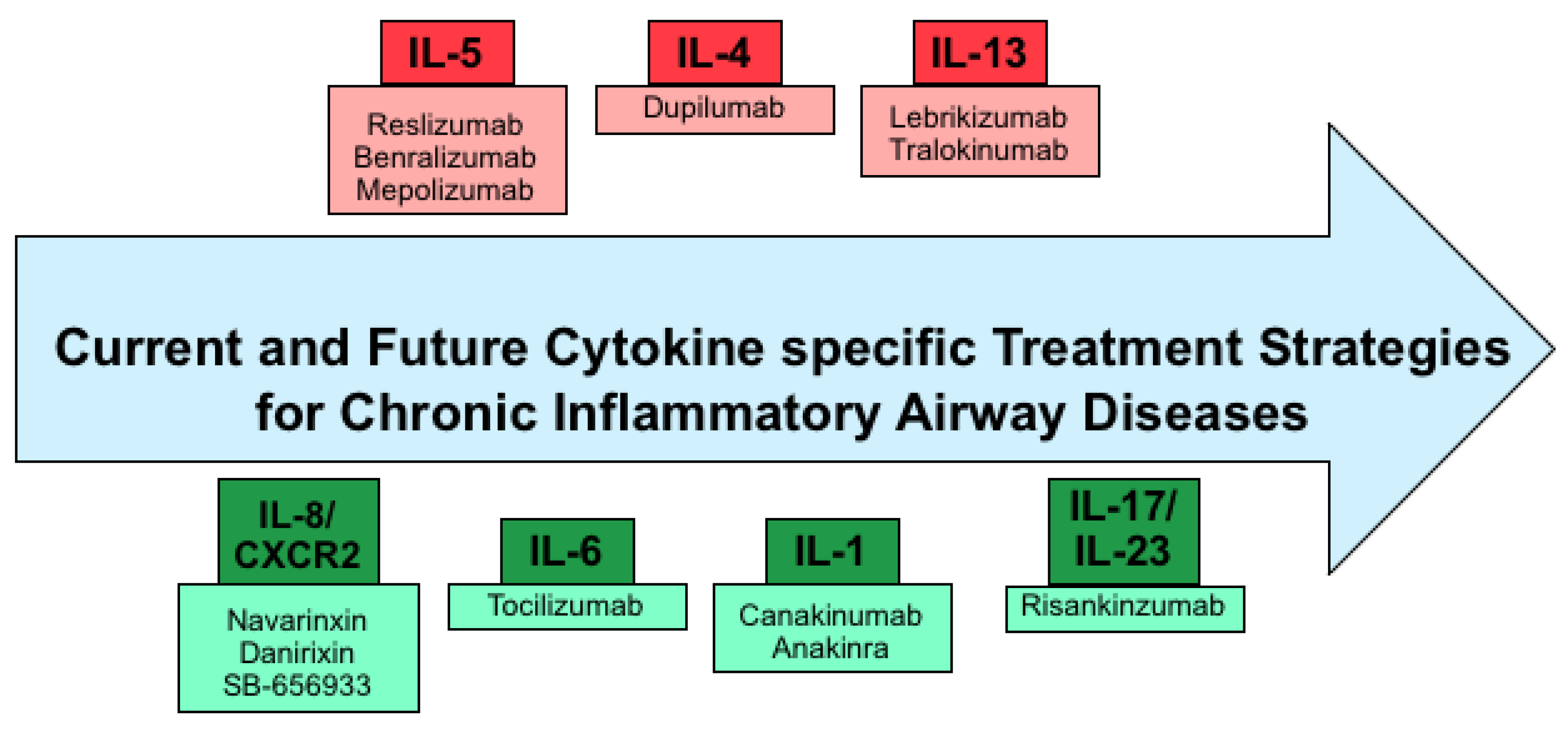 © 2018 by the authors. Licensee MDPI, Basel, Switzerland. This article is an open access article distributed under the terms and conditions of the Creative Commons Attribution (CC BY) license (http://creativecommons.org/licenses/by/4.0/).