Open Access This article is
freely available
re-usable
Article
In Vitro
Fermentation of Selected Prebiotics and Their Effects on the Composition and Activity of the Adult Gut Microbiota
1
DSM Nutritional Products Ltd., R&D Human Nutrition and Health, 4002 Basel, Switzerland
2
The Netherlands Organization for Applied Scientific Research (TNO), Microbiology and Systems Biology, 3704 HE Zeist, The Netherlands
*
Author to whom correspondence should be addressed.
Received: 31 August 2018 / Accepted: 3 October 2018 / Published: 10 October 2018
Abstract
:
Recently, the concept of prebiotics has been revisited to expand beyond non-digestible oligosaccharides, and the requirements for selective stimulation were extended to include microbial groups other than, and additional to, bifidobacteria and lactobacilli. Here, the gut microbiota-modulating effects of well-known and novel prebiotics were studied. An
in vitro
fermentation screening platform (i-screen) was inoculated with adult fecal microbiota, exposed to different dietary fibers that had a range of concentrations (inulin, alpha-linked galacto-oligosaccharides (alpha-GOS), beta-linked GOS, xylo-oligosaccharides (XOS) from corn cobs and high-fiber sugar cane, and beta-glucan from oats), and compared to a positive fructo-oligosaccharide (FOS) control and a negative control (no fiber addition). All dietary fibers displayed prebiotic activity, with beta-glucan showing more distinct effects on the microbial composition and metabolism compared to the other fibers. Beta-glucan induced the growth of
Prevotella
and
Roseburia
with a concomitant increase in propionate production. Inulin and both forms of GOS and XOS had a strong bifidogenic effect on the microbial composition. A dose-response effect was observed for butyrate when exposed to beta-glucan and inulin. The findings of this study support the potential for alpha-GOS, XOS, and oat beta-glucan to serve as novel prebiotics, due to their association with the positive shifts in microbiome composition and short-chain fatty acid production that point to potential health benefits.
Keywords:
XOS; beta-glucan; alpha-GOS; screening platform; i-screen; colonic fermentation
Author Contributions
K.P., J.K., F.H.J.S., R.E.S., and D.R. conceived and designed the experiments; F.H.J.S. and J.K. supervised the completion of the experiments; M.H. and T.v.d.B. conducted the bioinformatics analysis; S.F., J.K., M.H., T.v.d.B., F.H.J.S., R.E.S., and D.R. interpreted the results; S.F. wrote the paper. All authors read and approved the final version of the manuscript.
Acknowledgments
SAS Olygose, Longlive Biotechnology, and Prenexus Health are gratefully acknowledged for providing alpha-GOS, XOS-C, and XOS-S products for the experiment.
Conflicts of Interest
S.F., K.P., R.E.S., and D.R. are employees of DSM Nutritional Products, which is involved in the commercialization of dietary fibers.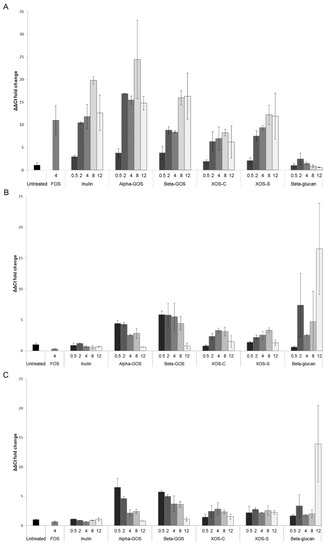 Figure 1.
Mean relative fold change of bacterial groups in 24 h fermentation samples, as measured by qPCR. Values are expressed as the mean ± standard deviation, obtained from the average of duplicate (inulin, alpha-linked galacto-oligosaccharides (alpha-GOS), beta-linked galacto-oligosaccharides (beta-GOS), xylo-oligosaccharides from corn cobs (XOS-C), xylo-oligosaccharides from high-fiber sugar cane (XOS-S), and beta-glucan) or triplicate (control and fructo-oligosaccharides (FOS)) samples. (
A
)
Bifidobacterium
, (
B
)
Lactobacillus
group 1, and (
C
)
Lactobacillus
group 2.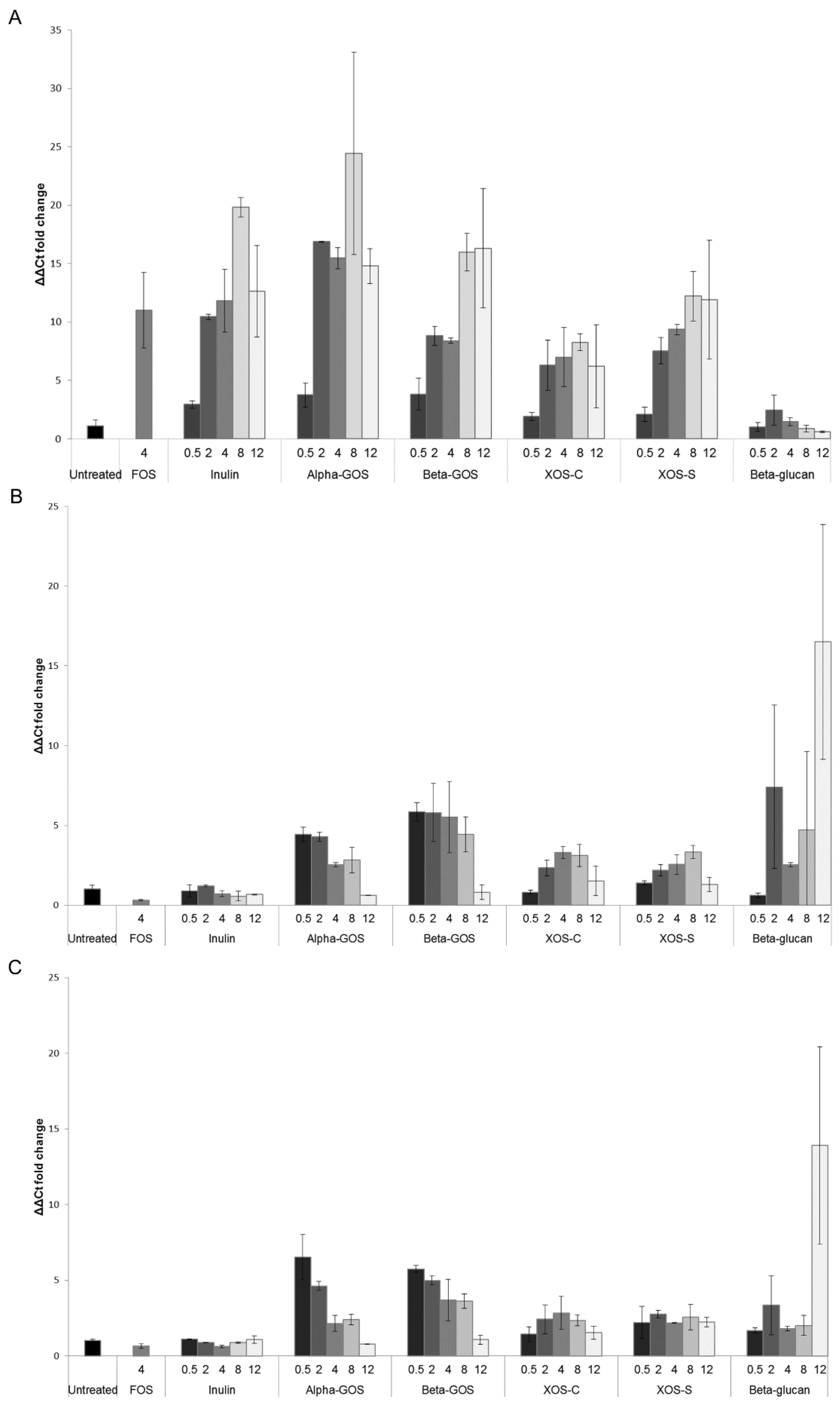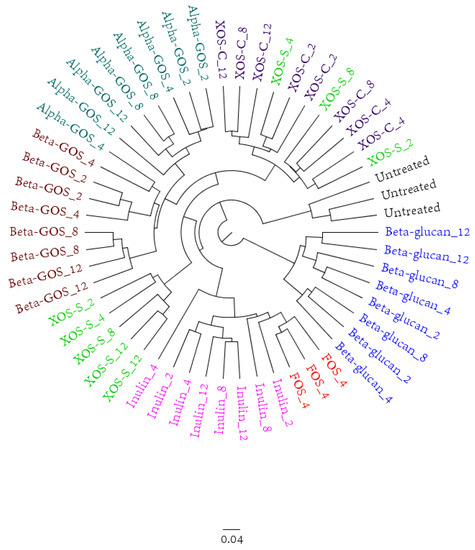 Figure 2. Clustering tree based on the Bray-Curtis dissimilarity of microbiota composition data, assessed by 16S rRNA gene amplicon sequencing. The number after the fiber indicates the concentration (in mg/mL) at which the fiber was added to the fermentation medium. The fiber concentration of 0.5 mg/mL is not depicted.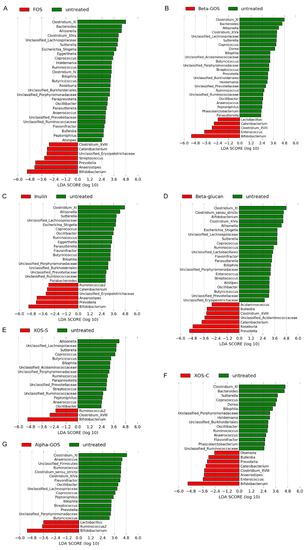 Figure 3. Identification of the most differentially abundant genera, between untreated controls and the fiber samples, using Linear Discriminant Analysis Effect Size (LEfSe) analysis. Genera enriched in the untreated samples are indicated with a positive Linear Discriminant Analysis (LDA) score (green), and genera enriched in the samples treated with different fibers are indicated with a negative LDA score (red). The threshold on the logarithmic LDA score for a discriminative genus was set to >2.0. (A) FOS, (B) Beta-GOS, (C) Inulin, (D) Beta-glucan, (E) XOS-S, (F) XOS-C, and (G) Alpha-GOS.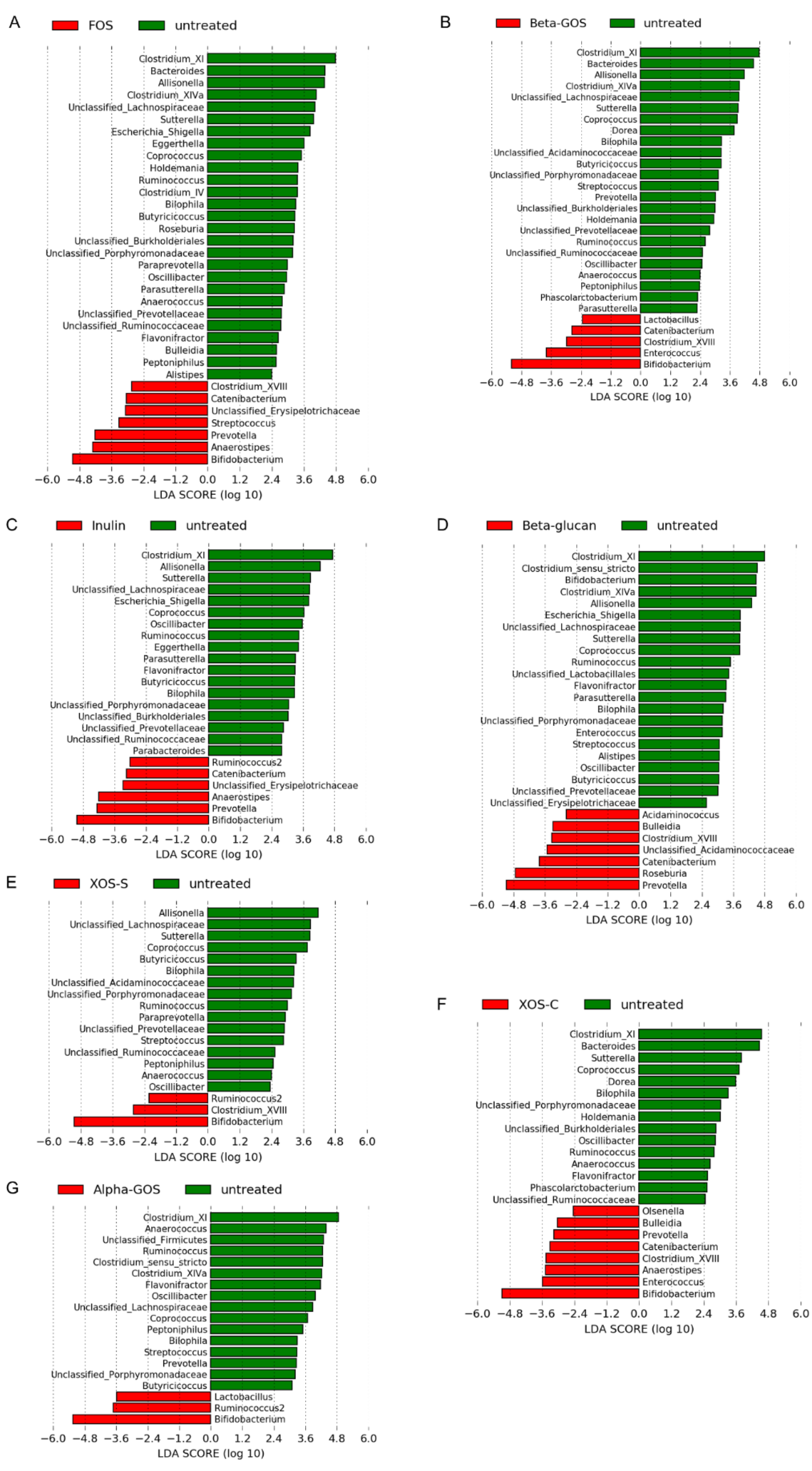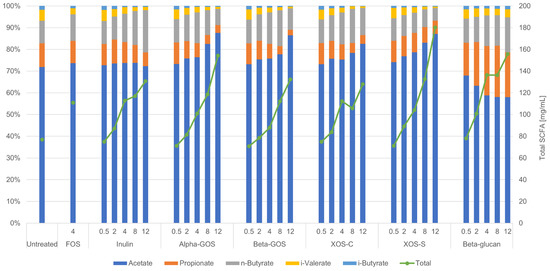 Figure 4. Total short-chain fatty acid (SCFA) concentrations and the relative percentages of SCFAs in the control and fiber-enriched samples. Acetate, propionate, butyrate, isovalerate, and isobutyrate were detected using gas chromatography (GC), and the total SCFA concentrations represent all metabolites measured.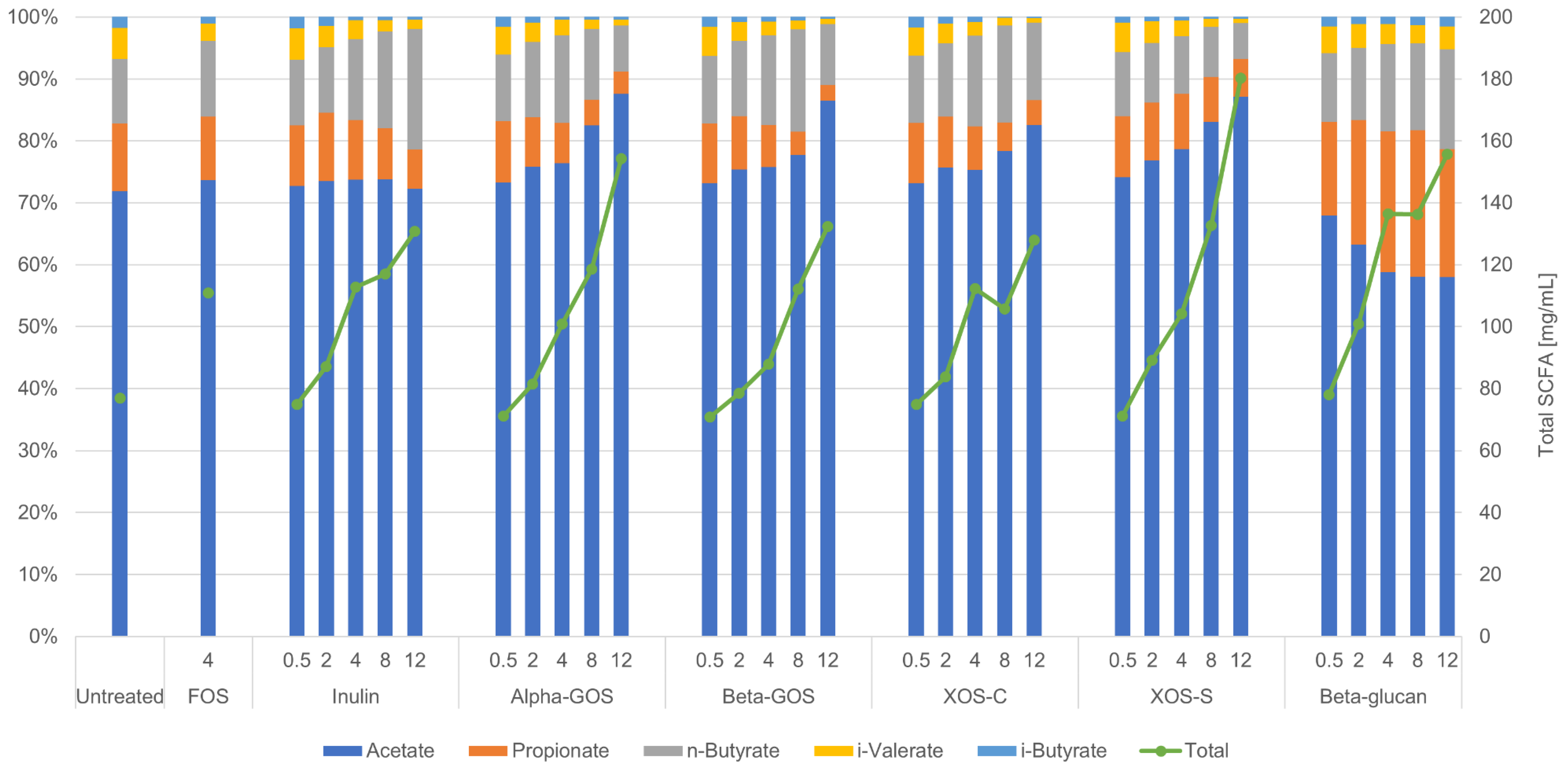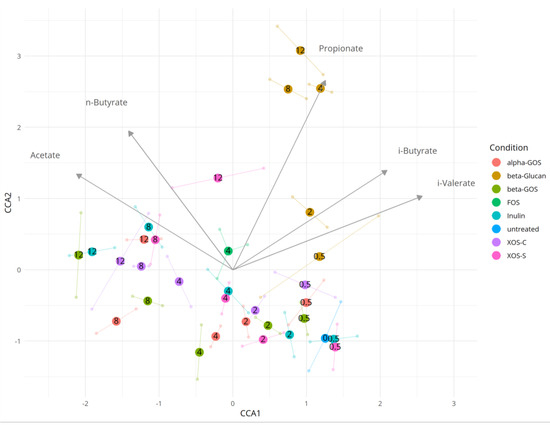 Figure 5. Relationship between the composition of the microbiota and the levels of short-chain fatty acids (SCFAs), using correspondence analysis. The larger dots represent microbiome composition and show the centroid values for each of the sets of duplicate samples. Arrows represent the direction of the association of microbiome composition with specific SCFA levels.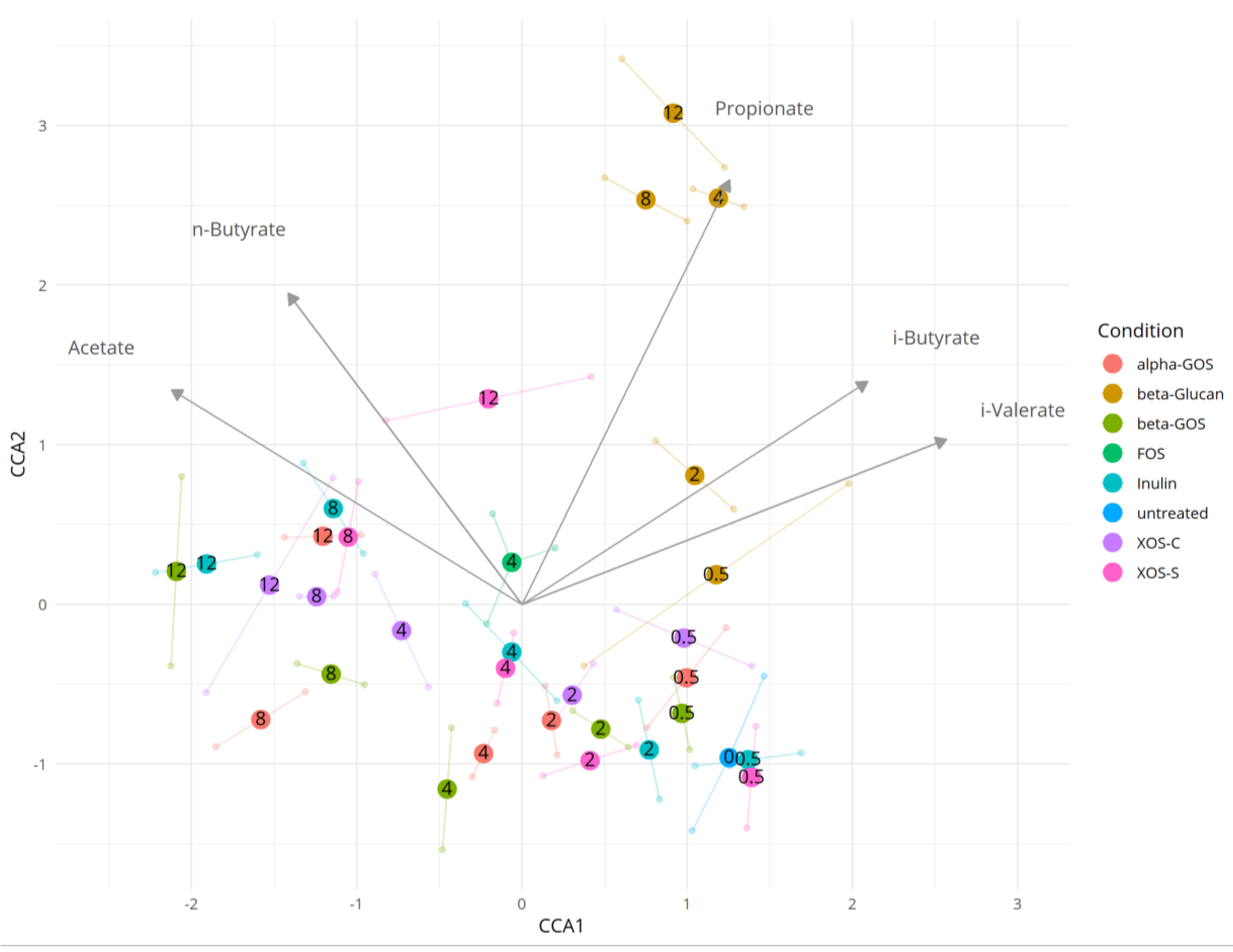 | Fiber | Source | Purity | Supplier |
| --- | --- | --- | --- |
| FOS | Chicory root | ≥90% | Sigma-Aldrich, Zwijndrecht, The Netherlands |
| Inulin | Chicory root | ≥99.5% | SENSUS, Roosendaal, The Netherlands |
| Alpha-GOS | Peas | ≥95% | SAS Olygose, Venette, France |
| Beta-GOS | Lactose | 90% | Hylen Co., Qingdao, China |
| XOS-C | Corn cobs | ≥95% | Longlive Biotechnology Co., Shandong, China |
| XOS-S | Sugar cane fiber | ≥75% | Prenexus Health Inc., Gilbert, AZ, USA |
| Beta-glucan | Oat flour | >94% | Megazyme, Wicklow, Ireland |

© 2018 by the authors. Licensee MDPI, Basel, Switzerland. This article is an open access article distributed under the terms and conditions of the Creative Commons Attribution (CC BY) license (http://creativecommons.org/licenses/by/4.0/).