Soybean-Derived Phytoalexins Improve Cognitive Function through Activation of Nrf2/HO-1 Signaling Pathway
School of Food Science and Biotechnology (BK21plus Program), Kyungpook National University, Daegu 41566, Korea
*
Author to whom correspondence should be addressed.
Received: 27 November 2017 / Revised: 31 December 2017 / Accepted: 13 January 2018 / Published: 16 January 2018
Abstract
As soy-derived glyceollins are known to induce antioxidant enzymes in various types of cells and tissues, we hypothesized that the compounds could protect neurons from damage due to reactive oxygen species (ROS). In order to examine the neuroprotective effect of glyceollins, primary cortical neurons collected from mice and mouse hippocampal HT22 cells were challenged with glutamate. Glyceollins attenuated glutamate-induced cytotoxicity in primary cortical neuron isolated from mice carrying wild-type nuclear factor (erythroid-derived 2)-like 2 (Nrf2), but the compounds were ineffective in those isolated from Nrf2 knockout mice, suggesting the involvement of the Nrf2 signaling pathway in glyceollin-mediated neuroprotection. Furthermore, the inhibition of heme oxygenase-1 (HO-1), a major downstream enzyme of Nrf2, abolished the suppressive effect of glyceollins against glutamate-induced ROS production and cytotoxicity, confirming that activation of HO-1 by glyceollins is responsible for the neuroprotection. To examine whether glyceollins also improve cognitive ability, mice pretreated with glyceollins were challenged with scopolamine and subjected to behavioral tests. Glyceollins attenuated scopolamine-induced cognitive impairment of mice, but failed to enhance memory in Nrf2 knockout mice, suggesting that the memory-enhancing effect is also mediated by the Nrf2 signaling pathway. Overall, glyceollins showed neuroprotection against glutamate-induced damage, and attenuated scopolamine-induced memory deficits in an Nrf2-dependent manner.
View Full-Text
►

▼

Figures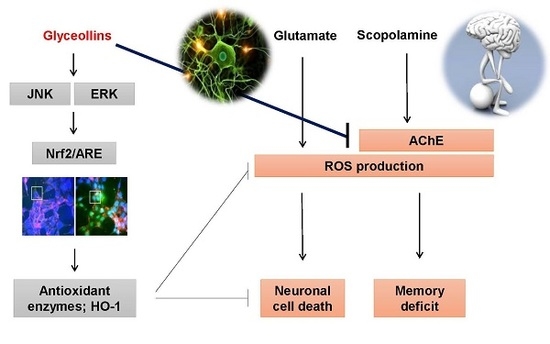 Graphical abstract
This is an open access article distributed under the
Creative Commons Attribution License
which permits unrestricted use, distribution, and reproduction in any medium, provided the original work is properly cited (CC BY 4.0).

Share & Cite This Article
MDPI and ACS Style
Seo, J.Y.; Kim, B.R.; Oh, J.; Kim, J.-S. Soybean-Derived Phytoalexins Improve Cognitive Function through Activation of Nrf2/HO-1 Signaling Pathway. Int. J. Mol. Sci. 2018, 19, 268.
Note that from the first issue of 2016, MDPI journals use article numbers instead of page numbers. See further details here.
Related Articles
Comments
[Return to top]