Effect of Omega-3 Fatty Acid Supplementation on Oxylipins in a Routine Clinical Setting
1
Medical Department, Division of Gastroenterology, Oncology, Hematology, Rheumatology and Diabetes, Ruppiner Kliniken, Brandenburg Medical School, 16816 Neuruppin, Germany
2
Department of Gastroenterology, Sana Klinikum Lichtenberg, 10365 Berlin, Germany
3
Medical Department, Division of Gastroenterology and Nephrology, Campus Virchow-Klinikum, Charité University Medicine, 13353 Berlin, Germany
4
Faculty of Mathematics and Natural Sciences, University of Wuppertal, 42119 Wuppertal, Germany
5
Institute for Food Toxicology, University for Veterinary Medicine Hannover, 30559 Hannover, Germany
†
These authors contributed equally to this work.
*
Author to whom correspondence should be addressed.
Received: 31 October 2017 / Revised: 3 January 2018 / Accepted: 4 January 2018 / Published: 8 January 2018
Abstract
Omega-6 polyunsaturated fatty acid (
n
-6 PUFA) is the predominant polyunsaturated fatty acid (PUFA), especially in Western diet. A high omega-6/omega-3 ratio in Western diets is implicated in the development of cardiovascular diseases and inflammatory processes. Studies in animal models and in humans have demonstrated beneficial effects of omega-3 PUFA (
n
-3 PUFA) in a variety of diseases, including cardiac arrhythmias and inflammatory diseases, as well as breast and colon cancer. The molecular mechanisms underlying the effects of
n
-3 PUFA are still not well understood. Possible mechanisms include competition between
n
-3 and
n
-6 PUFAs at the cyclooxygenase (COX) and lipoxygenase (LOX) and cytochrome P450 levels, and subsequent formation of oxylipins with specific anti-inflammatory or anti-arrhythmic effects. In this study, we report the impact of routine long-term treatment with prescription-grade
n
-3 PUFA (either 840 mg or 1680 mg per day) on blood cell membrane fatty acid composition, as well as plasma oxylipin patterns, in a patient population with severe hyperlipidemia and cardiovascular disease who are on standard lipid-lowering and cardioprotective medications. Lipidomics analyses were performed by LC/ESI-MS/MS. Supplementation led to a dose-dependent increase in
n
-3 PUFA eicosapentaenoic acid (EPA) and docosahexaenoic acid (DHA) in the blood cell fraction. We also observed a dose-dependent increase in EPA- and DHA-derived epoxy metabolites, whereas the effect of
n
-3 PUFA supplementation on LOX-dependent EPA- and DHA-derived hydroxy metabolites was less pronounced, with a tendency towards lower metabolites in subjects with higher
n
-3 PUFA levels. These data thus generally confirm effects of
n
-3 PUFA supplementation observed previously in healthy individuals. Additionally, they indicate a suppressive effect of high
n
-3 PUFA supplementation on the formation of LOX metabolites in the context of concomitant aspirin medication.
View Full-Text
►

▼

Figures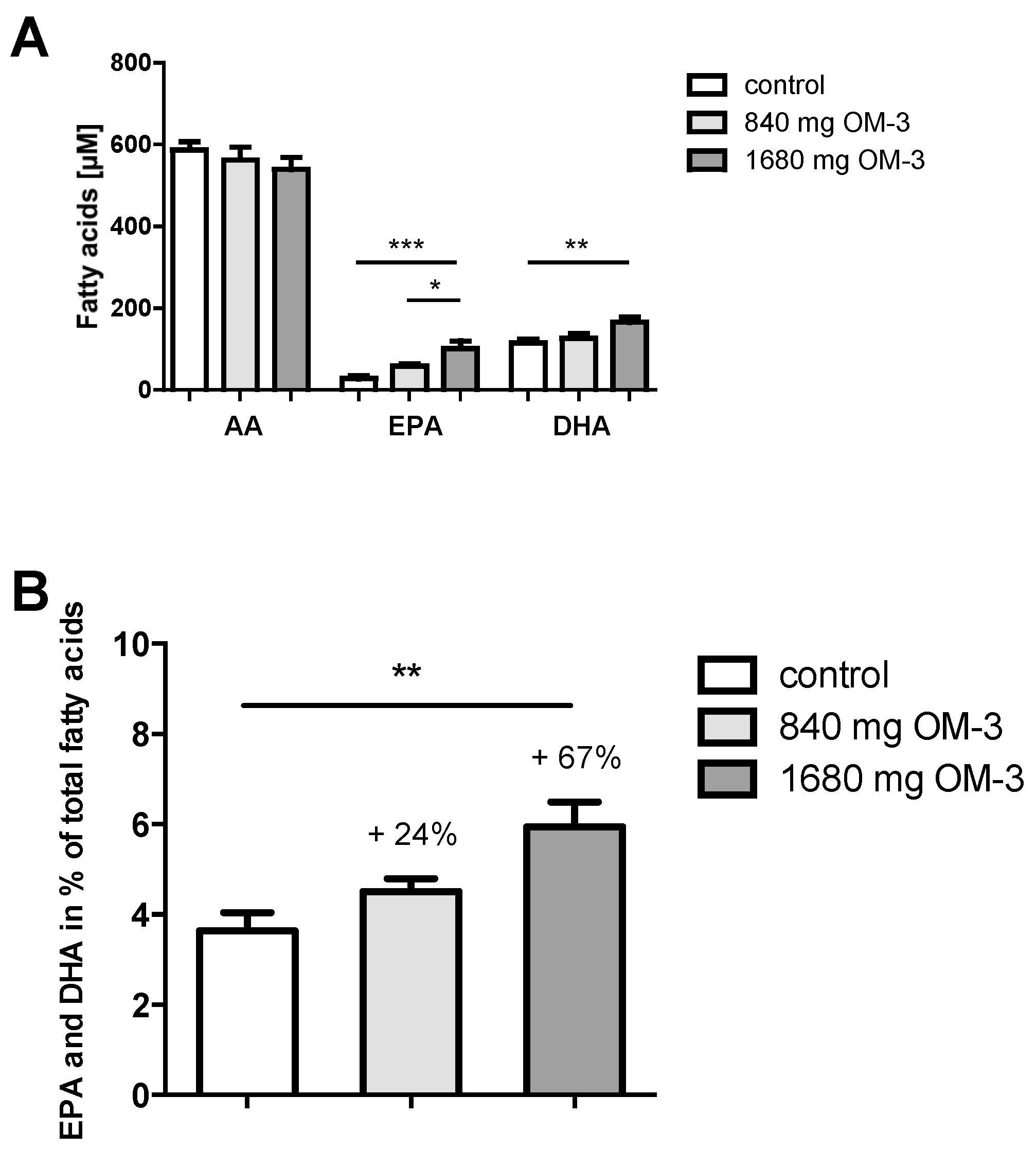 Figure 1
This is an open access article distributed under the
Creative Commons Attribution License
which permits unrestricted use, distribution, and reproduction in any medium, provided the original work is properly cited (CC BY 4.0).

Share & Cite This Article
MDPI and ACS Style
Schmöcker, C.; Zhang, I.W.; Kiesler, S.; Kassner, U.; Ostermann, A.I.; Steinhagen-Thiessen, E.; Schebb, N.H.; Weylandt, K.-H. Effect of Omega-3 Fatty Acid Supplementation on Oxylipins in a Routine Clinical Setting. Int. J. Mol. Sci. 2018, 19, 180.
Note that from the first issue of 2016, MDPI journals use article numbers instead of page numbers. See further details here.
Related Articles
Comments
[Return to top]