Molecular Epidemiology and Evolution of European Bat Lyssavirus 2
1
Wildlife Zoonoses and Vector Borne Disease Research Group, Animal and Plant Health Agency (APHA), Surrey KT15 3NB, UK
2
Institute of Global Health, University of Liverpool, Liverpool L69 3BX, UK
3
Institute of Molecular Virology and Cell Biology, Friedrich Loeffler Institute, (FLI), 17493 Greifswald, Germany
4
Institut Pasteur, Unit Lyssavirus Dynamics and Host Adaptation, 75015 Paris, France
5
Institute of Virology and Immunology, University of Berne, 3012 Berne, Switzerland
6
Norwegian Veterinary Institute, 0454 Oslo, Norway
7
Wageningen Bioveterinary Research, 8221 RA Lelystad, The Netherlands
8
Bavarian Health and Food Safety Authority, 85764 Oberschleissheim, Germany
9
Finnish Food Safety Authority Evira, 00790 Helsinki, Finland
†
These authors contributed equally to this work.
*
Author to whom correspondence should be addressed.
Received: 29 November 2017 / Revised: 26 December 2017 / Accepted: 29 December 2017 / Published: 5 January 2018
Abstract
Bat rabies cases in Europe are mainly attributed to two lyssaviruses, namely European Bat Lyssavirus 1 (EBLV-1) and European Bat Lyssavirus 2 (EBLV-2). Prior to the death of a bat worker in Finland in 1985, very few bat rabies cases were reported. Enhanced surveillance in the two subsequent years (1986–1987) identified 263 cases (more than a fifth of all reported cases to date). Between 1977 and 2016, 1183 cases of bat rabies were reported, with the vast majority (>97%) being attributed to EBLV-1. In contrast, there have been only 39 suspected cases of EBLV-2, of which 34 have been confirmed by virus typing and presently restricted to just two bat species;
Myotis daubentonii
and
Myotis dasycneme
. The limited number of EBLV-2 cases in Europe prompted the establishment of a network of European reference laboratories to collate all available viruses and data. Despite the relatively low number of EBLV-2 cases, a large amount of anomalous data has been published in the scientific literature, which we have here reviewed and clarified. In this review, 29 EBLV-2 full genome sequences have been analysed to further our understanding of the diversity and molecular evolution of EBLV-2 in Europe. Analysis of the 29 complete EBLV-2 genome sequences clearly corroborated geographical relationships with all EBLV-2 sequences clustering at the country level irrespective of the gene studied. Further geographical clustering was also observed at a local level. There are high levels of homogeneity within the EBLV-2 species with nucleotide identities ranging from 95.5–100% and amino acid identities between 98.7% and 100%, despite the widespread distribution of the isolates both geographically and chronologically. The mean substitution rate for EBLV-2 across the five concatenated genes was 1.65 × 10
−5
, and evolutionary clock analysis confirms the slow evolution of EBLV-2 both between and within countries in Europe. This is further supported by the first detailed EBLV-2 intra-roost genomic analysis whereby a relatively high sequence homogeneity was found across the genomes of three EBLV-2 isolates obtained several years apart (2007, 2008, and 2014) from
M. daubentonii
at the same site (Stokesay Castle, Shropshire, UK).
View Full-Text
►

▼

Figures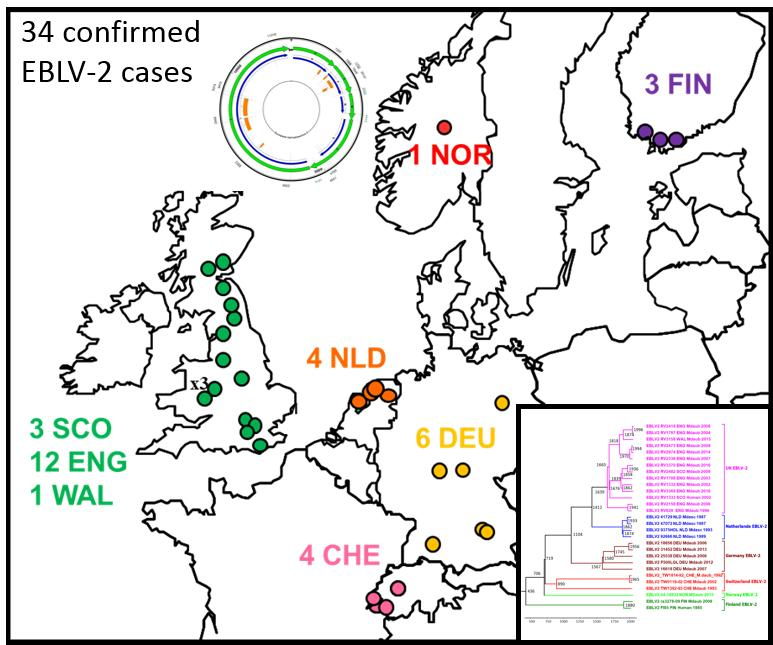 Graphical abstract
This is an open access article distributed under the
Creative Commons Attribution License
which permits unrestricted use, distribution, and reproduction in any medium, provided the original work is properly cited (CC BY 4.0).

Share & Cite This Article
MDPI and ACS Style
McElhinney, L.M.; Marston, D.A.; Wise, E.L.; Freuling, C.M.; Bourhy, H.; Zanoni, R.; Moldal, T.; Kooi, E.A.; Neubauer-Juric, A.; Nokireki, T.; Müller, T.; Fooks, A.R. Molecular Epidemiology and Evolution of European Bat Lyssavirus 2. Int. J. Mol. Sci. 2018, 19, 156.
Note that from the first issue of 2016, MDPI journals use article numbers instead of page numbers. See further details here.
Related Articles
Comments
[Return to top]