Praeruptorin A Inhibits Human Cervical Cancer Cell Growth and Invasion by Suppressing MMP-2 Expression and ERK1/2 Signaling
1
Institute of Medicine, Chung Shan Medical University, Taichung 40201, Taiwan
2
Department of Laboratory, Chung-Kang Branch, Cheng-Ching General Hospital, Taichung 40764, Taiwan
3
Institute of Biochemistry, Microbiology and Immunology, Chung Shan Medical University, Taichung 40201, Taiwan
4
School of Medical Laboratory and Biotechnology, Chung Shan Medical University, Taichung 40201, Taiwan
5
Department of Medical Research, Chung Shan Medical University Hospital, Taichung 40201, Taiwan
6
Division of Chest Medicine, Department of Internal Medicine, Taichung Veterans General Hospital, Taichung 40201, Taiwan
7
Division of Gastroenterology, Department of Internal Medicine, Kaohsiung Medical University Hospital, Kaohsiung 80708, Taiwan
8
Center for Stem Cell Research, Kaohsiung Medical University, Kaohsiung 80708, Taiwan
9
Department of Biochemistry, School of Medicine, Chung Shan Medical University, Taichung 40201, Taiwan
10
Clinical laboratory, Chung Shan Medical University Hospital, Taichung 40201, Taiwan
*
Authors to whom correspondence should be addressed.
Received: 19 September 2017 / Revised: 16 December 2017 / Accepted: 19 December 2017 / Published: 21 December 2017
Abstract
Praeruptorin A (PA) is a pyranocumarin present in the dried root of Peucedanumpraeruptorum Dunn that has anticancer effects against several types of cells. However, the effect of PA on human cervical cancer cells is unknown. Our results indicate that PA significantly inhibited cell proliferation, colony formation, migration, invasion, and wound closure of HeLa and SiHa cells, induced cell cycle arrest at G0/G1 phase, upregulated Rb, p16, p21 and p27 proteins and downregulated cyclin D1 and S-phase kinase-associated protein 2 (Skp2) proteins. PA also significantly reduced expression of matrix metalloproteinase-2 (MMP-2) and increased expression of tissue inhibitor of metalloproteinase-2 (TIMP-2). In addition, PA suppressed ERK1/2 activation and increased the effect of PD98059 (a specific MEK1/2 inhibitor) in downregulation of MMP-2 and upregulation of TIMP-2. PA treatment inhibited the effect of 12-
O
-tetradecanoylphorbol-13-acetate (TPA) on upregulation of ERK1/2 activation, MMP-2 expression, cellular migration, and invasion of HeLa cells. Our findings are the first to demonstrate the activity of PA against cervical cancer cells, and suggest this agent has promise as a therapeutic agent in treatment of human cervical cancer.
View Full-Text
►

▼

Figures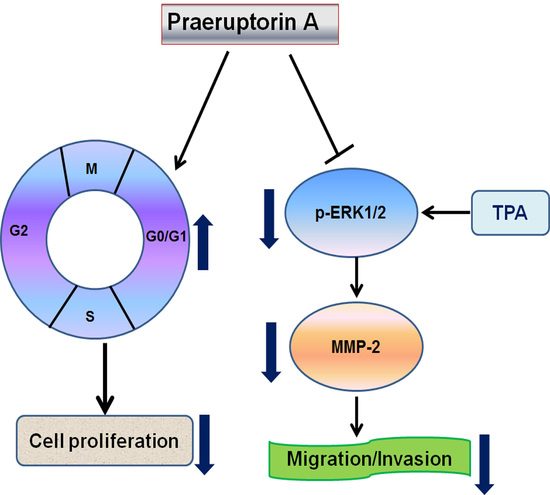 Graphical abstract
This is an open access article distributed under the
Creative Commons Attribution License
which permits unrestricted use, distribution, and reproduction in any medium, provided the original work is properly cited (CC BY 4.0).

Share & Cite This Article
MDPI and ACS Style
Wu, M.-H.; Lin, C.-L.; Chiou, H.-L.; Yang, S.-F.; Lin, C.-Y.; Liu, C.-J.; Hsieh, Y.-H. Praeruptorin A Inhibits Human Cervical Cancer Cell Growth and Invasion by Suppressing MMP-2 Expression and ERK1/2 Signaling. Int. J. Mol. Sci. 2018, 19, 10.
Note that from the first issue of 2016, MDPI journals use article numbers instead of page numbers. See further details here.
Related Articles
Comments
[Return to top]