SCF/C-Kit/JNK/AP-1 Signaling Pathway Promotes Claudin-3 Expression in Colonic Epithelium and Colorectal Carcinoma
1
Department of Histology and Embryology, School of Basic Medical Sciences, Capital Medical University, Beijing 100069, China
2
Beijing Key Laboratory of Cancer Invasion and Metastasis Research, Beijing 100069, China
3
Cancer Institute of Capital Medical University, Beijing 100069, China
*
Author to whom correspondence should be addressed.
Academic Editor: Atsushi Matsuzawa
Received: 4 March 2017 / Revised: 29 March 2017 / Accepted: 30 March 2017 / Published: 6 April 2017
Abstract
Claudin-3 is a major protein of tight junctions (TJs) in the intestinal epithelium and is critical for maintaining cell-cell adhesion, barrier function, and epithelium polarity. Recent studies have shown high claudin-3 levels in several solid tumors, but the regulation mechanism of claudin-3 expression remains poorly understood. In the present study, colorectal cancer (CRC) tissues, HT-29 and DLD-1 CRC cell lines, CRC murine model (C57BL/6 mice) and
c-kit
loss-of-function mutant mice were used. We demonstrated that elevated claudin-3 levels were positively correlated with highly expressed c-kit in CRC tissues based upon analysis of protein expression. In vitro, claudin-3 expression was clearly increased in CRC cells by overexpressed c-kit or stimulated by exogenous recombinant human stem cell factor (rhSCF), while significantly decreased by the treatment with c-kit or c-Jun N-terminal kinase (JNK) inhibitors. Chromatin immunoprecipitation (ChIP) and luciferase reporter assay showed that SCF/c-kit signaling significantly promoted activator protein-1 (AP-1) binding with
CLDN-3
promoter and enhanced its transcription activity. Furthermore, decreased expression of claudin-3 was obtained in the colonic epithelium from the
c-Kit
loss-of-function mutant mice. In conclusion, SCF/c-kit-JNK/AP-1 signaling pathway significantly promoted claudin-3 expression in colonic epithelium and CRC, which could contribute to epithelial barrier function maintenance and to CRC development.
View Full-Text
►

▼

Figures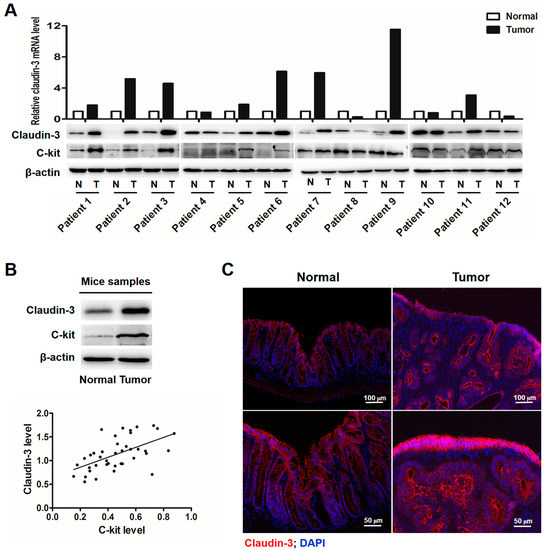 Figure 1
This is an open access article distributed under the
Creative Commons Attribution License
which permits unrestricted use, distribution, and reproduction in any medium, provided the original work is properly cited (CC BY 4.0).

Share & Cite This Article
MDPI and ACS Style
Wang, Y.; Sun, T.; Sun, H.; Yang, S.; Li, D.; Zhou, D. SCF/C-Kit/JNK/AP-1 Signaling Pathway Promotes Claudin-3 Expression in Colonic Epithelium and Colorectal Carcinoma. Int. J. Mol. Sci. 2017, 18, 765.
Note that from the first issue of 2016, MDPI journals use article numbers instead of page numbers. See further details here.
Related Articles
Comments
[Return to top]