Protein Kinases C-Mediated Regulations of Drug Transporter Activity, Localization and Expression
1
Institut de Recherches en Santé, Environnement et Travail (IRSET), UMR INSERM U1085, Faculté de Pharmacie, 2 Avenue du Pr Léon Bernard, 35043 Rennes, France
2
Centre de Pharmacocinétique, Technologie Servier, 25–27 Rue Eugène Vignat, 45000 Orléans, France
3
Department of Clinical Pharmacology and Toxicology, University Hospital Zurich, University of Zurich, Rämistrasse 100, 8091 Zurich, Switzerland
4
Pôle Biologie, Centre Hospitalier Universitaire, 2 rue Henri le Guilloux, 35033 Rennes, France
*
Author to whom correspondence should be addressed.
Academic Editor: Atsushi Matsuzawa
Received: 9 March 2017 / Revised: 25 March 2017 / Accepted: 27 March 2017 / Published: 4 April 2017
Abstract
Drug transporters are now recognized as major actors in pharmacokinetics, involved notably in drug–drug interactions and drug adverse effects. Factors that govern their activity, localization and expression are therefore important to consider. In the present review, the implications of protein kinases C (PKCs) in transporter regulations are summarized and discussed. Both solute carrier (SLC) and ATP-binding cassette (ABC) drug transporters can be regulated by PKCs-related signaling pathways. PKCs thus target activity, membrane localization and/or expression level of major influx and efflux drug transporters, in various normal and pathological types of cells and tissues, often in a PKC isoform-specific manner. PKCs are notably implicated in membrane insertion of bile acid transporters in liver and, in this way, are thought to contribute to cholestatic or choleretic effects of endogenous compounds or drugs. The exact clinical relevance of PKCs-related regulation of drug transporters in terms of drug resistance, pharmacokinetics, drug–drug interactions and drug toxicity remains however to be precisely determined. This issue is likely important to consider in the context of the development of new drugs targeting PKCs-mediated signaling pathways, for treating notably cancers, diabetes or psychiatric disorders.
View Full-Text
►

▼

Figures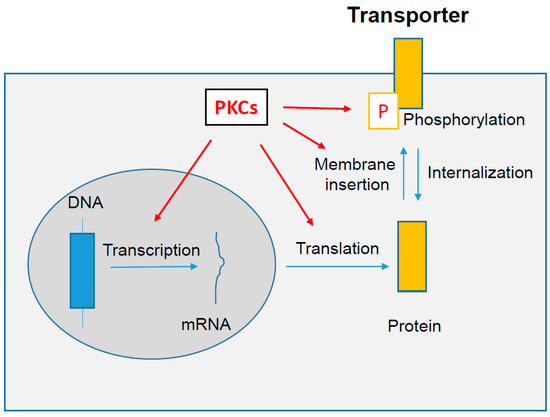 Figure 1
This is an open access article distributed under the
Creative Commons Attribution License
which permits unrestricted use, distribution, and reproduction in any medium, provided the original work is properly cited (CC BY 4.0).

Share & Cite This Article
MDPI and ACS Style
Mayati, A.; Moreau, A.; Le Vée, M.; Stieger, B.; Denizot, C.; Parmentier, Y.; Fardel, O. Protein Kinases C-Mediated Regulations of Drug Transporter Activity, Localization and Expression. Int. J. Mol. Sci. 2017, 18, 764.
Note that from the first issue of 2016, MDPI journals use article numbers instead of page numbers. See further details here.
Related Articles
Comments
[Return to top]