Biglycan- and Sphingosine Kinase-1 Signaling Crosstalk Regulates the Synthesis of Macrophage Chemoattractants
1
Pharmazentrum Frankfurt, Institut für Allgemeine Pharmakologie und Toxikologie, Klinikum der Goethe Universität, Theodor-Stern-Kai 7, Frankfurt am Main 60590, Germany
2
Institut für Kardiovaskulare Physiologie, Klinikum der Goethe-Universität, Theodor-Stern-Kai 7, Frankfurt am Main 60590, Germany
3
Department of Biochemistry, Faculty of Medicine, Universities of Giessen and Marburg Lung Center, Friedrichstrasse 24, Giessen 35392, Germany
4
Institute of Pharmacology, University of Bern, Inselspital INO-F, Bern CH-3010, Switzerland
5
National Institute for Chemical-Pharmaceutical Research and Development, 112 Vitan Avenue, Bucharest 031299, Romania
*
Author to whom correspondence should be addressed.
Academic Editor: Cheorl-Ho Kim
Received: 14 February 2017 / Revised: 27 February 2017 / Accepted: 6 March 2017 / Published: 9 March 2017
Abstract
In its soluble form, the extracellular matrix proteoglycan biglycan triggers the synthesis of the macrophage chemoattractants, chemokine (C-C motif) ligand CCL2 and CCL5 through selective utilization of Toll-like receptors (TLRs) and their adaptor molecules. However, the respective downstream signaling events resulting in biglycan-induced CCL2 and CCL5 production have not yet been defined. Here, we show that biglycan stimulates the production and activation of sphingosine kinase 1 (SphK1) in a TLR4- and Toll/interleukin (IL)-1R domain-containing adaptor inducing interferon (IFN)-β (TRIF)-dependent manner in murine primary macrophages. We provide genetic and pharmacological proof that SphK1 is a crucial downstream mediator of biglycan-triggered CCL2 and CCL5 mRNA and protein expression. This is selectively driven by biglycan/SphK1-dependent phosphorylation of the nuclear factor NF-κB p65 subunit, extracellular signal-regulated kinase (Erk)1/2 and p38 mitogen-activated protein kinases. Importantly, in vivo overexpression of soluble biglycan causes Sphk1-dependent enhancement of renal CCL2 and CCL5 and macrophage recruitment into the kidney. Our findings describe the crosstalk between biglycan- and SphK1-driven extracellular matrix- and lipid-signaling. Thus, SphK1 may represent a new target for therapeutic intervention in biglycan-evoked inflammatory conditions.
View Full-Text
►

▼

Figures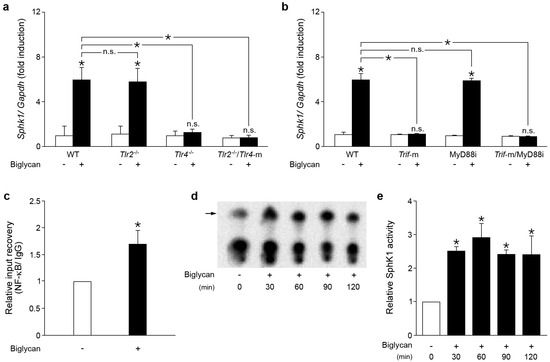 Figure 1
This is an open access article distributed under the
Creative Commons Attribution License
which permits unrestricted use, distribution, and reproduction in any medium, provided the original work is properly cited (CC BY 4.0).

Share & Cite This Article
MDPI and ACS Style
Hsieh, L.T.-H.; Nastase, M.-V.; Roedig, H.; Zeng-Brouwers, J.; Poluzzi, C.; Schwalm, S.; Fork, C.; Tredup, C.; Brandes, R.P.; Wygrecka, M.; Huwiler, A.; Pfeilschifter, J.; Schaefer, L. Biglycan- and Sphingosine Kinase-1 Signaling Crosstalk Regulates the Synthesis of Macrophage Chemoattractants. Int. J. Mol. Sci. 2017, 18, 595.
Note that from the first issue of 2016, MDPI journals use article numbers instead of page numbers. See further details here.
Related Articles
Comments
[Return to top]