Loss of miR-107, miR-181c and miR-29a-3p Promote Activation of Notch2 Signaling in Pediatric High-Grade Gliomas (pHGGs)
1
Department of Experimental Medicine, Sapienza University, Viale Regina Elena, 291, 00161 Rome, Italy
2
Department of Molecular Medicine, Sapienza University, 00161 Rome, Italy
3
Center for Life
[email protected]
, Istituto Italiano di Tecnologia, 00161 Rome, Italy
4
Department of Biology and Biotechnology "Charles Darwin", Sapienza University of Rome, Piazzale Aldo Moro 5, 00185 Rome, Italy
5
Department of Hematology/Oncology and Stem Cell Transplantation, Bambino Gesù Children's Hospital, Istituto di Ricovero e Cura a Carattere Scientifico, 00165 Rome, Italy
6
Department of Histopathology, Fondazione Policlinico Universitario "A. Gemelli", Università Cattolica Sacro cuore, Largo A. Gemelli 8, 00168 Rome, Italy
7
Department of Radiological, Oncological and Pathological Science, Sapienza University, 00161 Rome, Italy
8
Istituto di Ricovero e Cura a Carattere Scientifico Neuromed, Pozzilli, 86077 Isernia, Italy
9
Department of Pediatrics, University of Pavia, 27100 Pavia, Italy
10
Institute Pasteur-Foundation Cenci Bolognetti, Sapienza University, 00161 Rome, Italy
†
These authors contributed equally to the manuscript.
*
Author to whom correspondence should be addressed.
Received: 30 November 2017 / Revised: 11 December 2017 / Accepted: 13 December 2017 / Published: 17 December 2017
Abstract
The mechanisms by which microRNAs control pediatric high-grade gliomas (pHGGs) have yet to be fully elucidated. Our studies of patient-derived pHGG tissues and of the pHGG cell line KNS42 revealed down-regulation in these tumors of three microRNAs, specifically miR-107, miR-181c, and miR-29a-3p. This down-regulation increases the proliferation of KNS42 cells by de-repressing expression of the Notch2 receptor (Notch2), a validated target of miR-107 and miR-181c and a putative target of miR-29a-3p. Inhibition (either pharmacologic or genetic) of Notch2 or re-expression of the implicated microRNAs (all three combined but also individually) significantly reduced KNS42 cell proliferation. These findings suggest that Notch2 pathway activation plays a critical role in pHGGs growth and reveal a direct epigenetic mechanism that controls Notch2 expression, which could potentially be targeted by novel forms of therapy for these childhood tumors characterized by high-morbidity and high-mortality.
View Full-Text
►

▼

Figures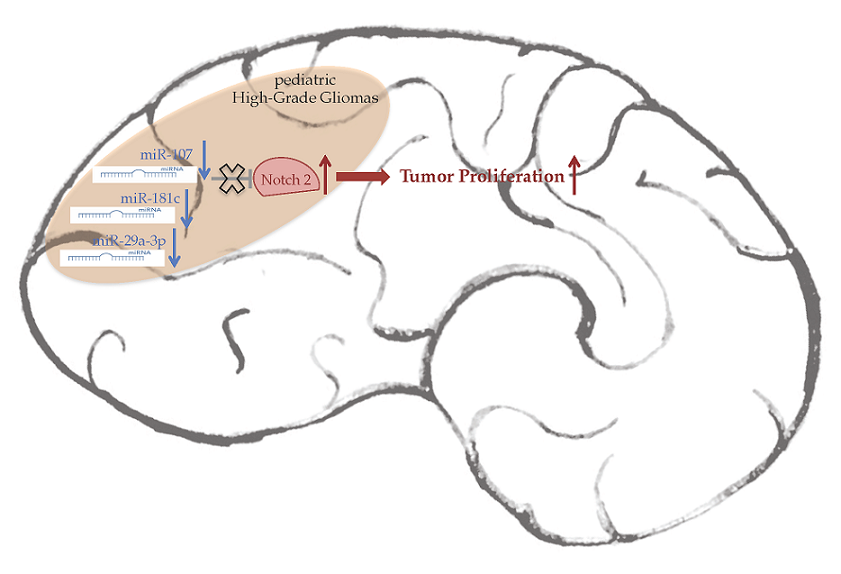 Graphical abstract
This is an open access article distributed under the
Creative Commons Attribution License
which permits unrestricted use, distribution, and reproduction in any medium, provided the original work is properly cited (CC BY 4.0).

Share & Cite This Article
MDPI and ACS Style
Catanzaro, G.; Sabato, C.; Russo, M.; Rosa, A.; Abballe, L.; Besharat, Z.M.; Po, A.; Miele, E.; Bellavia, D.; Chiacchiarini, M.; Gessi, M.; Peruzzi, G.; Napolitano, M.; Antonelli, M.; Mastronuzzi, A.; Giangaspero, F.; Locatelli, F.; Screpanti, I.; Vacca, A.; Ferretti, E. Loss of miR-107, miR-181c and miR-29a-3p Promote Activation of Notch2 Signaling in Pediatric High-Grade Gliomas (pHGGs). Int. J. Mol. Sci. 2017, 18, 2742.
Note that from the first issue of 2016, MDPI journals use article numbers instead of page numbers. See further details here.
Related Articles
Comments
[Return to top]