Impaired Osteogenesis of Disease-Specific Induced Pluripotent Stem Cells Derived from a CFC Syndrome Patient
1
Graduate School of Medical Science and Engineering, Korea Advanced Institute of Science and Technology (KAIST), Daejeon 34141, Korea
2
Department of Biological Sciences, KAIST, Daejeon 34141, Korea
3
Department of Pediatrics, Asan Medical Center Children's hospital, University of Ulsan College of Medicine, Seoul 05505, Korea
*
Author to whom correspondence should be addressed.
Received: 7 November 2017 / Revised: 28 November 2017 / Accepted: 29 November 2017 / Published: 1 December 2017
Abstract
Cardiofaciocutaneous (CFC) syndrome is a rare genetic disorder caused by mutations in the extracellular signal-regulated kinase (ERK) signaling. However, little is known about how aberrant ERK signaling is associated with the defective bone development manifested in most CFC syndrome patients. In this study, induced pluripotent stem cells (iPSCs) were generated from dermal fibroblasts of a CFC syndrome patient having rapidly accelerated fibrosarcoma kinase B (BRAF) gain-of-function mutation. CFC-iPSCs were differentiated into mesenchymal stem cells (CFC-MSCs) and further induced to osteoblasts in vitro. The osteogenic defects of CFC-MSCs were revealed by alkaline phosphatase activity assay, mineralization assay, quantitative real-time polymerase chain reaction (qRT-PCR), and western blotting. Osteogenesis of CFC-MSCs was attenuated compared to wild-type (WT)-MSCs. In addition to activated ERK signaling, increased p-SMAD2 and decreased p-SMAD1 were observed in CFC-MSCs during osteogenesis. The defective osteogenesis of CFC-MSCs was rescued by inhibition of ERK signaling and SMAD2 signaling or activation of SMAD1 signaling. Importantly, activation of ERK signaling and SMAD2 signaling or inhibition of SMAD1 signaling recapitulated the impaired osteogenesis in WT-MSCs. Our findings indicate that SMAD2 signaling and SMAD1 signaling as well as ERK signaling are responsible for defective early bone development in CFC syndrome, providing a novel insight on the pathological mechanism and therapeutic targets.
View Full-Text
►

▼

Figures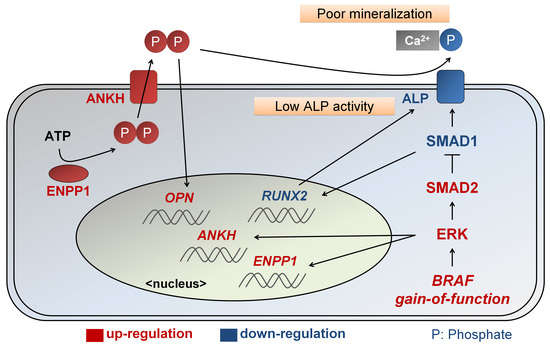 Graphical abstract
This is an open access article distributed under the
Creative Commons Attribution License
which permits unrestricted use, distribution, and reproduction in any medium, provided the original work is properly cited (CC BY 4.0).

Share & Cite This Article
MDPI and ACS Style
Choi, J.-Y.; Han, K.-M.; Kim, D.; Lee, B.-H.; Yoo, H.-W.; Choi, J.-H.; Han, Y.-M. Impaired Osteogenesis of Disease-Specific Induced Pluripotent Stem Cells Derived from a CFC Syndrome Patient. Int. J. Mol. Sci. 2017, 18, 2591.
Note that from the first issue of 2016, MDPI journals use article numbers instead of page numbers. See further details here.
Related Articles
Comments
[Return to top]