Secondary Metabolites in
Ramalina terebrata

Detected by UHPLC/ESI/MS/MS and Identification of Parietin as Tau Protein Inhibitor

1

Facultad de Medicina, Escuela de Tecnología Médica, Universidad Andrés Bello, Sazié 2315, Primer Piso, Santiago 8370092, Chile

2

Departamento de Química, Facultad de Ciencias, Universidad de Chile, Ñuñoa, Santiago 8320000, Chile

3

Centro de Bioinformática y Simulación Molecular, Facultad de Ingeniería, Universidad de Talca, 2 Norte 685, Casilla 721, Talca 3460000, Chile

4

Departamento de Biología, Universidad Metropolitana de Ciencias de la Educación, Avda. Jose Pedro Alessandri 774, Ñuñoa, Santiago 8320000, Chile

5

Laboratorio de Productos Naturales, Instituto de Farmacia, Facultad de Ciencias, Universidad Austral de Chile, Casilla 567, Valdivia 5090000, Chile

*

Authors to whom correspondence should be addressed.

Academic Editors: Ana Maria Gomez Caravaca and David Arraez-Roman

Received: 24 June 2016 / Revised: 29 July 2016 / Accepted: 1 August 2016 / Published: 18 August 2016
Abstract
Liquid chromatography coupled with mass spectrometry is an outstanding methodology for fast analysis of phenolic compounds in biological samples. Twenty two compounds were quickly and accurately identified in the methanolic extract of the Antarctic lichen
Ramalina terebrata
for the first time using ultra high pressure liquid chromatography coupled with photodiode array detector and high resolution mass spectrometry (UHPLC-PDA-Q/Orbitrap/MS/MS). In addition, the extract and the four compounds isolated from this species were tested for the inhibitory activity of tau protein aggregation, which is a protein involved in Alzheimer's disease (AD). All compounds showed null activity with the exception of parietin, which it was able to inhibit aggregation process of tau in a concentration range between 3 µg/mL (10 µM) to 28 µg/mL (100 µM). In addition, we show how parietin interact with tau
306
VQIVYK
311
hexapeptide inside of the microtubule binding domain (4R) with the help of molecular docking experiments. Finally, the constituents present in the methanolic extract could possibly contribute to the established anti-aggregation activity for this extract and this in-depth analysis of the chemical composition of
R. terebrata
could guide further research into its medicinal properties and potential uses.
View Full-Text
►

▼

Figures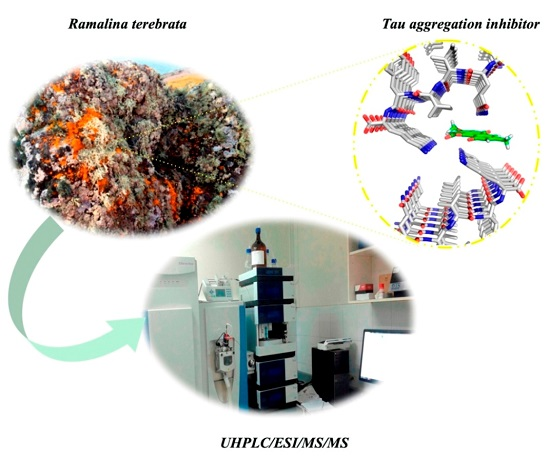 Graphical abstract
This is an open access article distributed under the
Creative Commons Attribution License
which permits unrestricted use, distribution, and reproduction in any medium, provided the original work is properly cited (CC BY 4.0).

Share & Cite This Article
MDPI and ACS Style
Cornejo, A.; Salgado, F.; Caballero, J.; Vargas, R.; Simirgiotis, M.; Areche, C. Secondary Metabolites in Ramalina terebrata Detected by UHPLC/ESI/MS/MS and Identification of Parietin as Tau Protein Inhibitor. Int. J. Mol. Sci. 2016, 17, 1303.
Note that from the first issue of 2016, MDPI journals use article numbers instead of page numbers. See further details here.
Related Articles
Comments
[Return to top]