MicroRNA-31 Emerges as a Predictive Biomarker of Pathological Response and Outcome in Locally Advanced Rectal Cancer
1
Medical Oncology Department, Oncohealth Institute, Health Research Institute FJD-UAM, University Hospital Fundación Jiménez Díaz, Avda. Reyes Católicos-2, 28040 Madrid, Spain
2
Traslational Oncology Division, Oncohealth Institute, Health Research Institute FJD-UAM, University Hospital Fundación Jiménez Díaz, Avda. Reyes Católicos-2, 28040 Madrid, Spain
3
Radiation Oncology Department, University Hospital Fundación Jiménez Díaz, Avda. Reyes Católicos-2, 28040 Madrid, Spain
4
Pathology Department, Health Research Institute FJD-UAM, University Hospital Fundación Jiménez Díaz, Avda. Reyes Católicos-2, 28040 Madrid, Spain
5
Department of Genetics and Genomics, Health Research Institute FJD-UAM, University Hospital Fundación Jiménez Díaz, Avda. Reyes Católicos-2, 28040 Madrid, Spain
6
Gastroenterology Department, University Hospital Fundación Jiménez Díaz, Avda. Reyes Católicos-2, 28040 Madrid, Spain
7
Surgery Department, Oncohealth Institute, Health Research Institute FJD-UAM, University Hospital Fundación Jiménez Díaz, Avda. Reyes Católicos-2, 28040 Madrid, Spain
*
Authors to whom correspondence should be addressed.
Academic Editor: William Chi-shing Cho
Received: 22 April 2016 / Revised: 19 May 2016 / Accepted: 27 May 2016 / Published: 3 June 2016
Abstract
Neoadjuvant chemoradiotherapy (CRT) followed by total mesorectal excision has emerged as the standard treatment for locally advanced rectal cancer (LARC) patients. However, many cases do not respond to neoadjuvant CRT, suffering unnecessary toxicities and surgery delays. Thus, identification of predictive biomarkers for neoadjuvant CRT is a current clinical need. In the present study, microRNA-31 expression was measured in formalin-fixed paraffin-embedded (FFPE) biopsies from 78 patients diagnosed with LARC who were treated with neoadjuvant CRT. Then, the obtained results were correlated with clinical and pathological characteristics and outcome. High microRNA-31 (miR-31) levels were found overexpressed in 34.2% of cases. Its overexpression significantly predicted poor pathological response (
p
= 0.018) and worse overall survival (OS) (
p
= 0.008). The odds ratio for no pathological response among patients with miR-31 overexpression was 0.18 (Confidence Interval = 0.06 to 0.57;
p
= 0.003). Multivariate analysis corroborated the clinical impact of miR-31 in determining pathological response to neoadjuvant CRT as well as OS. Altogether, miR-31 quantification emerges as a novel valuable clinical tool to predict both pathological response and outcome in LARC patients.
View Full-Text
►

▼

Figures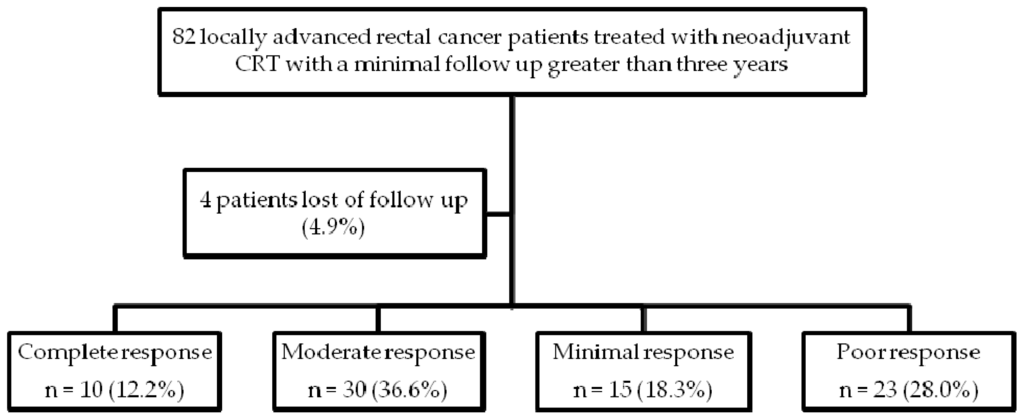 Figure 1
This is an open access article distributed under the
Creative Commons Attribution License
which permits unrestricted use, distribution, and reproduction in any medium, provided the original work is properly cited (CC BY 4.0).

Share & Cite This Article
MDPI and ACS Style
Caramés, C.; Cristobal, I.; Moreno, V.; Marín, J.P.; González-Alonso, P.; Torrejón, B.; Minguez, P.; Leon, A.; Martín, J.I.; Hernández, R.; Pedregal, M.; Martín, M.J.; Cortés, D.; García-Olmo, D.; Fernández, M.J.; Rojo, F.; García-Foncillas, J. MicroRNA-31 Emerges as a Predictive Biomarker of Pathological Response and Outcome in Locally Advanced Rectal Cancer. Int. J. Mol. Sci. 2016, 17, 878.
Note that from the first issue of 2016, MDPI journals use article numbers instead of page numbers. See further details here.
Related Articles
Comments
[Return to top]