Differential Proteomics Analysis of
Bacillus amyloliquefaciens

and Its Genome-Shuffled Mutant for Improving Surfactin Production

1

College of Food Science and Technology, Nanjing Agricultural University, Nanjing 210095, Jiangsu, China

2

College of Food Science and Engineering, Henan University of Science and Technology, Tianjing Road, Luoyang 471003, China

*

Author to whom correspondence should be addressed.

Received: 11 August 2014 / Revised: 15 October 2014 / Accepted: 17 October 2014 / Published: 31 October 2014
Abstract
Genome shuffling technology was used as a novel whole-genome engineering approach to rapidly improve the antimicrobial lipopeptide yield of
Bacillus amyloliquefaciens
. Comparative proteomic analysis of the parental ES-2-4 and genome-shuffled FMB38 strains was conducted to examine the differentially expressed proteins. The proteome was separated by 2-DE (two dimensional electrophoresis) and analyzed by MS (mass spectrum). In the shuffled strain FMB38, 51 differentially expressed protein spots with higher than two-fold spot density were detected by gel image comparison. Forty-six protein spots were detectable by silver staining and further MS analysis. The results demonstrated that among the 46 protein spots expressed particularly induced in the genome-shuffled mutant, 15 were related to metabolism, five to DNA replication, recombination and repair, six to translation and post-translational modifications, one to cell secretion and signal transduction mechanisms, three to surfactin synthesis, two to energy production and conversion, and 14 to others. All these indicated that the metabolic capability of the mutant was improved by the genome shuffling. The study will enable future detailed investigation of gene expression and function linked with surfactin synthesis. The results of proteome analysis may provide information for metabolic engineering of
Bacillus amyloliquefaciens
for overproduction of surfactin.
View Full-Text
►

▼

Figures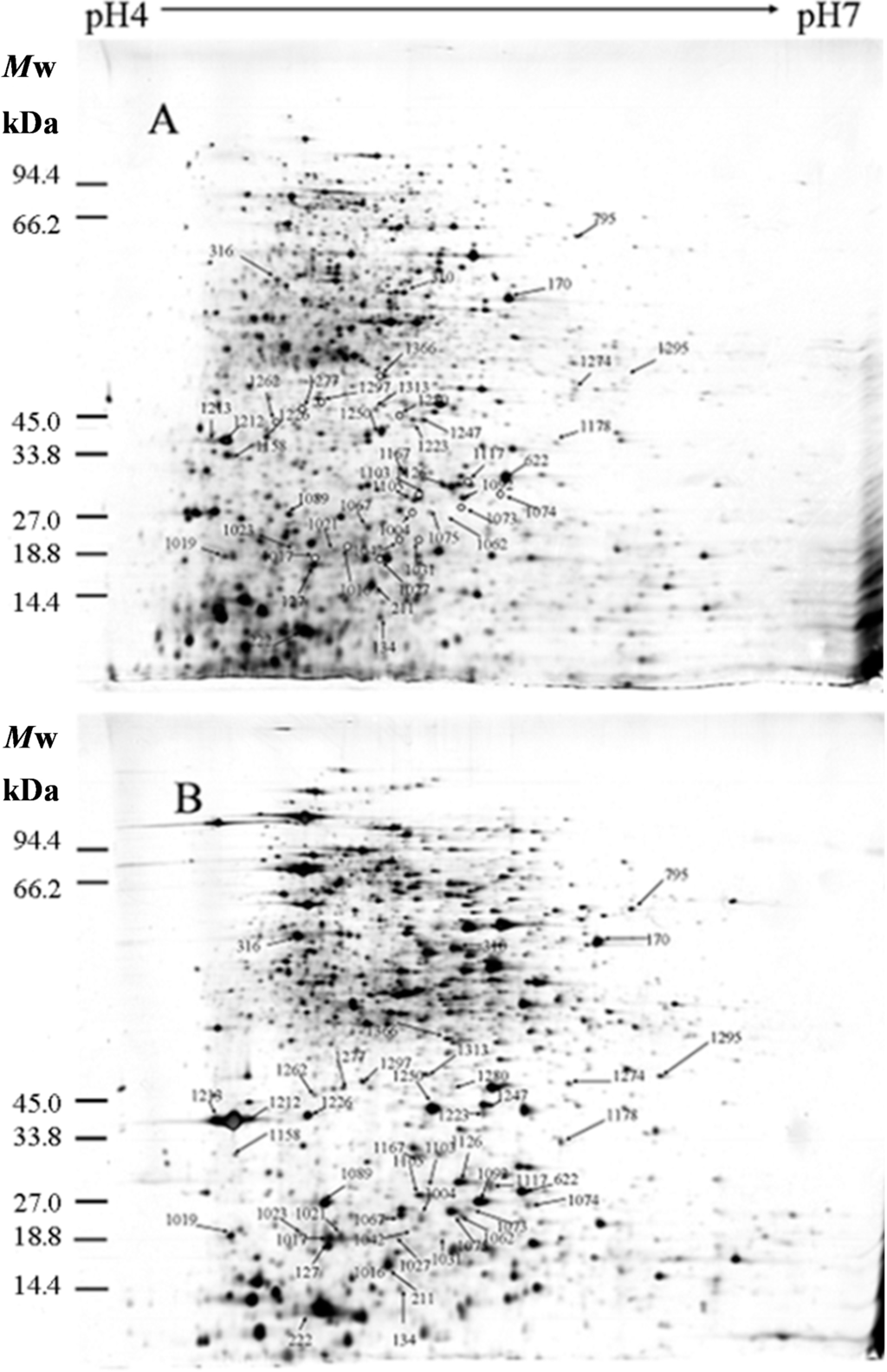 Figure 1
This is an open access article distributed under the
Creative Commons Attribution License
which permits unrestricted use, distribution, and reproduction in any medium, provided the original work is properly cited (CC BY 4.0).

Share & Cite This Article
MDPI and ACS Style
Zhao, J.; Cao, L.; Zhang, C.; Zhong, L.; Lu, J.; Lu, Z. Differential Proteomics Analysis of Bacillus amyloliquefaciens and Its Genome-Shuffled Mutant for Improving Surfactin Production. Int. J. Mol. Sci. 2014, 15, 19847-19869.
Related Articles
Comments
[Return to top]