Mipu1 Protects H9c2 Myogenic Cells from Hydrogen Peroxide-Induced Apoptosis through Inhibition of the Expression of the Death Receptor Fas
1
Laboratory of Shock, Department of Pathophysiology, Xiangya School of Medicine, Central South University, Changsha 410008, Hunan, China
2
Department of Digestive Internal Medicine, Gannan Medical University Pingxiang Hospital, 128 Guangchang Road, Pingxiang 337055, Jiangxi, China
3
Department of Pharmaceutical Sciences, College of Pharmacy, University of South Florida, Tampa, FL 33612, USA
†
These authors contributed equally to this work.
*
Authors to whom correspondence should be addressed.
Received: 13 June 2014 / Revised: 4 September 2014 / Accepted: 11 September 2014 / Published: 10 October 2014
Abstract
Mipu1 (myocardial ischemic preconditioning upregulated protein 1), a novel rat gene recently identified in our lab, was expressed abundantly and predominantly in the brain and heart and upregulated in myocardium during myocardial ischemia/reperfusion in rats. In our previous study we found that Mipu1 was an evolutionarily conserved zinc finger-containing transcription factor. However, whether Mipu1 confers myocardial protection remains unknown. In this study, H9c2 myogenic cells were treated with hydrogen peroxide (H
2
O
2
) to simulate oxidative stress during myocardial ischemia-reperfusion injury. The expression of Mipu1 at mRNA and protein levels was detected by RT-PCR and Western blotting analysis. To study the effect of Mipu1 on apoptosis and expression of
Fas
induced by H
2
O
2
, full-length Mipu1 cDNA and Mipu1-RNAi plasmids were transiently transfected into H9c2 myogenic cells, and flow cytometry was used to quantitate the percentage of apoptotic cells. The expression of
Fas
was analyzed by Western blotting assay. The DNA binding and transcription activities of Mipu1 to the
Fas
promoter were detected by chromatin immunoprecipitation and luciferase reporter assays. The results showed that exposure of H9c2 myogenic cells to H
2
O
2
resulted in a dose- and time-dependent increase in Mipu1 mRNA and protein levels; Mipu1 over-expression inhibited H
2
O
2
-induced apoptosis and upregulation of Fas induced by H
2
O
2
in H9c2 myogenic cells; and knockdown of Mipu1 by RNAi promoted apoptosis and upregulation of
Fas
induced by H
2
O
2
. The chromatin immunoprecipition and reporter assays showed the DNA binding and transcription suppressor activities of Mipu1 to
Fas
promoter region. These results indicate that Mipu1 protected H9c2 myogenic cells from H
2
O
2
-induced apoptosis through inhibiting the expression of
Fas
.
View Full-Text
►

▼

Figures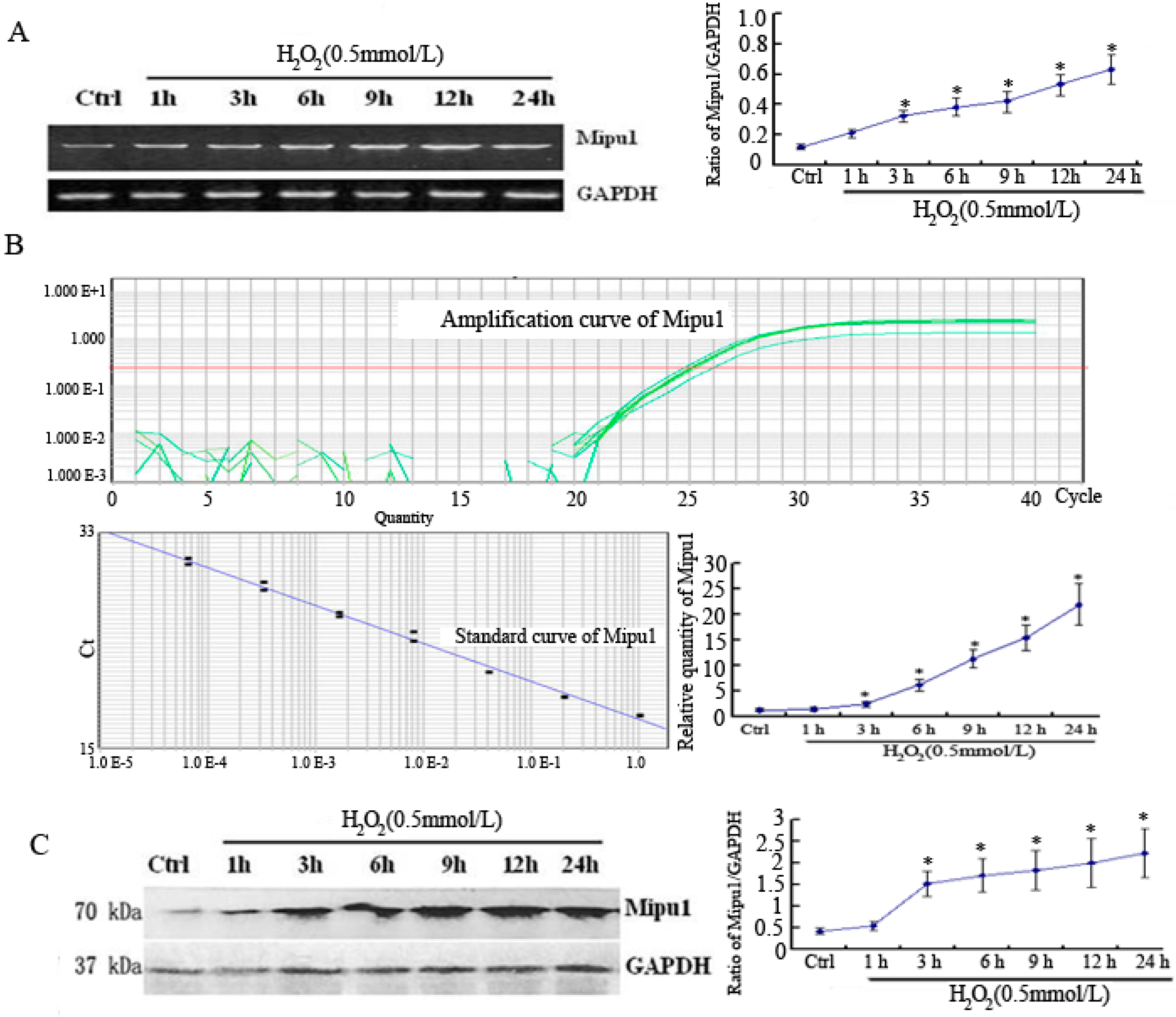 Figure 1
This is an open access article distributed under the
Creative Commons Attribution License
which permits unrestricted use, distribution, and reproduction in any medium, provided the original work is properly cited (CC BY 4.0).

Share & Cite This Article
MDPI and ACS Style
Wang, G.; Jiang, L.; Song, J.; Zhou, S.-F.; Zhang, H.; Wang, K.; Xiao, X. Mipu1 Protects H9c2 Myogenic Cells from Hydrogen Peroxide-Induced Apoptosis through Inhibition of the Expression of the Death Receptor Fas. Int. J. Mol. Sci. 2014, 15, 18206-18220.
Related Articles
Comments
[Return to top]