The Slowly Aggregating Salmon Calcitonin: A Useful Tool for the Study of the Amyloid Oligomers Structure and Activity
1
Department of Technology and Health, Istituto Superiore di Sanità, Viale Regina Elena, 299, 00161 Roma, Italy
2
Department of Therapeutic Research and Medicine Evaluation, Istituto Superiore di Sanità, Viale Regina Elena, 299, 00161 Roma, Italy
3
Department of Cell Biology and Neuroscience, Istituto Superiore di Sanità, Viale Regina Elena, 299, 00161 Roma, Italy
*
Author to whom correspondence should be addressed.
Received: 28 October 2011 / Revised: 17 November 2011 / Accepted: 24 November 2011 / Published: 13 December 2011
Abstract
Amyloid proteins of different aminoacidic composition share the tendency to misfold and aggregate in a similar way, following common aggregation steps. The process includes the formation of dimers, trimers, and low molecular weight prefibrillar oligomers, characterized by the typical morphology of globules less than 10 nm diameter. The globules spontaneously form linear or annular structures and, eventually, mature fibers. The rate of this process depends on characteristics intrinsic to the different proteins and to environmental conditions (
i.e.
, pH, ionic strength, solvent composition, temperature). In the case of neurodegenerative diseases, it is now generally agreed that the pathogenic aggregates are not the mature fibrils, but the intermediate, soluble oligomers. However, the molecular mechanism by which these oligomers trigger neuronal damage is still unclear. Inparticular, it is not clear if there is a peculiar structure at the basis of the neurotoxic effect and how this structure interacts with neurons. This review will focus on the results we obtained using salmon Calcitonin, an amyloid protein characterized by a very slow aggregation rate, which allowed us to closely monitor the aggregation process. We used it as a tool to investigate the characteristics of amyloid oligomers formation and their interactions with neuronal cells. Our results indicate that small globules of about 6 nm could be the responsible for the neurotoxic effects. Moreover, our data suggest that the rich content in lipid rafts of neuronal cell plasma membrane may render neurons particularly vulnerable to the amyloid protein toxic effect.
View Full-Text
►

▼

Figures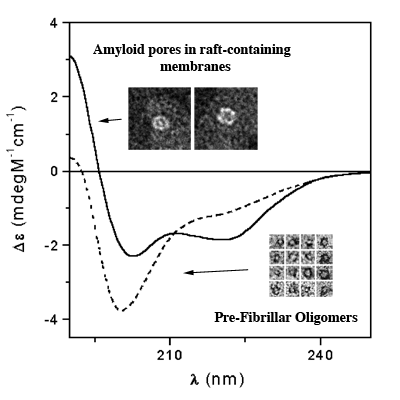 Graphical abstract

Share & Cite This Article
MDPI and ACS Style
Diociaiuti, M.; Gaudiano, M.C.; Malchiodi-Albedi, F. The Slowly Aggregating Salmon Calcitonin: A Useful Tool for the Study of the Amyloid Oligomers Structure and Activity. Int. J. Mol. Sci. 2011, 12, 9277-9295.
Related Articles
Comments
[Return to top]