The Effect of Furanocoumarin Derivatives on Induction of Apoptosis and Multidrug Resistance in Human Leukemic Cells
1
Department of Biochemistry and General Chemistry, Faculty of Medicine, University of Rzeszow, Aleja Rejtana 16A, 35-310 Rzeszów, Poland
2
Department of Clinical Genetics, Faculty of Medicine with Dentistry Division, Medical University of Lublin, 20-059 Lublin, Poland
3
Chair and Department of Biology and Genetics, Faculty of Pharmacy with Medical Analytics Division, Medical University of Lublin, 20-059 Lublin, Poland
4
Department of Pharmacology, Faculty of Health Sciences, Medical University of Lublin, 20-059 Lublin, Poland
5
Department of Photomedicine and Physical Chemistry, Faculty of Medicine, University of Rzeszow, Aleja Rejtana 16A, 35-310 Rzeszów, Poland
*
Author to whom correspondence should be addressed.
Received: 30 April 2019 / Revised: 8 May 2019 / Accepted: 9 May 2019 / Published: 12 May 2019
Abstract
Background: The insensitivity of cancer cells to therapeutic agents is considered to be the main cause of failure of therapy and mortality of patients with cancer. A particularly important problem in these patients is the phenomenon of multidrug resistance, consisting of abnormal, elevated expression of transport proteins (ABC family). The aim of this research included determination of IC50 values of selected furanocoumarins in the presence and absence of mitoxantrone in leukemia cells and analysis of changes in apoptosis using anexinV/IP and Casp3/IP after 24 h exposure of cell lines to selected coumarins in the presence and absence of mitoxantrone in IC50 concentrations. Methods: Research was conducted on 3 cell lines derived from the human hematopoietic system: HL-60, HL-60/MX1 and HL-60/MX2. After exposure to coumarin compounds, cells were subjected to cytometric analysis to determine the induction of apoptosis by two methods: the Annexin V test with propidium iodide and the PhiPhiLux-G1D2 reagent containing caspase 3 antibodies. Results: All of the furanocoumarin derivatives studied were found to induce apoptosis in leukemia cell lines. Conclusions: Our results clearly show that the furanocoumarin derivatives are therapeutic substances with antitumor activity inducing apoptosis in human leukemia cells with phenotypes of resistance.
View Full-Text
►

▼

Figures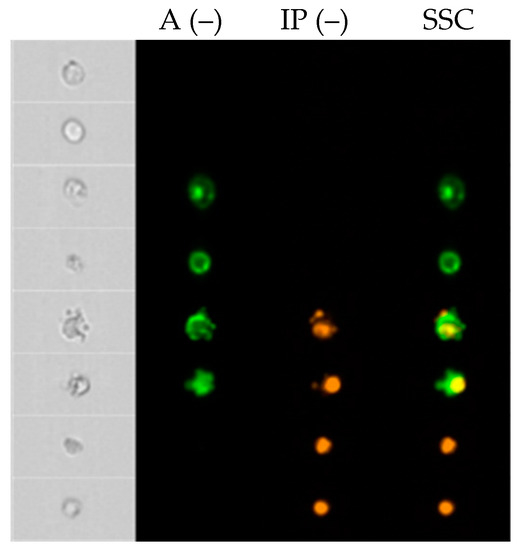 Figure 1
This is an open access article distributed under the
Creative Commons Attribution License
which permits unrestricted use, distribution, and reproduction in any medium, provided the original work is properly cited (CC BY 4.0).

Share & Cite This Article
MDPI and ACS Style
Kubrak, T.; Czop, M.; Kołodziej, P.; Ziaja-Sołtys, M.; Bogucki, J.; Makuch-Kocka, A.; Aebisher, D.; Kocki, J.; Bogucka-Kocka, A. The Effect of Furanocoumarin Derivatives on Induction of Apoptosis and Multidrug Resistance in Human Leukemic Cells. Molecules 2019, 24, 1824.
Note that from the first issue of 2016, MDPI journals use article numbers instead of page numbers. See further details here.
Related Articles
Comments
[Return to top]