Resveratrol Inhibits the Migration and Metastasis of MDA-MB-231 Human Breast Cancer by Reversing TGF-β1-Induced Epithelial-Mesenchymal Transition
1
Research Center for Traditional Chinese Medicine Complexity System, Shanghai University of Traditional Chinese Medicine, Shanghai 201203, China
2
AntiCancer Inc., San Diego, CA 92100, USA
*
Author to whom correspondence should be addressed.
Academic Editors: Philippe Jeandet and Christophe Clément
Received: 25 January 2019 / Revised: 17 March 2019 / Accepted: 19 March 2019 / Published: 21 March 2019
Abstract
Metastasis is a major cause of death in patients with breast cancer. In the process of cancer development, epithelial-mesenchymal transition (EMT) is crucial to promoting the invasion and migration of tumor cells. In a previous study, the role of resveratrol in migration and metastasis was investigated in MDA-MB-231 (MDA231) human breast cancer cells and a xenograft-bearing mouse model. Additionally, the related mechanism was explored. In the present study, in vitro Transwell assays showed that resveratrol can inhibit the migration of transforming growth factor (TGF)-β1-induced MDA231 cells in a concentration-dependent manner. An enzyme-linked immunosorbent assay (ELISA) showed that resveratrol can reduce the secretion of matrix metalloproteinase (MMP)-2 and MMP-9. Immunofluorescence was performed to confirm the expression of EMT-related markers. Immunofluorescence assays confirmed that resveratrol changed the expression of the EMT-related markers E-cadherin and vimentin. Western blot analysis demonstrated that resveratrol decreased the expression levels of MMP-2, MMP-9, Fibronectin, α-SMA, P-PI3K, P-AKT, Smad2, Smad3, P-Smad2, P-Smad3, vimentin, Snail1, and Slug, as well as increased the expression levels of E-cadherin in MDA231 cells. In vivo, resveratrol inhibited lung metastasis in a mouse model bearing MDA231 human breast cancer xenografts without marked changes in body weight or liver and kidney function. These results indicate that resveratrol inhibits the migration of MDA231 cells by reversing TGF-β1-induced EMT and inhibits the lung metastasis of MDA231 human breast cancer in a xenograft-bearing mouse model.
View Full-Text
►

▼

Figures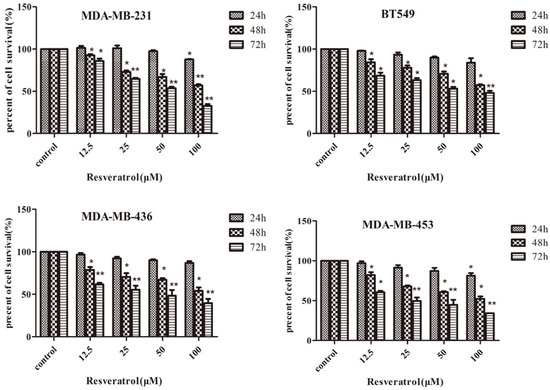 Figure 1
This is an open access article distributed under the
Creative Commons Attribution License
which permits unrestricted use, distribution, and reproduction in any medium, provided the original work is properly cited (CC BY 4.0).

Share & Cite This Article
MDPI and ACS Style
Sun, Y.; Zhou, Q.-M.; Lu, Y.-Y.; Zhang, H.; Chen, Q.-L.; Zhao, M.; Su, S.-B. Resveratrol Inhibits the Migration and Metastasis of MDA-MB-231 Human Breast Cancer by Reversing TGF-β1-Induced Epithelial-Mesenchymal Transition. Molecules 2019, 24, 1131.
Note that from the first issue of 2016, MDPI journals use article numbers instead of page numbers. See further details here.
Related Articles
Comments
[Return to top]