Identification of Compounds That Inhibit Estrogen-Related Receptor Alpha Signaling Using High-Throughput Screening Assays
1
National Center for Advancing Translational Sciences, National Institutes of Health (NIH), Bethesda, MD 20814, USA
2
Division of the National Toxicology Program, National Institute of Environmental Health Sciences, NIH, Research Triangle Park, NC 27709, USA
*
Authors to whom correspondence should be addressed.
Academic Editor: Zhihao Zhuang
Received: 25 January 2019 / Revised: 19 February 2019 / Accepted: 23 February 2019 / Published: 27 February 2019
Abstract
The nuclear receptor, estrogen-related receptor alpha (ERRα; NR3B1), plays a pivotal role in energy homeostasis. Its expression fluctuates with the demands of energy production in various tissues. When paired with the peroxisome proliferator-activated receptor γ coactivator 1α (PGC-1α), the PGC/ERR pathway regulates a host of genes that participate in metabolic signaling networks and in mitochondrial oxidative respiration. Unregulated overexpression of ERRα is found in many cancer cells, implicating a role in cancer progression and other metabolism-related diseases. Using high throughput screening assays, we screened the Tox21 10K compound library in stably transfected HEK293 cells containing either the ERRα-reporter or the reporter plus PGC-1α expression plasmid. We identified two groups of antagonists that were potent inhibitors of ERRα activity and/or the PGC/ERR pathway: nine antineoplastic agents and thirteen pesticides. Results were confirmed using gene expression studies. These findings suggest a novel mechanism of action on bioenergetics for five of the nine antineoplastic drugs. Nine of the thirteen pesticides, which have not been investigated previously for ERRα disrupting activity, were classified as such. In conclusion, we demonstrated that high-throughput screening assays can be used to reveal new biological properties of therapeutic and environmental chemicals, broadening our understanding of their modes of action.
View Full-Text
►

▼

Figures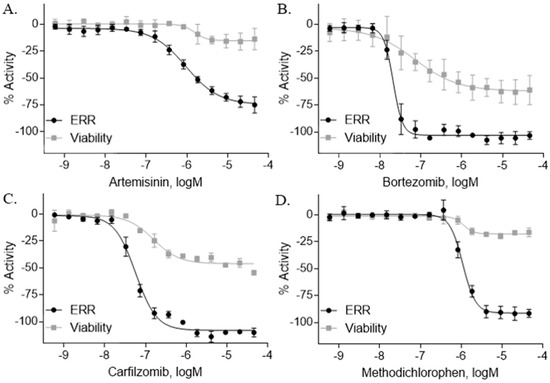 Figure 1
This is an open access article distributed under the
Creative Commons Attribution License
which permits unrestricted use, distribution, and reproduction in any medium, provided the original work is properly cited (CC BY 4.0).

Share & Cite This Article
MDPI and ACS Style
Lynch, C.; Zhao, J.; Sakamuru, S.; Zhang, L.; Huang, R.; Witt, K.L.; Merrick, B.A.; Teng, C.T.; Xia, M. Identification of Compounds That Inhibit Estrogen-Related Receptor Alpha Signaling Using High-Throughput Screening Assays. Molecules 2019, 24, 841.
Note that from the first issue of 2016, MDPI journals use article numbers instead of page numbers. See further details here.
Related Articles
Comments
[Return to top]