In Vitro Infant Faecal Fermentation of Low Viscosity Barley β-Glucan and Its Acid Hydrolyzed Derivatives: Evaluation of Their Potential as Novel Prebiotics
1
Food and Nutritional Sciences, School of Life Sciences, The Chinese University of Hong Kong, Shatin, Hong Kong
2
Department of Chemistry, Jinan University, Guangzhou 510632, China
3
School of Food Science and Engineering, South China University of Technology, Guangzhou 510640, China
*
Author to whom correspondence should be addressed.
Academic Editor: Chi-Fai Chau
Received: 1 February 2019 / Revised: 17 February 2019 / Accepted: 20 February 2019 / Published: 26 February 2019
Abstract
Barley contains high level of β-1,3-1,4-glucans (BBGs) which can be fermented by microbes and are a potential prebiotic. In the present study, native BBG with low viscosity and a MW of 319 kDa was depolymerized by acid hydrolysis to produce a series of four structurally characterized fragments with MWs ranging from 6–104 kDa. In vitro fermentation of these BBG samples by infant faecal microbiome was evaluated using a validated deep-well plate protocol as parallel miniature bioreactors. Microbial taxa were identified using 16S amplicon sequencing after 40 h of anaerobic fermentation. Bioinformatics analysis including diversity indexes, predicted metagenomic KEGG functions and predicted phenotypes were performed on the sequenced data. Short chain fatty acids and dissolved ammonia were quantified and the SCFAs/NH
3
ratio was used to evaluate the eubiosis/dysbiosis potential. Correlation analysis showed that most of the parameters investigated showed a parabolic function instead of a monotonous function with the BBG samples having different MWs. Among the five BBGs, it was concluded that BBG with an intermediate MW of 28 kDa is the most promising candidate to be developed as a novel prebiotic.
View Full-Text
►

▼

Figures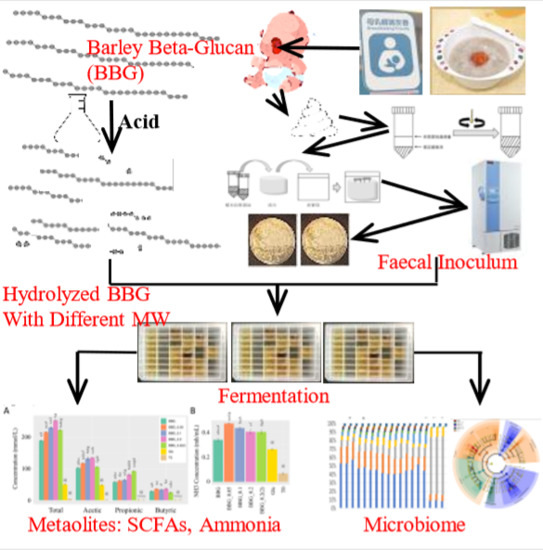 Graphical abstract
This is an open access article distributed under the
Creative Commons Attribution License
which permits unrestricted use, distribution, and reproduction in any medium, provided the original work is properly cited (CC BY 4.0).

Share & Cite This Article
MDPI and ACS Style
Lam, K.-L.; Ko, K.-C.; Li, X.; Ke, X.; Cheng, W.-Y.; Chen, T.; You, L.; Kwan, H.-S.; Cheung, P. .-K. In Vitro Infant Faecal Fermentation of Low Viscosity Barley β-Glucan and Its Acid Hydrolyzed Derivatives: Evaluation of Their Potential as Novel Prebiotics. Molecules 2019, 24, 828.
Note that from the first issue of 2016, MDPI journals use article numbers instead of page numbers. See further details here.
Related Articles
Comments
[Return to top]