Oligonucleotide Binding to Non-B-DNA in
MYC
1
Department of Laboratory Medicine, Clinical Research Center, Karolinska Institutet, Karolinska University Hospital Huddinge, 141 86 Huddinge, Sweden
2
Department of Molecular Biology and Functional Genomics, Stockholm University, 171 65 Stockholm, Sweden
3
Biomolecular Nanoscale Engineerng Center, Department of Physics, Chemistry and Pharmacy, University of Southern Denmark, M5230 Odense, Denmark
4
Department of Clinical Genetics, Centre for Rare Diseases, Karolinska University Hospital, SE-171 76 Stockholm, Sweden
*
Authors to whom correspondence should be addressed.
Academic Editor: Roger Strömberg
Received: 7 February 2019 / Revised: 25 February 2019 / Accepted: 6 March 2019 / Published: 12 March 2019
Abstract
MYC
, originally named c-
myc
, is an oncogene deregulated in many different forms of cancer. Translocation of the
MYC
gene to an immunoglobulin gene leads to an overexpression and the development of Burkitt's lymphoma (BL). Sporadic BL constitutes one subgroup where one of the translocation sites is located at the 5'-vicinity of the two major
MYC
promoters P
1
and P
2
. A non-B-DNA forming sequence within this region has been reported with the ability to form an intramolecular triplex (H-DNA) or a G-quadruplex. We have examined triplex formation at this site first by using a 17 bp triplex-forming oligonucleotide (TFO) and a double strand DNA (dsDNA) target corresponding to the
MYC
sequence. An antiparallel purine-motif triplex was detected using electrophoretic mobility shift assay. Furthermore, we probed for H-DNA formation using the BQQ-OP based triplex-specific cleavage assay, which indicated the formation of the structure in the supercoiled plasmid containing the corresponding region of the
MYC
promoter. Targeting non-B-DNA structures has therapeutic potential; therefore, we investigated their influence on strand-invasion of anti-gene oligonucleotides (ON)s. We show that in vitro, non-B-DNA formation at the vicinity of the ON target site facilitates dsDNA strand-invasion of the anti-gene ONs.
View Full-Text
►

▼

Figures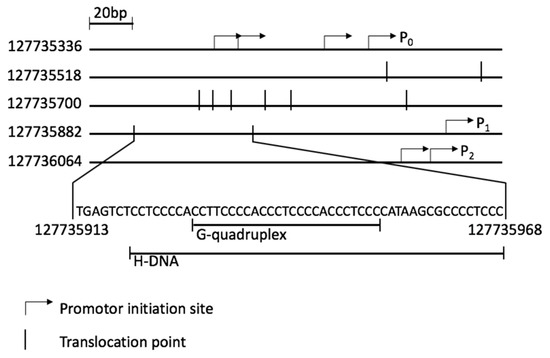 Figure 1
This is an open access article distributed under the
Creative Commons Attribution License
which permits unrestricted use, distribution, and reproduction in any medium, provided the original work is properly cited (CC BY 4.0).

Share & Cite This Article
MDPI and ACS Style
Umek, T.; Sollander, K.; Bergquist, H.; Wengel, J.; Lundin, K.E.; Smith, C.E.; Zain, R. Oligonucleotide Binding to Non-B-DNA in MYC. Molecules 2019, 24, 1000.
Note that from the first issue of 2016, MDPI journals use article numbers instead of page numbers. See further details here.
Related Articles
Comments
[Return to top]