New G-Quadruplex-Forming Oligodeoxynucleotides Incorporating a Bifunctional Double-Ended Linker (DEL): Effects of DEL Size and ODNs Orientation on the Topology, Stability, and Molecularity of DEL-G-Quadruplexes
1
Dipartimento di Farmacia, Università degli Studi di Napoli Federico II, via Domenico Montesano 49, 80131 Napoli, Italy
2
Dipartimento di Chimica, Università degli Studi di Milano, via Camillo Golgi 19, 20133 Milano, Italy
3
Istituto di Biostrutture e Bioimmagini, CNR, Via Tommaso De Amicis 95, 80145 Napoli, Italy
4
Dipartimento di Medicina Molecolare e Biotecnologie Mediche, Università degli Studi di Napoli Federico II, via Sergio Pansini 5, 80131 Napoli, Italy
*
Author to whom correspondence should be addressed.
Received: 23 January 2019 / Revised: 4 February 2019 / Accepted: 6 February 2019 / Published: 12 February 2019
Abstract
G-quadruplexes (G4s) are unusual secondary structures of DNA occurring in guanosine-rich oligodeoxynucleotide (ODN) strands that are extensively studied for their relevance to the biological processes in which they are involved. In this study, we report the synthesis of a new kind of G4-forming molecule named double-ended-linker ODN (DEL-ODN), in which two TG
4
T strands are attached to the two ends of symmetric, non-nucleotide linkers. Four DEL-ODNs differing for the incorporation of either a short or long linker and the directionality of the TG
4
T strands were synthesized, and their ability to form G4 structures and/or multimeric species was investigated by PAGE, HPLC–size-exclusion chromatography (HPLC–SEC), circular dichroism (CD), and NMR studies in comparison with the previously reported monomeric tetra-ended-linker (TEL) analogues and with the corresponding tetramolecular species (TG
4
T)
4
. The structural characterization of DEL-ODNs confirmed the formation of stable, bimolecular DEL-G4s for all DEL-ODNs, as well as of additional DEL-G4 multimers with higher molecular weights, thus suggesting a way towards the obtainment of thermally stable DNA nanostructures based on reticulated DEL-G4s.
View Full-Text
►

▼

Figures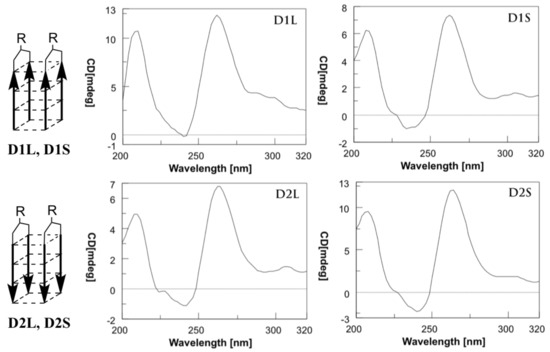 Figure 1
This is an open access article distributed under the
Creative Commons Attribution License
which permits unrestricted use, distribution, and reproduction in any medium, provided the original work is properly cited (CC BY 4.0).

Share & Cite This Article
MDPI and ACS Style
Marzano, M.; Falanga, A.P.; D'Errico, S.; Pinto, B.; Roviello, G.N.; Piccialli, G.; Oliviero, G.; Borbone, N. New G-Quadruplex-Forming Oligodeoxynucleotides Incorporating a Bifunctional Double-Ended Linker (DEL): Effects of DEL Size and ODNs Orientation on the Topology, Stability, and Molecularity of DEL-G-Quadruplexes. Molecules 2019, 24, 654.
Note that from the first issue of 2016, MDPI journals use article numbers instead of page numbers. See further details here.
Related Articles
Comments
[Return to top]