Antioxidant, α-Amylase and α-Glucosidase Inhibitory Activities and Potential Constituents of
Canarium tramdenum

Bark

1

Division of Development Technology, Graduate School for International Development and Cooperation (IDEC), Hiroshima University, Higashi Hiroshima 739-8529, Japan

2

Department of Biotechnology, NTT Institute of Hi-Technology, Nguyen Tat Thanh University, 298A-300A Nguyen Tat Thanh Street, Ward 13, District 4, Ho Chi Minh 72820, Vietnam

3

Faculty of Forest Resources and Environmental Management, Vietnam National University of Forestry, Xuan Mai, Hanoi 156200 Vietnam

*

Authors to whom correspondence should be addressed.

Academic Editors: Raffaele Capasso and Lorenzo Di Cesare Mannelli

Received: 13 January 2019 / Revised: 6 February 2019 / Accepted: 7 February 2019 / Published: 9 February 2019
Abstract
The fruits of
Canarium tramdenum
are commonly used as foods and cooking ingredients in Vietnam, Laos, and the southeast region of China, whilst the leaves are traditionally used for treating diarrhea and rheumatism. This study was conducted to investigate the potential use of this plant bark as antioxidants, and α-amylase and α-glucosidase inhibitors. Five different extracts of
C. tramdenum
bark (TDB) consisting of the extract (TDBS) and factional extracts hexane (TDBH), ethyl acetate (TDBE), butanol (TDBB), and water (TDBW) were evaluated. The TDBS extract contained the highest amount of total phenolic (112.14 mg gallic acid equivalent per g dry weight), while the TDBB extract had the most effective antioxidant capacity compared to other extracts. Its IC
50
values were 12.33, 47.87, 33.25, and 103.74 µg/mL in 2,2-diphenyl-1-picrylhydrazyl (DPPH), 2,2′-azino-bis (ABTS), reducing power (RP), and nitric oxide (NO) assays, respectively. Meanwhile, the lipid peroxidation inhibition of the four above extracts was proximate to that of butylated hydroxytoluene (BHT) as a standard antioxidant. The result of porcine pancreatic α-amylase inhibition showed that TDB extracts have promising effects which are in line with the commercial diabetic inhibitor acarbose. Interestingly, the inhibitory ability on α-glucosidase of all the extracts was higher than that of acarbose. Among the extracts, the TDBB extract expressed the strongest activity on the enzymatic reaction (IC
50
= 18.93 µg/mL) followed by the TDBW extract (IC
50
= 25.27 µg/mL), TDBS (IC
50
= 28.17 µg/mL), and TDBE extract (IC
50
= 141.37 µg/mL). The phytochemical constituents of the TDB extract were identified by gas chromatography–mass spectrometry (GC-MS). The principal constituents included nine phenolics, eight terpenoids, two steroids, and five compounds belonging to other chemical classes, which were the first reported in this plant. Among them, the presence of α- and β-amyrins were identified by GC-MS and appeared as the most dominant constituents in TDB extracts (1.52 mg/g). The results of this study revealed that
C. tramdenum
bark possessed rich phenolics and terpenoids, which might confer on reducing risks from diabetes. A high quantity of α- and β-amyrins highlighted the potentials of anti-inflammatory, anti-ulcer, anti-hyperlipidemic, anti-tumor, and hepatoprotective properties of
C. tramdenum
bark.
View Full-Text
►

▼

Figures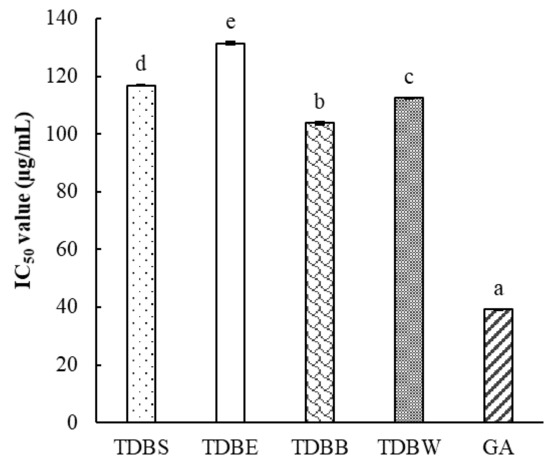 Figure 1
This is an open access article distributed under the
Creative Commons Attribution License
which permits unrestricted use, distribution, and reproduction in any medium, provided the original work is properly cited (CC BY 4.0).

Share & Cite This Article
MDPI and ACS Style
Quan, N.V.; Xuan, T.D.; Tran, H.-D.; Thuy, N.T.D.; Trang, L.T.; Huong, C.T.; Andriana, Y.; Tuyen, P.T. Antioxidant, α-Amylase and α-Glucosidase Inhibitory Activities and Potential Constituents of Canarium tramdenum Bark. Molecules 2019, 24, 605.
Note that from the first issue of 2016, MDPI journals use article numbers instead of page numbers. See further details here.
Related Articles
Comments
[Return to top]