Microwave-Assisted Dehydrogenative Cross Coupling Reactions in γ-valerolactone with a Reusable Pd/β-cyclodextrin Crosslinked Catalyst
1
Department of Chemistry, University of Turin, Via P. Giuria 7, 10125 Turin, Italy
2
Department of Drug Science and Technology and NIS - Centre for Nanostructured Interfaces and Surfaces, University of Turin, Via P. Giuria 9, 10125 Turin, Italy
*
Author to whom correspondence should be addressed.
Academic Editors: Sreekantha B. Jonnalagadda and Suresh Maddila
Received: 31 December 2018 / Revised: 9 January 2019 / Accepted: 11 January 2019 / Published: 14 January 2019
Abstract
Transition-metal mediated C–H bond activation and functionalization is one of the most straightforward and powerful tools in modern organic synthetic chemistry. Oxidative C–H/C–H coupling reactions between two (hetero)arenes under heterogeneous catalysis may be a valuable means for the production of a plethora of bi(hetero)aryls, and one that adheres to the increasing demand for atom-economic and sustainable chemistry. We have therefore developed a reusable heterogeneous catalytic system, which is based on Pd cross-linked β-cyclodextrin, to perform an efficient microwave-assisted oxidative C–H/C–H cross coupling process between benzothiazoles and methyl thiophene in the presence of green solvents.

►

▼

Figures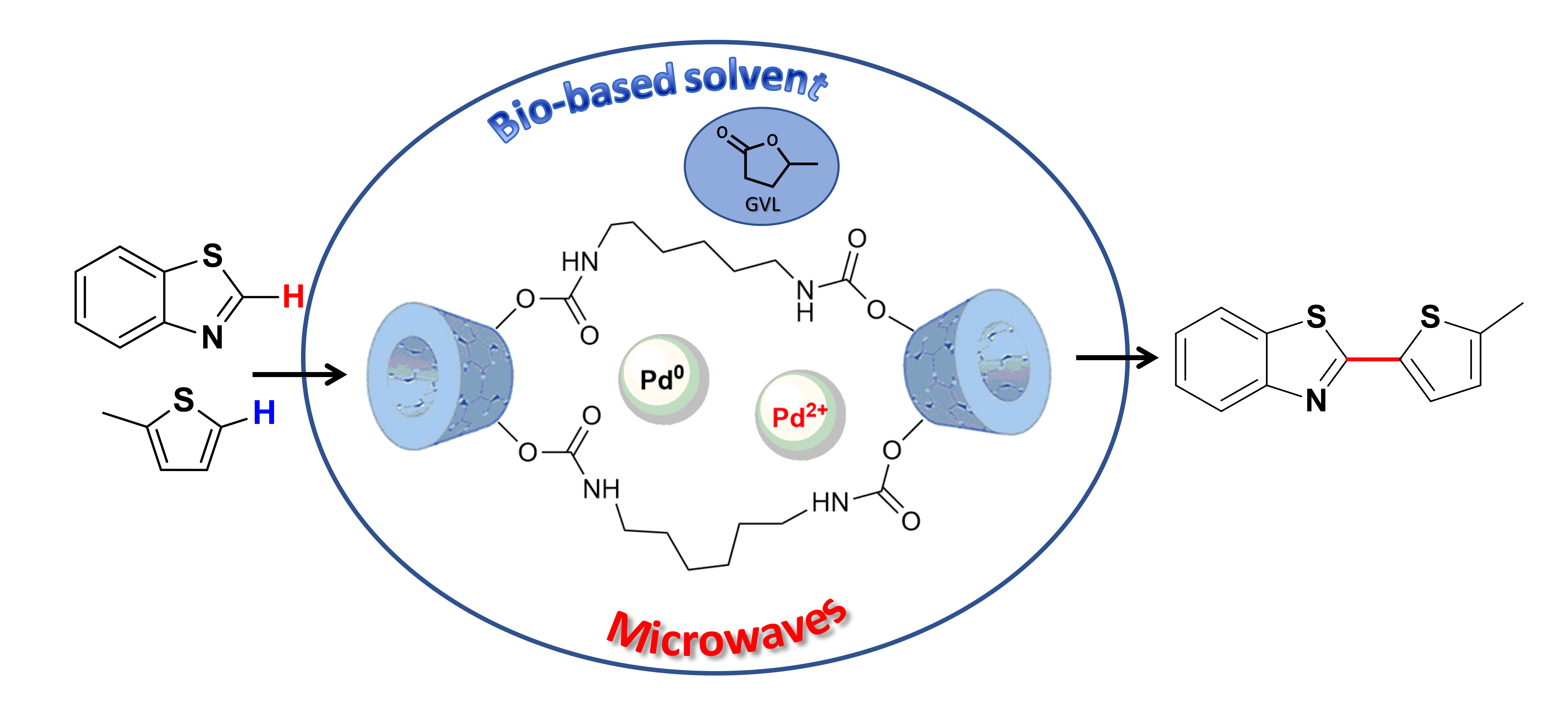 Graphical abstract
This is an open access article distributed under the
Creative Commons Attribution License
which permits unrestricted use, distribution, and reproduction in any medium, provided the original work is properly cited (CC BY 4.0).

Share & Cite This Article
MDPI and ACS Style
Tabasso, S.; Calcio Gaudino, E.; Acciardo, E.; Manzoli, M.; Giacomino, A.; Cravotto, G. Microwave-Assisted Dehydrogenative Cross Coupling Reactions in γ-valerolactone with a Reusable Pd/β-cyclodextrin Crosslinked Catalyst. Molecules 2019, 24, 288.
Note that from the first issue of 2016, MDPI journals use article numbers instead of page numbers. See further details here.
Related Articles
Comments
[Return to top]