Open Access This article is
freely available
re-usable
Article
Sabotage at the Powerhouse? Unraveling the Molecular Target of 2-Isopropylbenzaldehyde Thiosemicarbazone, a Specific Inhibitor of Aflatoxin Biosynthesis and Sclerotia Development in
Aspergillus flavus
, Using Yeast as a Model System
Department of Chemistry, Life Sciences and Environmental Sustainability, University of Parma, Parco Area delle Scienze 11/A, 43123 Parma, Italy
†
These authors contributed equally to this work.

Academic Editor: Chiara Dall'Asta
Received: 9 July 2019 / Accepted: 14 August 2019 / Published: 16 August 2019
Abstract
:
Amongst the various approaches to contain aflatoxin contamination of feed and food commodities, the use of inhibitors of fungal growth and/or toxin biosynthesis is showing great promise for the implementation or the replacement of conventional pesticide-based strategies. Several inhibition mechanisms were found taking place at different levels in the biology of the aflatoxin-producing fungal species such as
Aspergillus flavus
: compounds that influence aflatoxin production may block the biosynthetic pathway through the direct control of genes belonging to the aflatoxin gene cluster, or interfere with one or more of the several steps involved in the aflatoxin metabolism upstream. Recent findings pointed to mitochondrial functionality as one of the potential targets of some aflatoxin inhibitors. Additionally, we have recently reported that the effect of a compound belonging to the class of thiosemicarbazones might be related to the energy generation/carbon flow and redox homeostasis control by the fungal cell. Here, we report our investigation about a putative molecular target of the 3-isopropylbenzaldehyde thiosemicarbazone (mHtcum), using the yeast
Saccharomyces cerevisiae
as model system, to demonstrate how the compound can actually interfere with the mitochondrial respiratory chain.
Keywords:
aflatoxin inhibitor; mitochondrion; respiratory chain; yeast model system
Supplementary Materials
The following are available online. Figure S1: Effect of mHtcum on yeast cells growth on different non-fermentable carbon sources. In the disc diffusion assay, ethanol was replaced by acetate or glycerol as carbon source in the YP medium.
Author Contributions
Conceptualization, F.D., C.D., M.P.; Investigation and Visualization, F.D., C.D., M.P., G.S., N.O.; Resources, F.M.R., T.L., G.P.; Writing-Original Draft Preparation, F.D. and C.D.; Writing-Review & Editing, F.D., F.M.R., T.L., G.P., F.B.
Funding
This research received no external funding.
Acknowledgments
We would like to thank Justice Johannson for the English language editing of proof.
Conflicts of Interest
The authors declare no conflict of interest.
| | |
| --- | --- |
| | Sample Availability: Samples of the compounds are available from the authors. |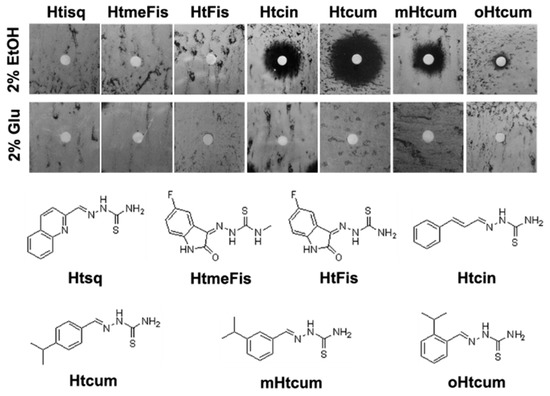 Figure 1. Structure of tested compounds and their effect on yeast oxidative growth. Inhibition halos were evaluated on glucose and ethanol through the agar disk-diffusion method.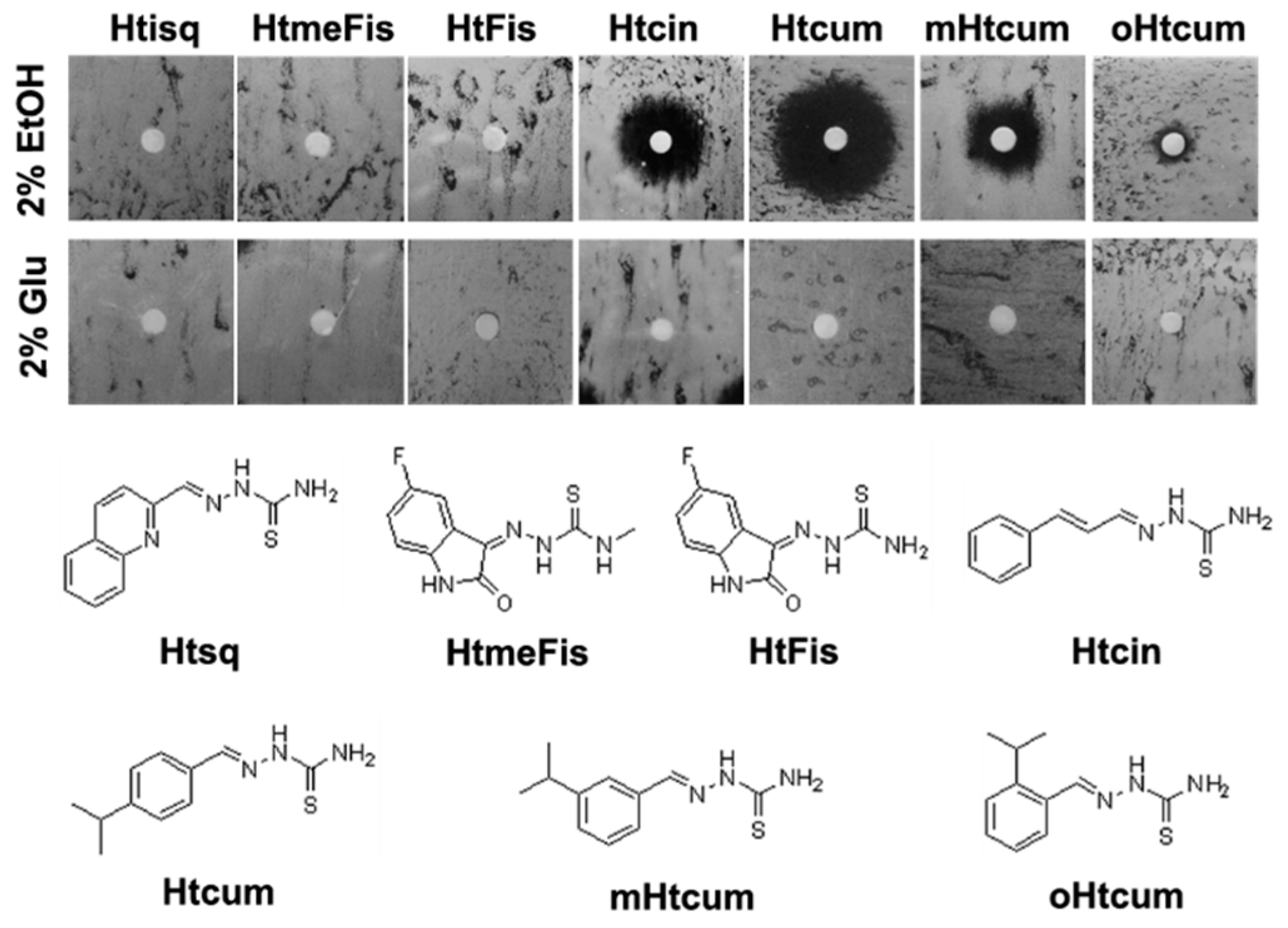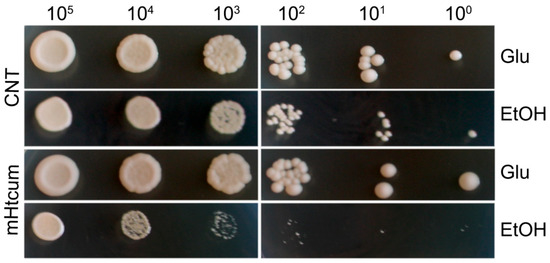 Figure 2. Yeast dilution bioassays showing the effect of mHtcum under oxidative growth. Cells of W303-1B strain serially diluted and spotted on YP medium supplemented with glucose or ethanol and added with mHtcum 50 µM or 0.5% DMSO (CNT).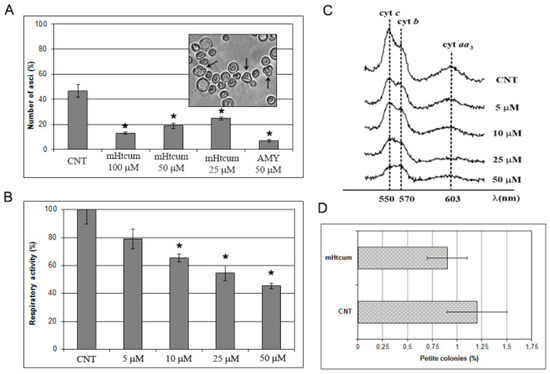 Figure 3.
Interference of mHtcum on mitochondrial activity in
S. cerevisiae
. (
A
) Asci production in W303 diploid strain treated with mHtcum. The effect of thiosemicarbazone was compared with the effect of the mitochondrial respiratory inhibitor antimycin A (AMY). Values are expressed as percentage of asci with respect to the number of total cells; statistically significant differences from the control (CNT) were indicated with an asterisk (
p
≤ 0.05). (
B
) Oxygen consumption rate. W303-1B grown in the absence (CNT) or in the presence of mHtcum at different concentrations (from 5 to 50 µM). Values were normalized to the untreated strain and represented as the mean of at least three values ± SD. Values significantly different from CNT were indicated with an asterisk (
p
≤ 0.05). (
C
) Reduced versus oxidized cytochrome spectra: peaks at 550, 560 and 602 nm correspond to cytochromes c, b and aa
3
, respectively. The height of each peak relative to the baseline is an index of cytochrome content. (
D
) Mitochondrial DNA mutability. Frequency of respiratory deficient (
petite
) cells determined in untreated (CNT) or 50 μM mHtcum treated yeast cultures, expressed as a percentage.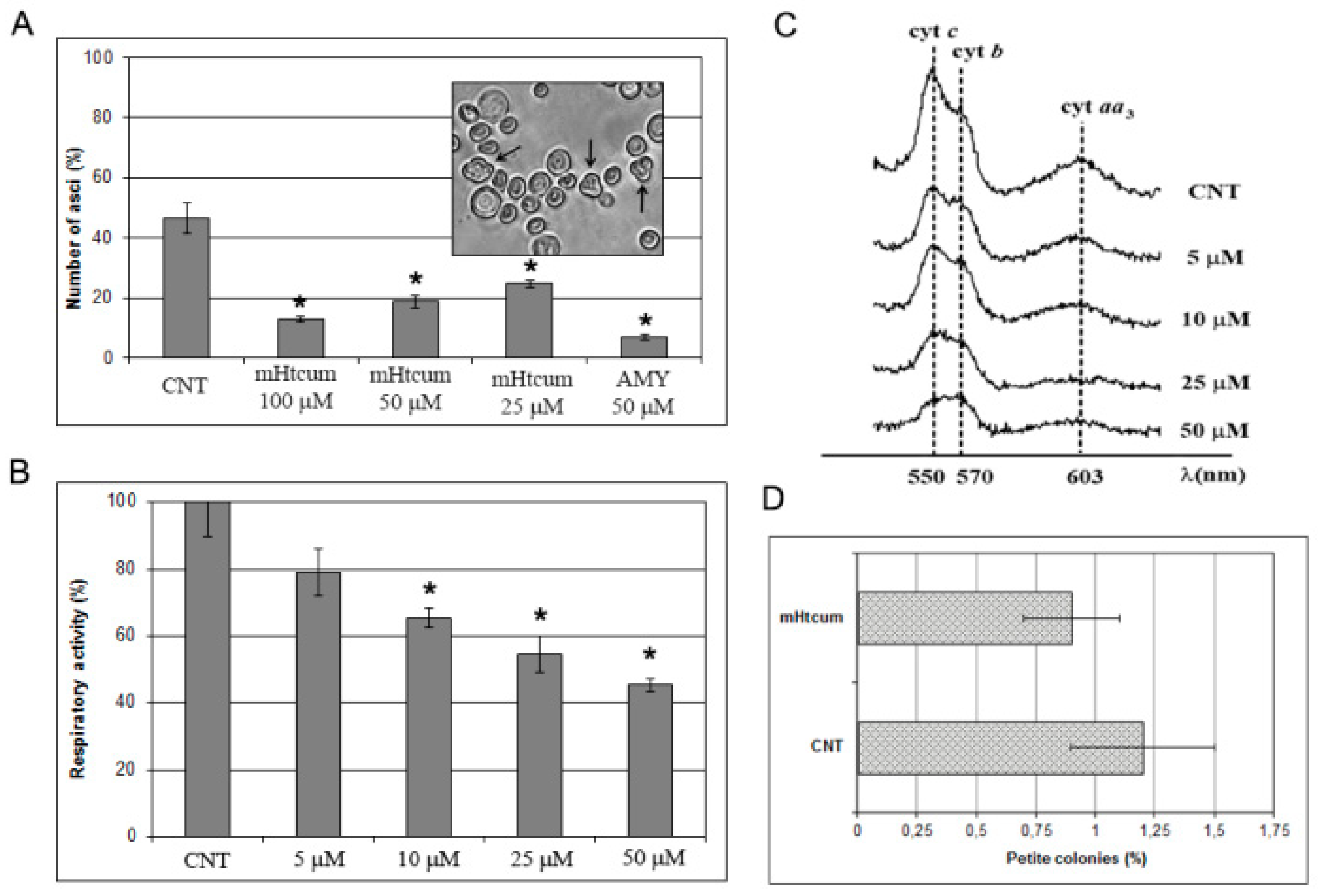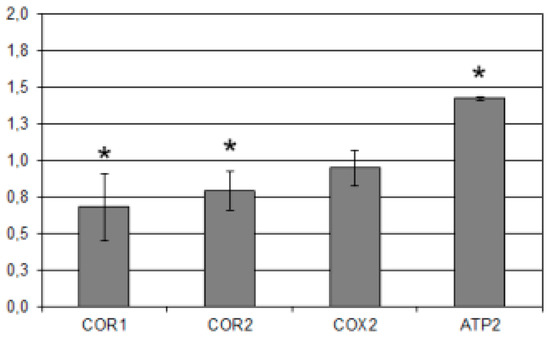 Figure 4.
Western Blot analysis of mitochondrial extracts from yeast cells grown in presence of 50 µMm Htcum. Quantification of immunoreactive luminescence signals was achieved by densitometric scanning of the respective bands. Signals were normalized to the 0.5% DMSO treated cultures (control); POR was used as a loading control. Quantification was performed on three independent blots and reported as mean of values (±S.D.). *
p
≤ 0.05 vs. control.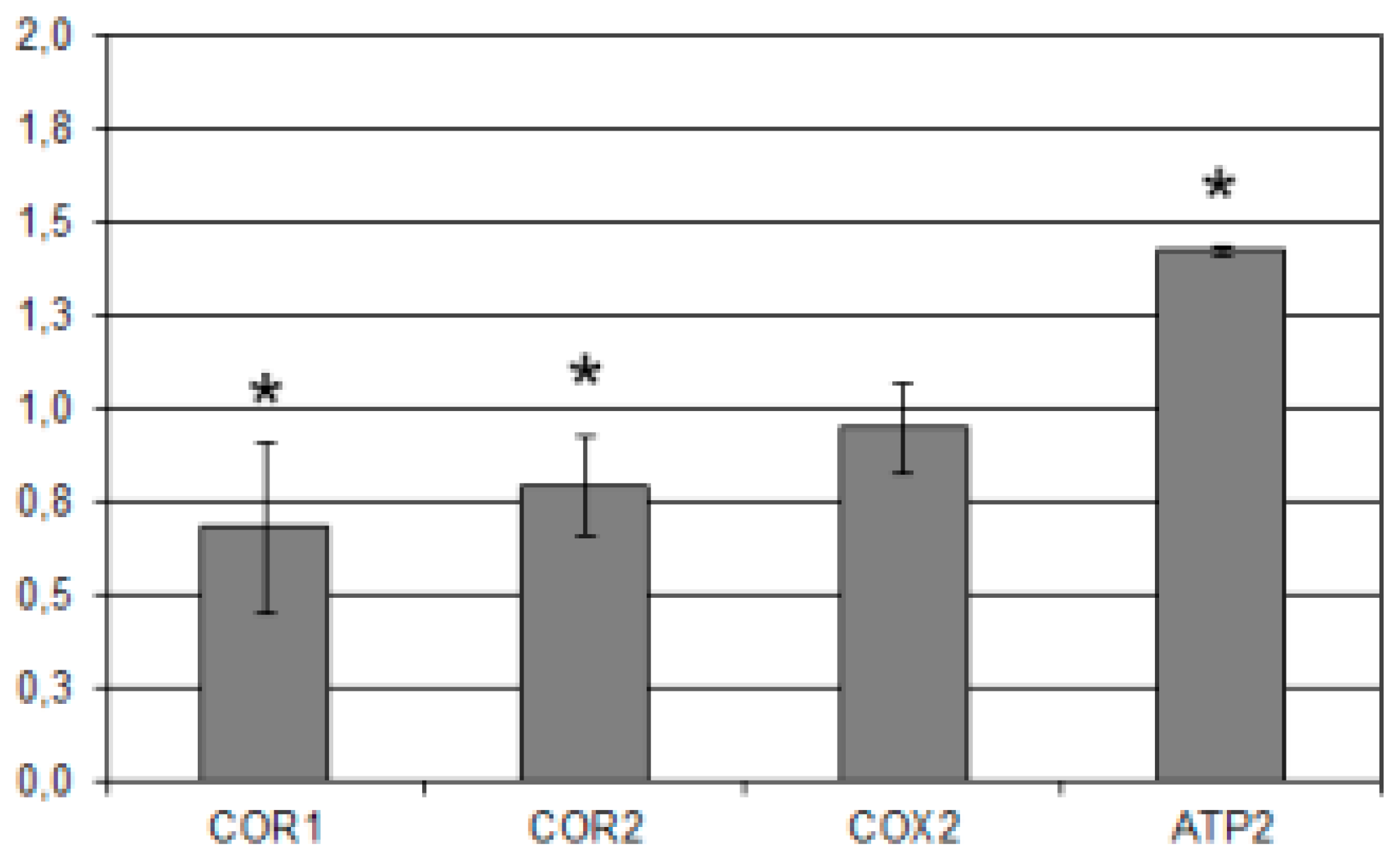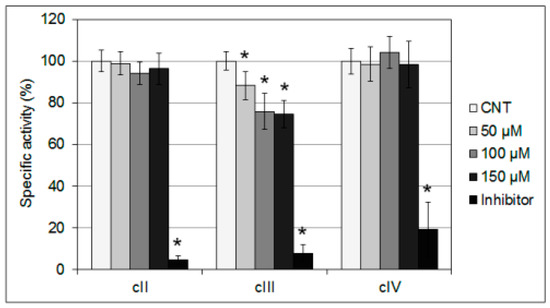 Figure 5.
Respiratory chain complexes activity. Biochemical activities of succinate quinone DCPIP reductase (cII), NADH-cytochrome c oxidoreductase (cIII) and cytochrome c oxidase (cIV) were measured on a mitochondrial enriched fraction. mHtcum was added at increasing concentrations (from 50 to 150 µM) and compared to DMSO treated cells (CNT). Specific inhibitors for complex II (malonate), complex III (antimycin A) and complex IV (Na-azide) were used as control. Values were normalized to the control (CTN) and represented as the mean of three independent experiments ± S.D. (*
p
≤ 0.05).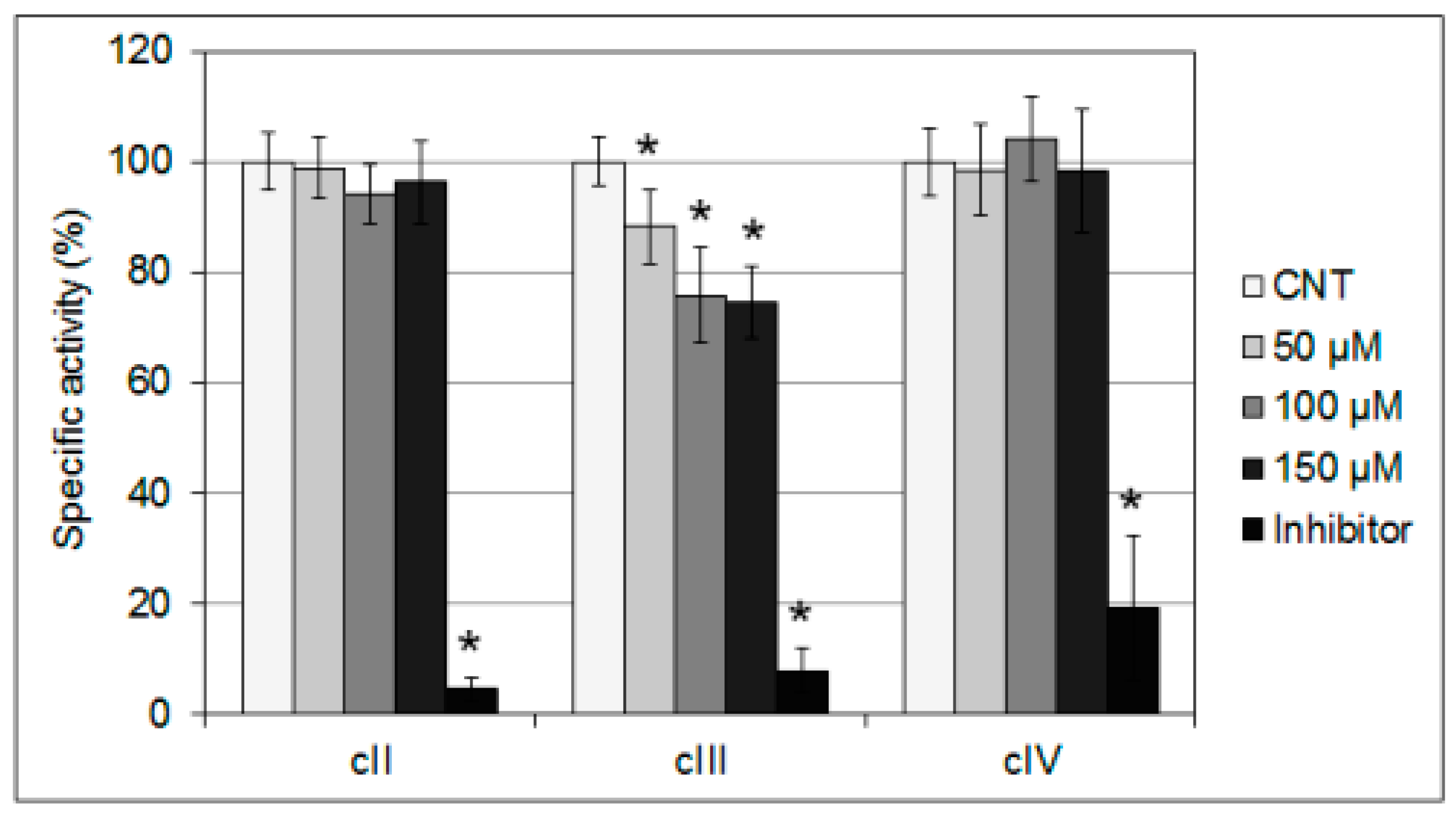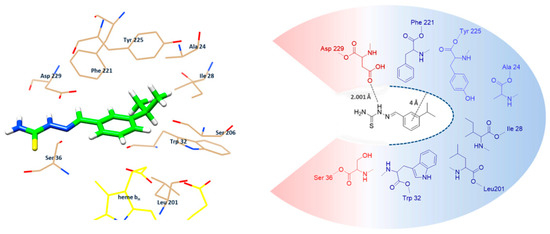 Figure 6. Representation of the binding mode of mHtcum in the cytochrome bc1 AMY binding site as obtained with the Gold v5.5 software. On the left: best docked pose of mHtcum into the 3BCC binding pocket. On the right: schematic positioning of mHtcum into the 3BCC binding pocket (in red: the hydrophilic area; in blue, the hydrophobic surface).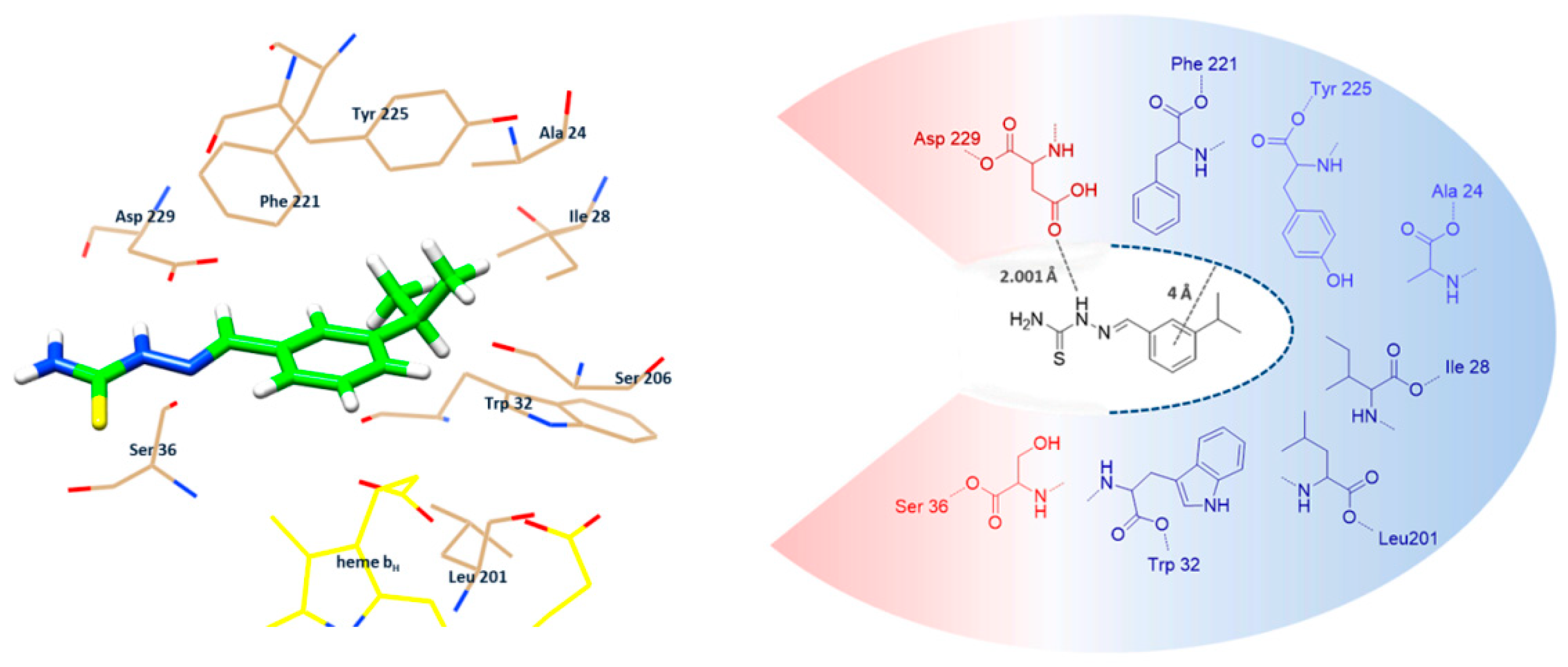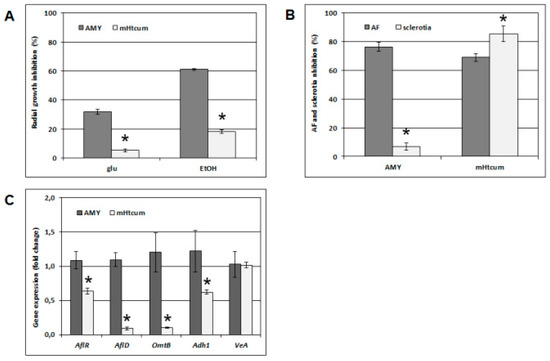 Figure 7.
Comparison between mHtcum and antimycin effect on
A. flavus
. (
A
) Differential effect on growth under fermentable/non-fermentable conditions. Fungal growth was assessed as radial growth inhibition of mHtcum or AMY treated
A. flavus
colonies (50 μM) with respect to the control (0.5% DMSO treated cultures). Statistically significant differences respect to AMY treatment are indicated (*
p
< 0.05). (
B
) Effect of mHtcum and AMY on aflatoxin production and sclerotia development.
A. flavus
conidia were inoculated either in CCM or CZ medium for the aflatoxin production and sclerotia development determination respectively (see Materials and Methods section for details). Media were amended with 50 μM mHtcum or AMY, and 0.5% DMSO as control. Statistically significant differences with respect to AMY treatment are indicated (*
p
< 0.05). (
C
) Gene expression fold change of in response to mHtcum and AMY treatment (50 μM).
A. flavus
conidia were incubated and cultivated in the identical cultural conditions used for aflatoxin determination. The 1.0 line represents the control (0.5% DMSO) expression level. Asterisk indicates the differences that were statistically significant (*
p
< 0.05).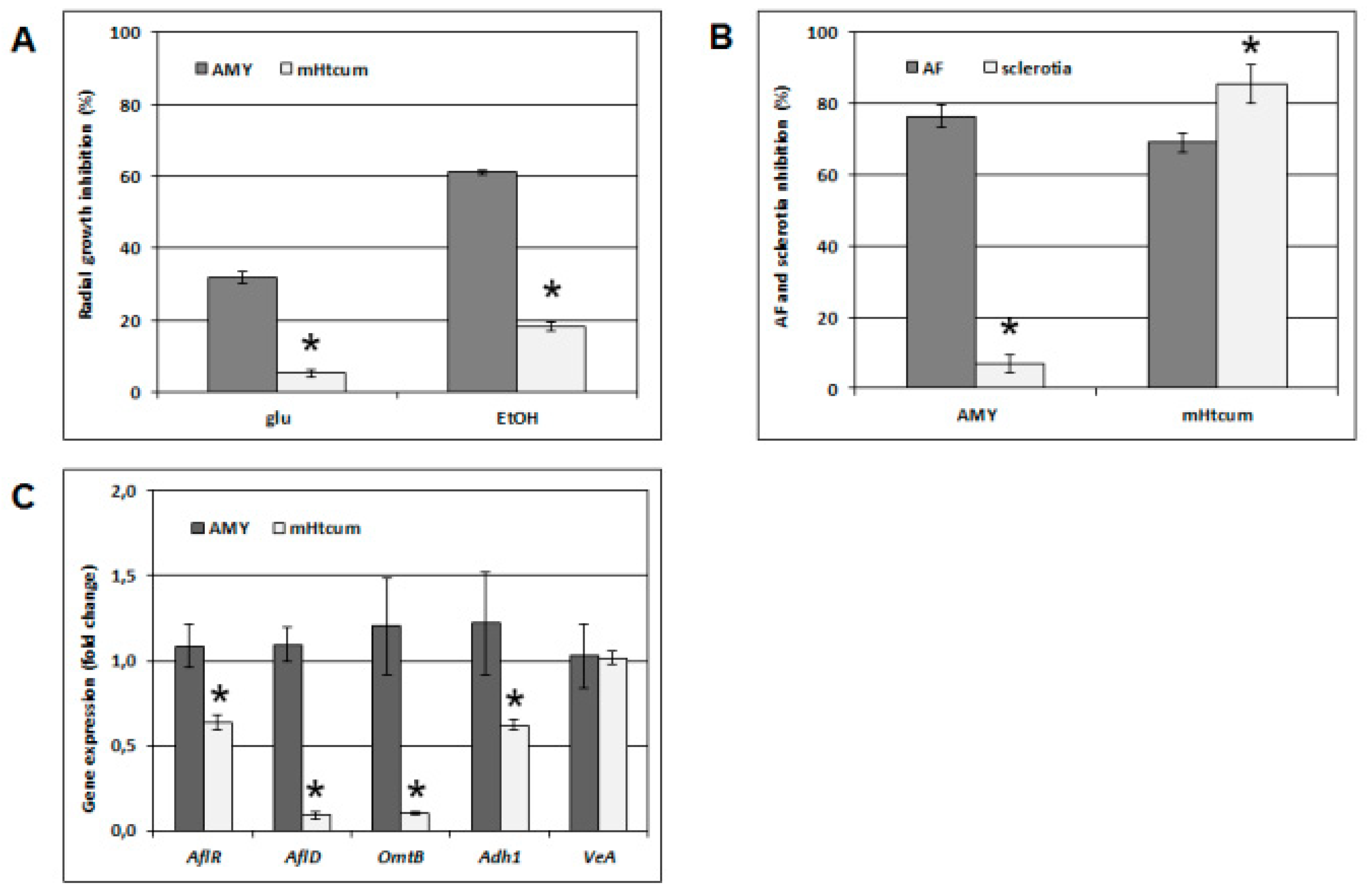 | Oligo Name | Sequence (5′3′) | Target Gene |
| --- | --- | --- |
| tubFw-RT | TACCATGGACGCCGTCCG | Tub1 |
| tubRev-RT | GACGGACAACATCGACAAC | |
| OmtB F | GCCTTGACATGGAAACCATC | AflO |
| OmtBRev-RT | TCCACTGCTCAATCGCATG | |
| Adh1 FwRT | CTAAACCAGGACCAGATGAG | Adh1 |
| Adh1 RevRT | TCCCTCGTGTCCACCTAC | |
| Nor1 F | ACGGATCACTTAGCCAGCAC | AflD |
| AflD-RevRT | ACGGTGCTTTTGGGACGTTG | |
| AflJ-gF | GAACGCTGATTGCCAATGCC | AflS |
| AflS RevRT | GATTCATCCAGAGGGATAC | |
| VeA FwRT | CGAGACGGAAGCCTCCGT | VeA |
| VeA RevRT | TGGAGGATCGACTGGACGA | |

© 2019 by the authors. Licensee MDPI, Basel, Switzerland. This article is an open access article distributed under the terms and conditions of the Creative Commons Attribution (CC BY) license (http://creativecommons.org/licenses/by/4.0/).