SYSU-6, A New 2-D Aluminophosphate Zeolite Layer Precursor
MOE Key Laboratory of Bioinorganic and Synthetic Chemistry, School of Chemistry, Sun Yat-sen University, Guangzhou 510275, China
*
Author to whom correspondence should be addressed.
Academic Editor: Susana Valencia
Received: 30 June 2019 / Revised: 7 August 2019 / Accepted: 14 August 2019 / Published: 16 August 2019
Abstract
Two-dimensional aluminophosphate is an important precursor of phosphate-based zeolites; a new Sun Yat-sen University No. 6 (SYSU-6) with |Hada|
2
[Al
2
(HPO
4
)(PO
4
)
2
] has been synthesized in the hydrothermal synthesis with organic structure-directing agent (OSDA) of
N
,
N
,3,5-tetramethyladamantan-1-amine. In this paper, SYSU-6 is characterized by single-crystal/powder X-ray diffraction, scanning electron microscopy, energy-dispersive X-ray analysis, transmission electron microscopy, infrared and UV Raman spectroscopy, solid-state
27
Al,
31
P and
13
C magic angle spinning (MAS) NMR spectra, and elemental analysis. The single-crystal X-ray diffraction structure indicates that SYSU-6 crystallized in the space group
P
2
1
/
n
, with a = 8.4119(3), b = 36.9876(12), c = 12.5674(3), α = 90°, β = 108.6770(10)°, γ = 90°, V = 3704.3(2) Å
3
, Z = 4, R = 5.12%, for 8515 observed data (I > 2σ(
I
)). The structure has a new 4,12-ring layer framework topology linked by alternating AlO
4
and PO
4
tetrahedra. The organic molecules reside between the layers and are hydrogen-bonded to the inorganic framework. The new type of layer provides a greater opportunity to construct zeolite with novel topology.
View Full-Text
►

▼

Figures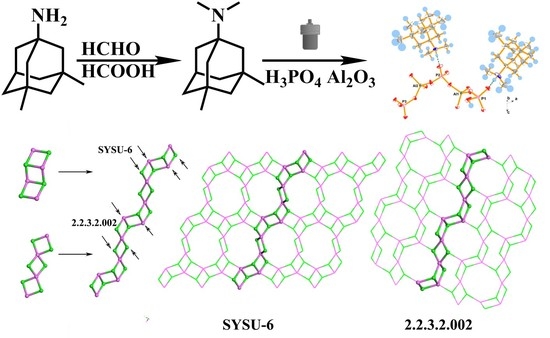 Graphical abstract
This is an open access article distributed under the
Creative Commons Attribution License
which permits unrestricted use, distribution, and reproduction in any medium, provided the original work is properly cited (CC BY 4.0).

Share & Cite This Article
MDPI and ACS Style
Qiu, J.-Z.; Wang, L.-F.; Jiang, J. SYSU-6, A New 2-D Aluminophosphate Zeolite Layer Precursor. Molecules 2019, 24, 2972.
Note that from the first issue of 2016, MDPI journals use article numbers instead of page numbers. See further details here.
Related Articles
Comments
[Return to top]