Open Access This article is
freely available
re-usable
Article
Quantum Chemistry Insight into the Interactions Between Deep Eutectic Solvents and SO2
1
Department of Chemical Engineering, Texas A&M University at Qatar, Doha 23874, Qatar
2
Gas and Fuels Research Center, Texas A&M University, College Station, TX 77843, USA
3
Qatar Environment and Energy Research Institute, Hamad Bin Khalifa University, Doha 23874, Qatar
4
Department of Chemistry, University of Burgos, 09001 Burgos, Spain
*
Authors to whom correspondence should be addressed.
Received: 19 June 2019 / Accepted: 27 July 2019 / Published: 15 August 2019
Abstract
:
A systematic research work on the rational design of task specific Deep Eutectic Solvents (DES) has been carried out via density functional theory (DFT) in order to increase knowledge on the key interaction parameters related to efficient SO2 capture by DES at a molecular level. A total of 11 different DES structures, for which high SO2 affinity and solubility is expected, have been selected in this work. SO2 interactions in selected DES were investigated in detail through DFT simulations and this work has generated a valuable set of information about required factors at the molecular level to provide high SO2 solubility in DES, which is crucial for enhancing the current efficiency of the SO2 capture process and replacing the current state of the art with environmentally friendly solvents and eventually implementing these materials in the chemical industry. Results that were obtained from DFT calculations were used to deduce the details of the type and the intensity of the interaction between DES and SO2 molecules at various interaction sites as well as to quantify short-range interactions by using various methods such as quantum theory of atoms in a molecule (QTAIM), electrostatic potentials (ESP) and reduced density gradients (RDG). Systematic research on the molecular interaction characterization between DES structures and SO2 molecule increases our knowledge on the rational design of task-specific DES.
Keywords:
deep eutectic solvents; density functional theory; gas capture; SO
2
2. Methodology
In this work, a total of 11 different DESs were studied for their interactions with SO
2
. Candidates for SO
2
capture solvents were determined after screening the available literature and shortlisting the most potential candidates for this task. After going through the literature [
14
,
43
,
51
,
52
,
53
], choline chloride (ChCl), 1-Butyl-3-methylimidazolium chloride (Bmim) and 1-Ethyl-3-methylimidazolium chloride (Emim) were selected as HBA and acetamide (Ac), citric acid (Ca), ethylene glycol (Eg), fructose (Ft), glycerol (Gy), lactic acid (La), levulinic acid (Lv), malic acid (Ma), phenylacetic acid (Pa) were selected as HBD. The selection of HBA was done based on the established know-how in literature as well as based on our previous studies. Furthermore, HBD selection was done considering simple representatives of amides, organic acids, polyols and sugar acting as HBDs, its low cost and its biocompatibility that fulfills the requirements for DESs development.
By using listed HBA and HBD, the following combinations were studied as DESs: Bmim:Ac, ChCl:Ca, ChCl:Eg, ChCl:Ft, ChCl:Gy, ChCl:La, ChCl:Lv, ChCl:Ma, ChCl:Pa, Emim:Ac and Emim:Eg.
Figure 1
shows the molecular structures of HBA and HBD that are used in this work.
The initial structures for these DESs were built via Avogadro software [
54
] and DFT calculations were carried out via ORCA code [
55
]. B3LYP functional [
56
,
57
], together with Grimme's DFT-D3 method [
58
], were chosen for considering dispersion interactions and the 6-311++G** basis set (i.e. B3LYP/6- 311++G** theoretical level) was selected for the DFT calculations. The total energy, ΔE, for each structure was calculated as the difference between the energy for the total cluster and the sum of the energies of the corresponding monomers, with the Basis Set Superposition Error (BSSE) corrected using the counterpoise procedure [
59
,
60
] and that is calculated in Equation (1) as:
is the counterpoise corrected superstructure; is the optimized superstructure; is the optimized single structure; is the optimized single structure while the coordinates are fixed at the original superstructure; is the optimized single structure while the coordinates are fixed at the original superstructure and the other structure(s) are considered in the ghost orbital state.
Equation (1) is the general form of the BSSE corrected total energy for n component systems; however, in this study the studied interaction is between the SO
2
molecule and DES superstructure, thus the above calculation over n is reduced down only for SO
2
. Binding energies were also estimated by considering the DES decomposed with its HBA and HBD components and Equation (2) was used for this purpose.
Table S1
includes the values for
EHBA
,
EHBD
and
ESO2
.
Table S2
presents the calculated values for the parameters that are given in Equation (2). Real space functions and the characterization of the type of the inferred interactions were analyzed by using quantum theory of atoms in molecules (QTAIM), according to Bader's AIM theory [
61
], by using the Multiwfn program code [
62
]. Intermolecular interactions between the studied DES and SO
2
structures were characterized by the formation of bond critical points (BCPs) and corresponding electron density (
ρ
) as well as the Laplacian of the electron density (∇
2
ρ
) values. BCPs of the charge density with inertia (3, −1) are located between two atoms (located at the interaction sites) and are calculated by QTAIM analysis, in which first the first derivative of the electron density reduces to zero from that calculated. Determination of the exact location of the BCPs and quantification of the
ρ
and ∇
2
ρ
allow us to infer the type and the strength of the interaction between the interacting site atoms [
63
,
64
] and these values make quantitative formalisms possible [
61
,
65
]. The details of how BCPs are calculated were previously discussed elsewhere [
66
]. Reduced density gradient (RDG) analysis was used for obtaining the gradient-corrected functional of increasing quality [
67
,
68
,
69
]. RDG values were associated with isosurfaces by Johnson et al. [
70
] and they were associated with the non-covalent interactions of the studied superstructure. The RDG approach was used to discuss the nature and strength of the interactions displayed in the isosurface for the studied DES and SO
2
superstructures. Furthermore, in order to decipher the nature of the charge transfer process between the various components of the studied DES and SO
2
cluster, the density of states (DOS) analysis was carried out for investigating the orbital contributions from the various studied components. In addition to DOS analysis, as a complimentary analysis, the Homo–Lumo energies are studied as they are considered quantum mechanical indicators for determining chemical interactions since they provide an insight into the reactivity of the structures and the active site can be demonstrated by the distribution of the frontier orbital. The Homo–Lumo frontier orbital compositions for the studied structures were obtained at the same theory level of the DFT calculations and were demonstrated by using Avogadro software. Electrostatic potential (ESP) surface was studied in order to provide a visualization of total charge distribution of the DES+SO
2
clusters and their corresponding relative polarity. Other than these analysis tools, some other discussions were carried out regarding the SO
2
angle evolution and BCP distance evolution throughout the DFT calculations.
3. Results and Discussion
While dealing with the geometry optimization of these initial structures in our previous publications, an iterative method was used to figure out the most suitable theory level that yields reasonable structures. Until we reached the basis set and the theory level that is used in this work, several other simpler theories were used, for which the risk of converging to a local minima is highly likely. However, the mentioned theory is complex enough to avoid local minima and which was also confirmed with the non-imaginary frequencies.
4. Conclusions
In this work, a thorough DFT analysis has been conducted on 9 different selected DES compounds on their affinity towards SO2, as they are being considered as an alternative solvents for industrial purposes. A detailed QTAIM has provided a mechanism of interaction sites and the strongest interaction paths between the DES and SO2. Quantification of the QTAIM analysis is explained in detail and is discussed in the manuscript. These results were in line with the calculated interaction energies. Furthermore, RDG analysis visually proved the interaction type between the studied structures and confirmed a dominant van der Waals type interaction between DES and SO2. DOS studies were also used to infer the nature of the charge transfer that occurs between the various active sites of the DES and SO2 molecules and these results were coupled with Homo-Lumo analysis as well. The DOS results helped us to identify which anion or cation from the corresponding HBA plays the major role on the charge transfer process. Additionally, time-consuming ESP analysis enabled the drawing of isosurfaces that provided an effective visualization on the total charge distribution and relative polarity of the studied DES+SO2 structures. With the aid of the ESP analysis, the positive and negative electrostatic potentials were identified and they were analyzed accordingly.
Based on these studies we draw these conclusions:
(i)

These results are quite useful in order to show the Lewis model interactions and acidity of DESs as absorbents that are considered for SO2 absorption. Furthermore, the chemical and kinetic stability of the DES structures was confirmed when they are in contact with SO2, which is a pre-indicator of these solvents for cyclic use and their regenerable nature.

(ii)

Both QTAIM and structure analysis results show that strong interactions contribute to SO2 absorption, which are controlled mainly with the cation component of the HBA. These interactions are mostly localized between the O atom of the SO2 and the cation part of the IL. In contrast with this, when HBD dominates (just a couple of cases) the SO2 affinity, O atom in the HBD interacts with the S atom in the SO2 molecule.

(iii)

Despite the calculation of overall total energies and more importantly binding energies not showing a wide range of variation, it is obvious that the selection of HBD makes the structure sensitive to the SO2 interaction.
This study is one of the very few systematic computational analyses on the utilization of DES considered for SO2 capture and it will open further discussions on this topic for not only SO2 management but also for other acid/sour gases such as NxO, SOx and H2S in due course.
Thus, in light of the molecular interaction findings, qualitative trends on the absorption of SO2 with novel DES can be focused more on the investigation of HBA(cation)⋅⋅⋅SO2 systems. Systematic research on this would assist with building knowledge about those factors at the molecular level, allowing an approach to the rational design of task-specific DES or NADES for future applied studies.
There might exist other possible configurations other than the complex interaction pathways for the interaction of DES (HBA and HBD) with SO2 within the proposed cluster model. In order to investigate all the available interaction configurations, there is a need for systematic molecular dynamics simulations that should be evaluated in light of the presented quantum chemical calculations, which is out of the scope of the current study. Obviously, information related to SO2 solubility in DES structures in the bulk phase would give more practical information regarding these solvents' performance at near-real life process conditions. In order to do that, molecular dynamics simulations are required, which will be disseminated in due course to provide insights from the process point of view.
Supplementary Materials
The Supplementary Materials are available online. This section includes the initial energies of optimized DES, DES+SO2 systems that was studied and the interaction energies for these systems, Homo/Lumo energies and energy gaps, distance evolution between BCP forming sites (DES⋅⋅⋅SO2) and SO2 angle evolution for each DES+SO2 case throughout the geometry optimization.
Author Contributions
Conceptualization, M.A., S.A. and T.A.; methodology, T.A.; software, S.A. and M.A.; validation, M.A. and S.A.; literature investigation, T.A.; resources, S.A.; data curation, M.A.; writing—original draft preparation, M.A., S.A. and T.A.; writing—review and editing, M.A.; project administration, M.A.; funding acquisition, S.A.
Funding
This research was funded by Junta de Castilla y León (Spain, project BU094G18). We acknowledge SCAYLE (Supercomputación Castilla y León) for providing supercomputing facilities. The statements made herein are solely the responsibility of the authors.
Conflicts of Interest
The authors declare no conflict of interest.
| | |
| --- | --- |
| | Sample Availability: Samples of the compounds are available from the authors. |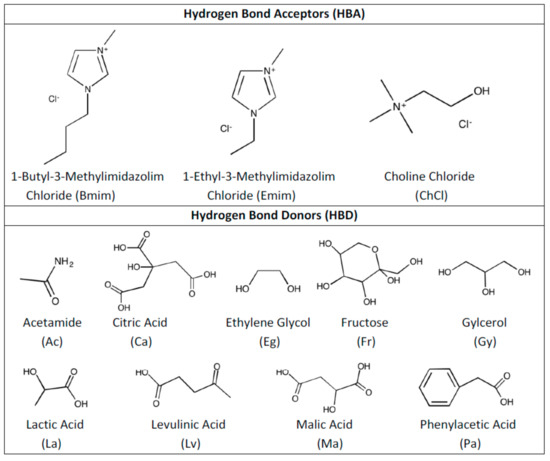 Figure 1. Molecular structures of hydrogen bond acceptor (HBA) and hydrogen bond donor (HBD) that are used in this work.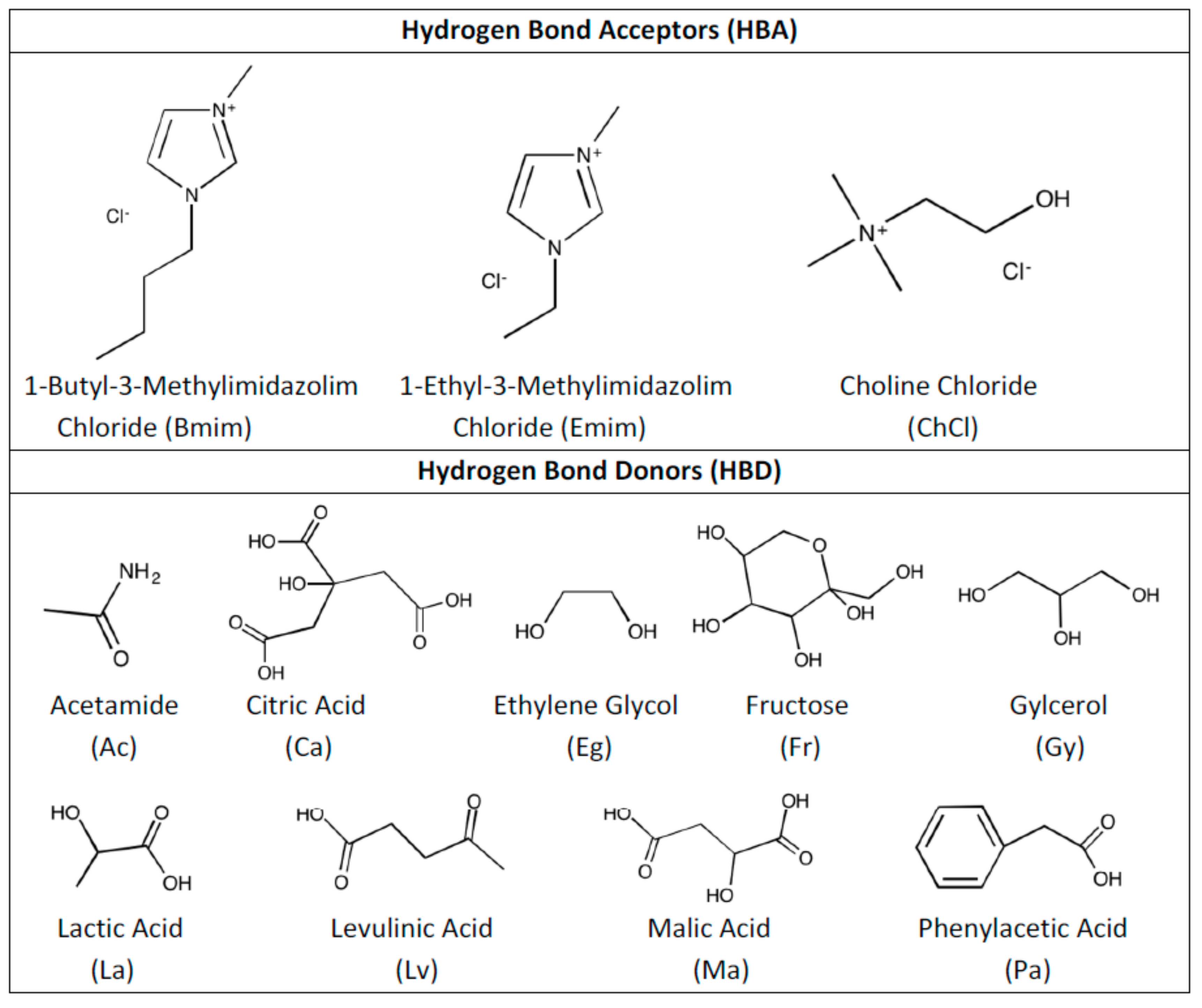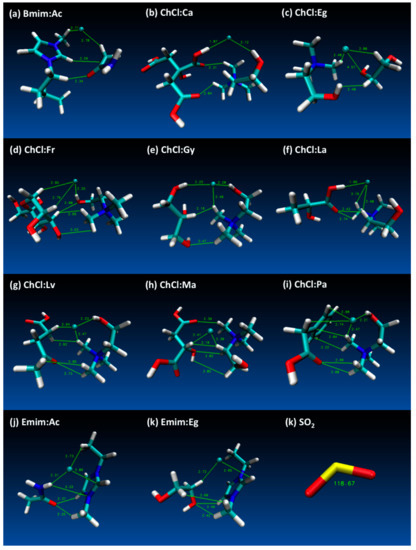 Figure 2. Geometry optimized deep eutectic solvent (DES) structures (and SO2) that are studied in this work (displayed distances are in Å and SO2 angle is degrees °).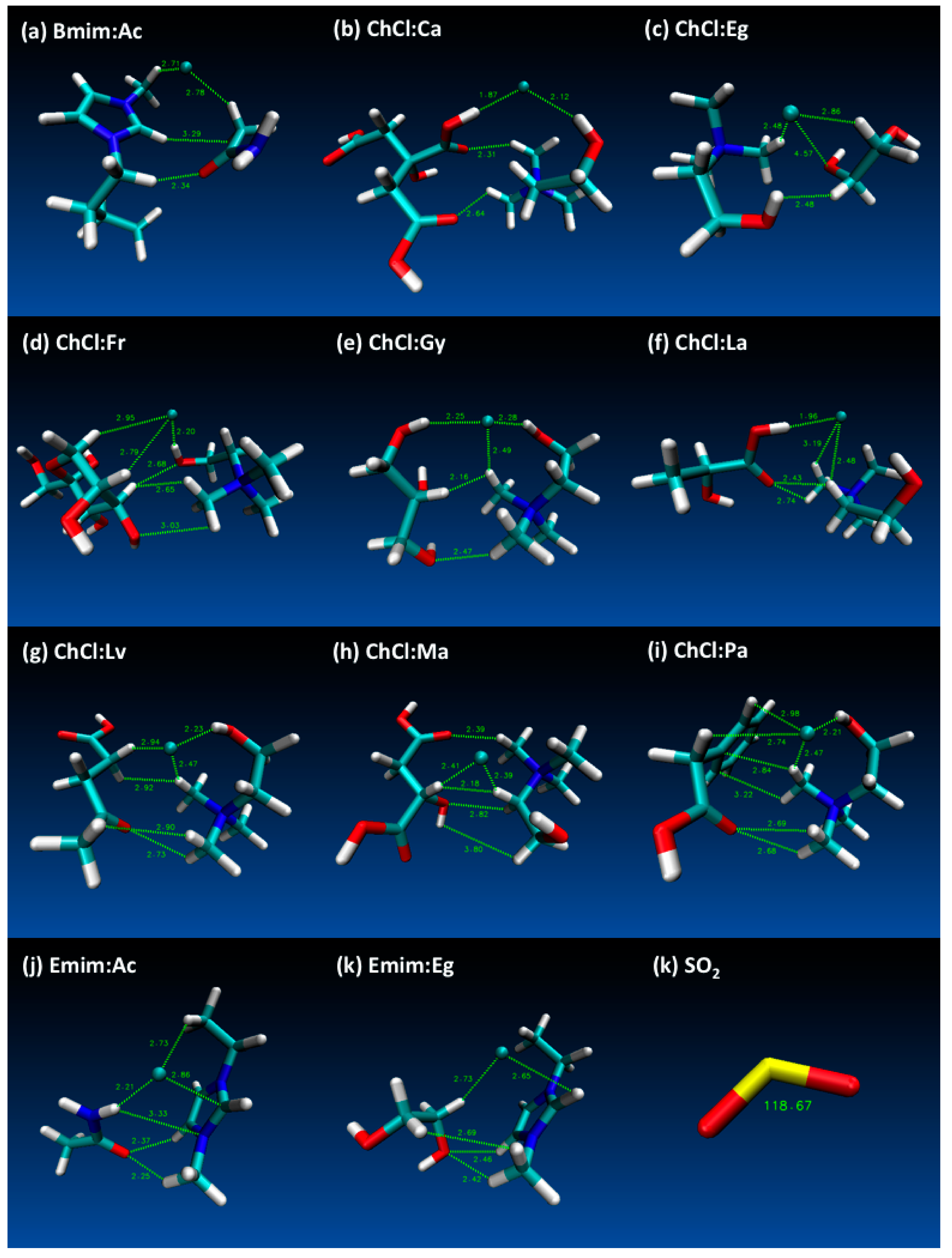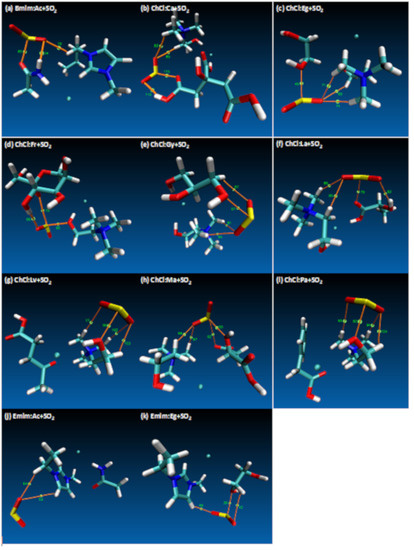 Figure 3.
Atom in Molecule (AIM) analysis of interactions and bond critical points (BCP) involving DES+SO
2
systems. Electron density (ρ) and Laplacian of electron density (∇
2
ρ) for displayed BCPs are reported in
Table 1
.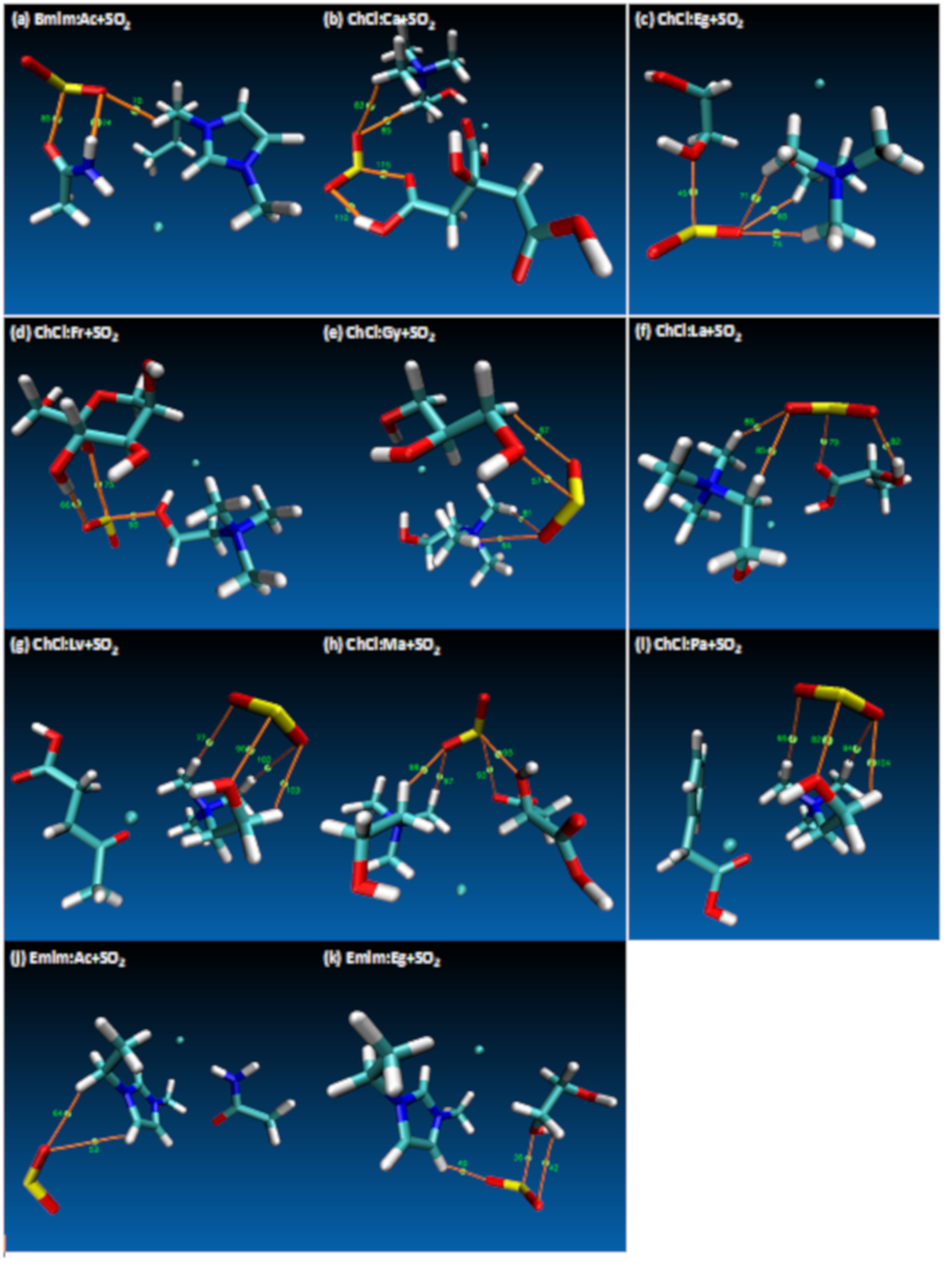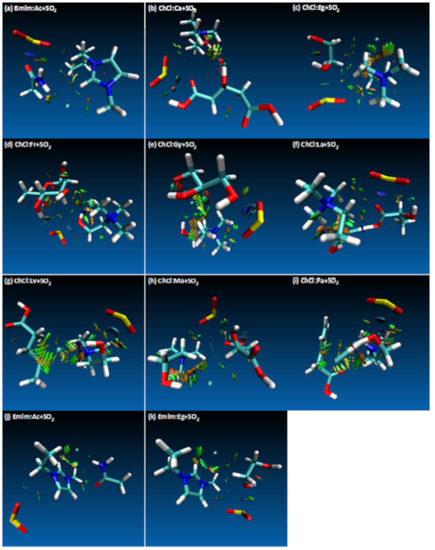 Figure 4. Reduced Density Gradient (RDG) iso-surfaces of the studied systems. van der Waals type of attraction are displayed with green isosurfaces, strong repulsion cases are displayed with red isosurfaces and for strong attractions are displayed with blue isosurfaces.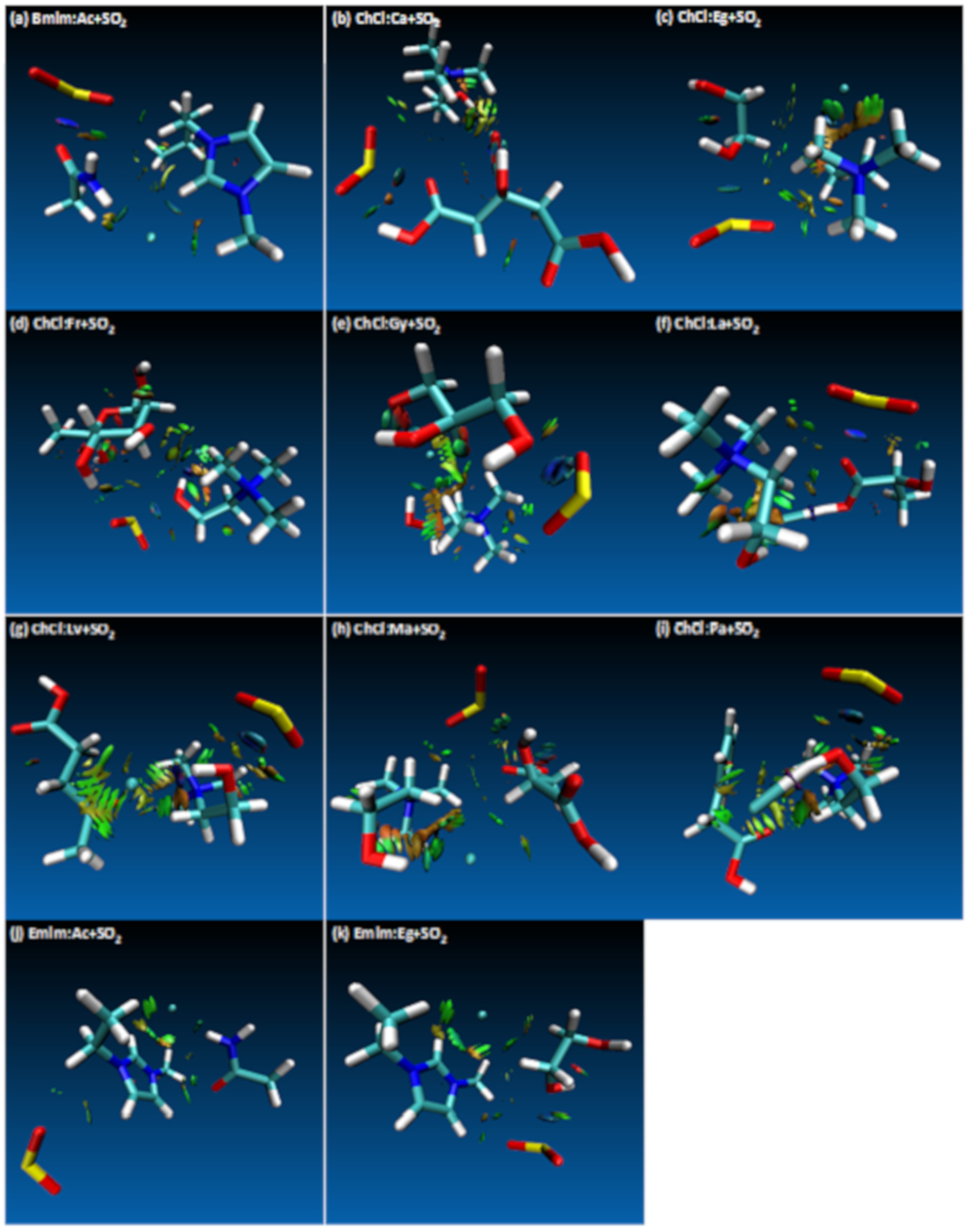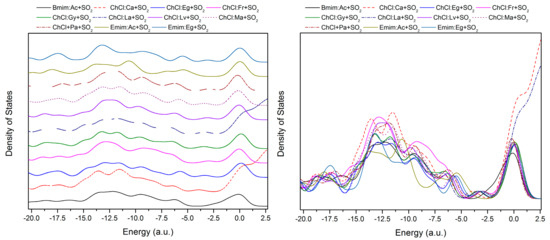 Figure 5. Density of states (DOS) as a function of orbital energy, E, for studied DES+SO2 structures calculated at B3LYP/6-311++g(d,p) level. (left—combined DOS plot for all DES+SO2 systems; right—stacked with constant y-offset value on the DOS plot to separate the curves).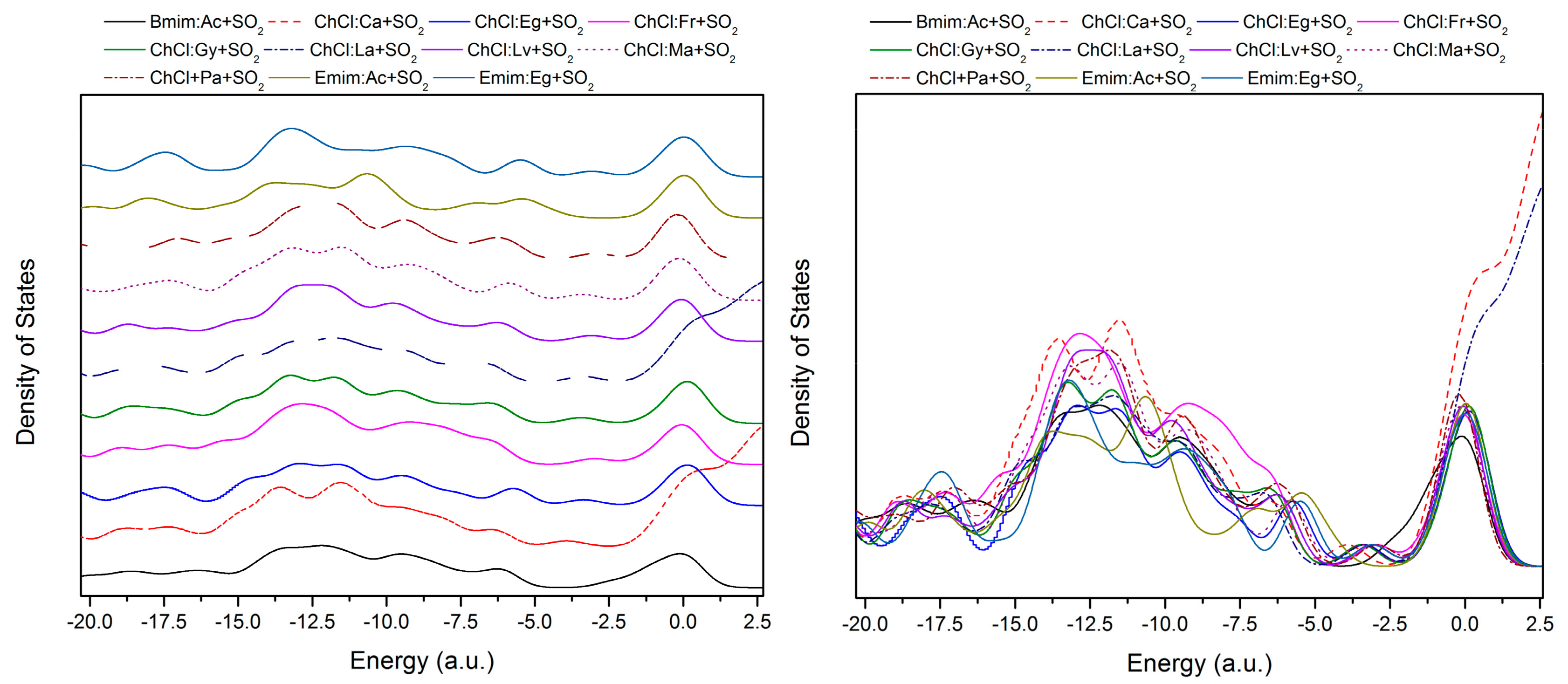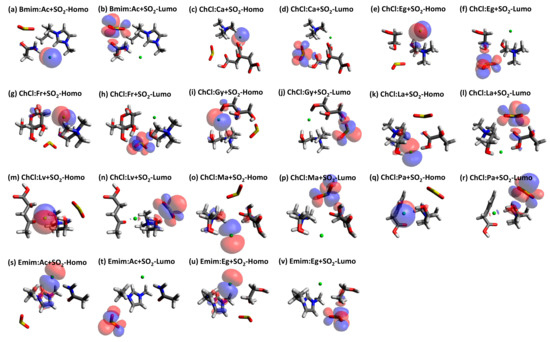 Figure 6. HOMO-LUMO graphs for each DES+SO2 structure (positive (blue) and negative (red) isosurfaces).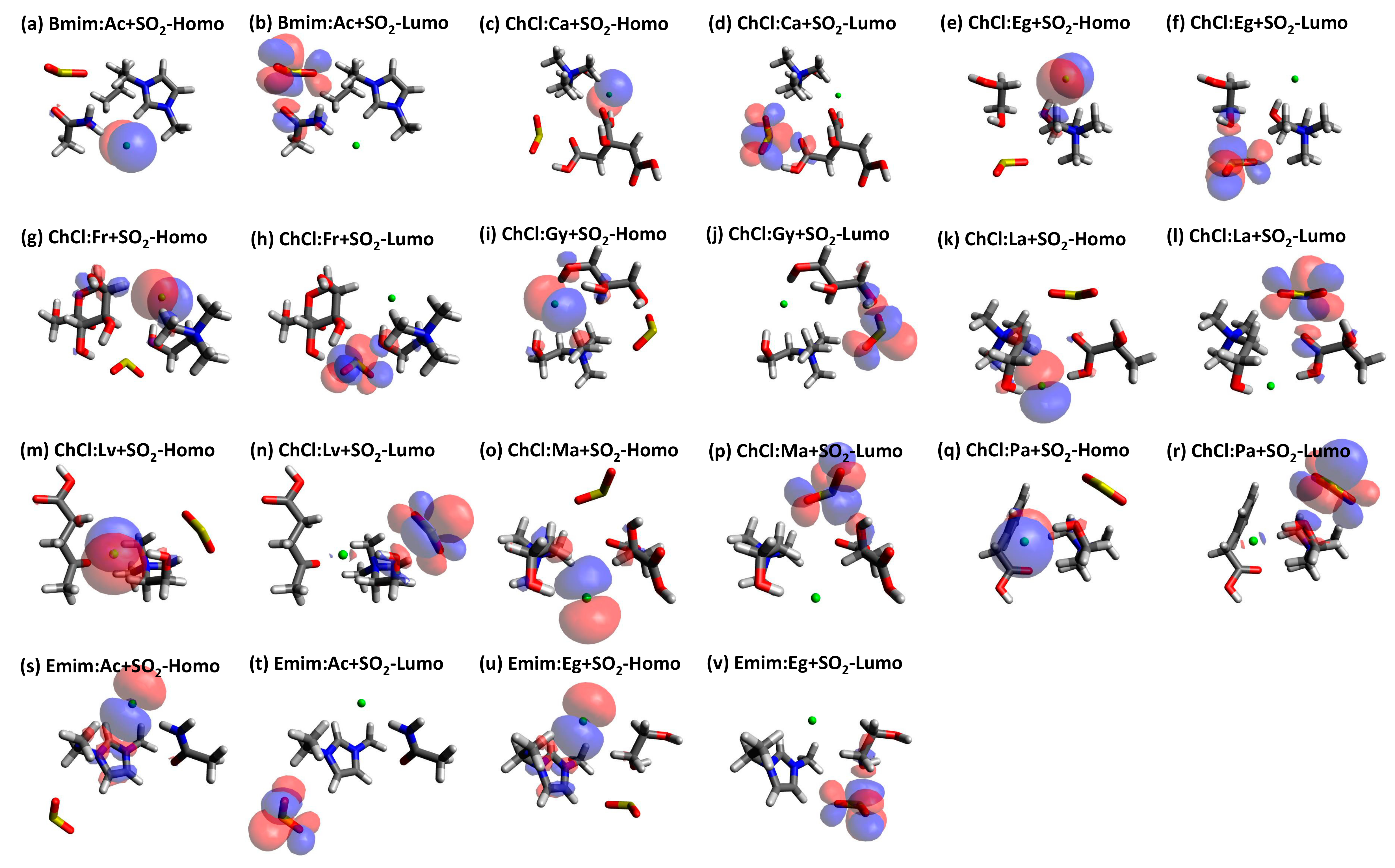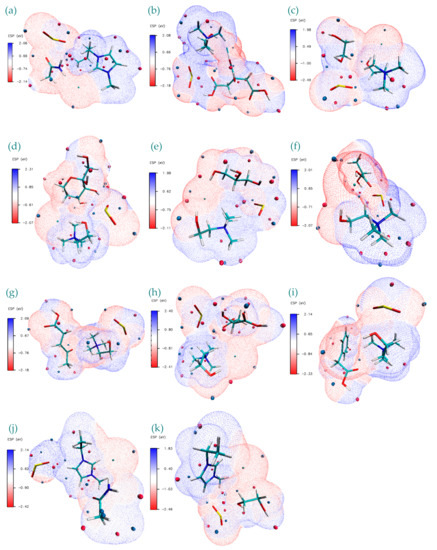 Figure 7. Electrostatic potential (ESP) surface map visualization for studied DES+SO2 structures. Blue, white and red correspond to ESP varying from min to max level, the blue and red spheres correspond to ESP surface minima and maxima, respectively. ESP ranges are included in the legend at each figure panel. (a) Bmim:Ac+SO2, (b) ChCl:Ca+SO2, (c) ChCl:Eg+SO2, (d) ChCl:Fr+SO2, (e)ChCl:Gy+SO2, (f) ChCl:La+SO2, (g) ChCl:Lv+SO2, (h)ChCl:Ma+SO2, (i) ChCl:Pa+SO2, (j) Emim:Ac+SO2, (k) Emim:Eg+SO2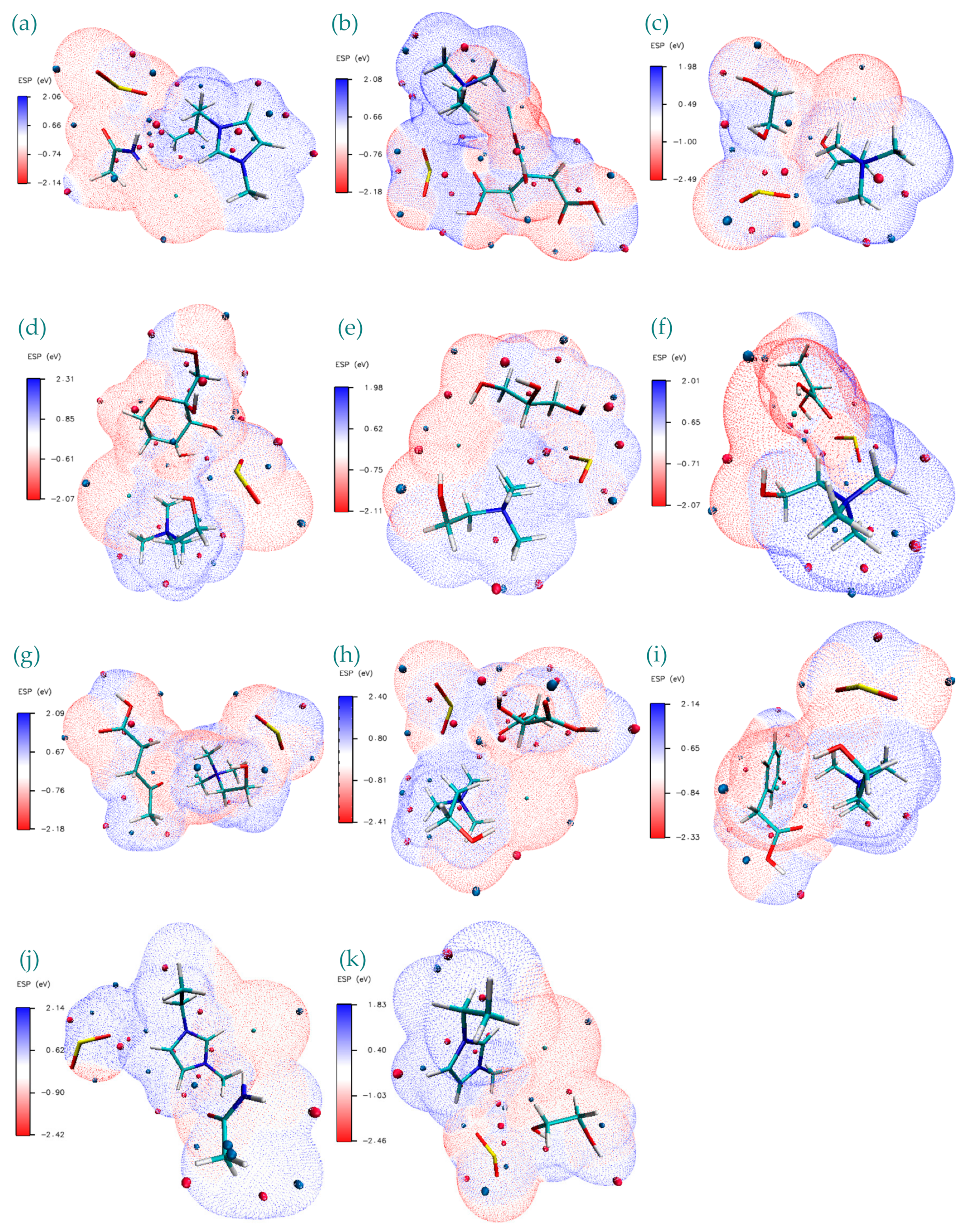 Table 1.
Bond critical point (BCP) results for studied structures (Electron density,
ρ
and Laplacian of electron density, ∇
2
ρ
values are reported).
Structure
BCP No.

ρ

× 103/a.u.
∇2

ρ

× 102/a.u.
Structure
BCP No.

ρ

× 103/a.u.
∇2

ρ

× 102/a.u.
Bmim:Ac+SO2
70
1.24
3.11
ChCl:La+SO2
79
0.800
1.36
74
1.14
3.81
82
−283
−99.0
85
0.498
12.1
85
0.965
2.10
ChCl:Ca+SO2
83
2.06
6.81
86
0.842
2.67
85
1.46
8.87
ChCl:Lv+SO2
77
1.07
3.02
110
0.872
2.75
90
−322
99.9
115
0.784
2.10
102
−279
−97.2
ChCl:Eg+SO2
45
1.31
8.91
103
0.866
2.74
60
0.835
2.50
ChCl:Ma+SO2
92
0.829
1.90
71
0.620
1.80
93
1.50
7.00
74
1.10
2.99
97
1.31
3.65
ChCl:Fr+SO2
66
2.64
7.59
98
1.01
3.00
75
0.889
2.26
ChCl:Pa+SO2
66
0.679
1.84
90
1.07
8.95
82
1.09
10.9
ChCl:Gy+SO2
57
−276
−95.3
94
1.25
3.64
64
1.11
2.67
104
0.908
3.12
67
0.796
2.22
Emim:Eg+SO2
36
0.854
9.83
81
−248
−50.1
40
1.07
2.57
Emim:Ac+SO2
53
0.637
1.20
42
0.660
1.13
64
0.719
2.02

© 2019 by the authors. Licensee MDPI, Basel, Switzerland. This article is an open access article distributed under the terms and conditions of the Creative Commons Attribution (CC BY) license (http://creativecommons.org/licenses/by/4.0/).