Determination and Profiling of Human Skin Odors Using Hair Samples
1
Faculdade de Medicina do Centro Universitário Christus (UNICHRISTUS), Fortaleza, CE 60190-060, Brazil
2
Instituto Gonçalo Moniz (IGM)–Fundação Oswaldo Cruz (FIOCRUZ), Salvador, BA 40296-710, Brazil
3
Instituto de Química da Universidade Federal da Bahia (UFBA), Salvador, BA 40170-115, Brazil
4
Programa de Pós-graduação em Desenvolvimento Regional e Meio Ambiente, Faculdade Maria Milza (FAMAM), Governador Mangabeira, BA 44350-000, Brazil
5
Faculdade de Medicina Veterinária da União Metropolitana de Educação e Cultura (UNIME), Lauro de Freitas, BA 42700-000, Brazil
6
Faculdade de Medicina da Universidade Federal da Bahia (UFBA), Salvador, BA 40026-010, Brazil
7
Instituto Nacional de Ciência e Tecnologia de Investigação em Imunologia (iii-INCT), São Paulo, SP 05403-900, Brazil
8
Instituto Nacional de Ciência e Tecnologia em Energia e Ambiente (INCT-EA), Salvador, BA 40170-115, Brazil
*
Authors to whom correspondence should be addressed.
Received: 23 May 2019 / Revised: 11 July 2019 / Accepted: 16 July 2019 / Published: 15 August 2019
Abstract
Background.
There is no gold standard method for human skin odor determination; several techniques can be applied to collect, extract, transfer, and detect human skin odors. However, none of these methods are suitable for field sampling of a large number of individuals.
Objective
. The present study aimed to develop a simple, fast, non-invasive, and low-cost method for such a purpose.
Methods.
Considering that hair from legs can act as a retention mesh of volatile organic compounds (VOCs), samples of leg hairs provided by healthy adult males were collected and solid-phase microextraction (SPME), in headspace (HS) mode, coupled to gas chromatography (GC) and mass spectrometry (MS) analysis of the samples was carried out. A pilot test was applied to detect five quality markers that are frequently reported in human skin odors. Then, several steps were performed for method standardization. The method was applied to 36 different individuals (3 sampled under laboratory conditions and 33 under field conditions), aiming to evaluate its applicability in both environments.
Findings.
A total of 49 VOCs were identified, and 73.5% of these have been reported in previous studies.
Main Conclusions.
Hair from legs can be considered an efficient tool for human skin odor sampling and a suitable and practical matrix for human skin odor profile determination by using HS-SPME/GC-MS.
View Full-Text
►

▼

Figures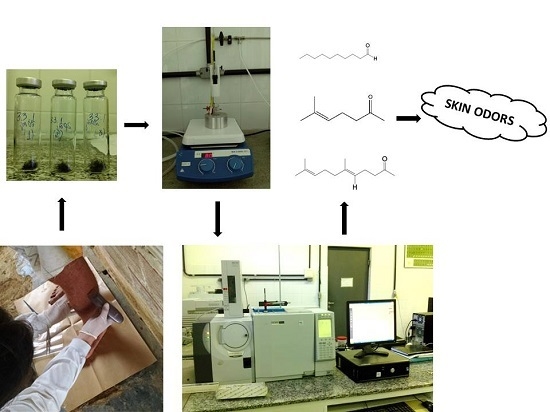 Graphical abstract
This is an open access article distributed under the
Creative Commons Attribution License
which permits unrestricted use, distribution, and reproduction in any medium, provided the original work is properly cited (CC BY 4.0).

Share & Cite This Article
MDPI and ACS Style
Tavares, D.S.; Mesquita, P.R.R.; Salgado, V.R.; Rodrigues, F.M.; Miranda, J.C.; Barral-Netto, M.; de Andrade, J.B.; Barral, A. Determination and Profiling of Human Skin Odors Using Hair Samples. Molecules 2019, 24, 2964.
Note that from the first issue of 2016, MDPI journals use article numbers instead of page numbers. See further details here.
Related Articles
Comments
[Return to top]