Open Access This article is
freely available
re-usable
Review
Flavonoids from Brazilian Cerrado: Biosynthesis, Chemical and Biological Profile
1
Laboratório de Pesquisa em Biodiversidade (LaPeBio), Centro Universitário de Anápolis–UniEVANGÉLICA, Anápolis 75083-515, Goiás, Brazil
2
Câmpus de Ciências Exatas e Tecnológicas, Universidade Estadual de Goiás, Anápolis 75132-400, Goiás, Brazil
3
Laboratory of Cheminformatics (LabChemIn), Centro Universitário de Anápolis–UniEVANGÉLICA, Anápolis 75083-515, Goiás, Brazil
4
Laboratório de Novos Materiais, Centro Universitário de Anápolis–UniEVANGÉLICA, Anápolis 75083-515, Goiás, Brazil
5
Laboratório de Pesquisas Avançadas e Geoprocesamento (LaPAGeo), Centro Universitário de Anápolis–UniEVANGÉLICA, Anápolis 75083-515, Goiás, Brazil
6
Laboratório de História Ambiental do Cerrado, Centro Universitário de Anápolis–UniEVANGÉLICA, Anápolis 75083-515, Goiás, Brazil
†
These authors have contributed equally to this work.

Received: 25 March 2019 / Accepted: 3 April 2019 / Published: 9 August 2019
Abstract
:
Flavonoids are highly bioactive compounds with very low toxicity, which makes them attractive starting points in drug discovery. This study aims to provide information on plant species containing flavonoids, which are found in the Brazilian Cerrado. First, we present the characterization and plant diversity with emphasis on the families of flavonoid-producing plants, and then we describe the phenylpropanoid pathway which represents the flavonoids' main route biosynthesis—generally conserved in all species. Chemical structures and biological activities of flavonoids isolated from the Cerrado's plant species are also described based on examples from the relevant literature studies. Finally, research on the biodiversity of the Cerrado biome should be encouraged, due to the discovery of new sources of flavonoids which can provide several benefits to human health and the possibility of developing new drugs by the pharmaceutical industry.
Keywords:
biodiversity; Brazilian Cerrado; biosynthesis; flavonoids
1. Introduction
The Brazilian Cerrado is considered a source of bioactive substances, containing several chemical compounds with biological activities, though the loss of natural vegetation in this biome has occurred constantly as the agricultural frontiers have continued to expand. The high pressure of land use, represented by soybean or sugar cane monocultures, extensive and mechanized production of grains for export, is causing heavy loss of vegetation. It is estimated that 31% to 34% of the remaining regions of the Cerrado could disappear by 2050, thus it is considered one of the 25 hotspots worldwide for the conservation of biodiversity [
1
,
2
]. In this sense, the propagation of knowledge related to the importance of the plant species found in the Cerrado could contribute to the preservation of this biome.
In dry forests such as those observed in the Cerrado, plant species have many polyphenolic compounds, such as flavonoids and tannins. Flavonoids are the main class of polyphenols, and it is estimated to comprise over 8000 metabolites [
3
], which are very common in sessile organisms probably because of exposure to water stress, intense sunlight, herbivorous attacks, and fungal infections [
4
]. For example, it is suggested that vicenin-2 flavonoid, isolated in leaves from Brazilian wild
Lychnophora
plants, acts as a UV light barrier to protect the plant from adverse external conditions.
The wide variety and distribution of flavonoids, together with their relatively low toxicity compared to other active plant compounds (for instance alkaloids), enable humans to ingest a significant amount of flavonoids. Furthermore, their consumption has been suggested to present a wide range of health benefits [
3
]. In order to compile information about the Cerrado's flavonoids and to highlight their pharmacological potential, a review of the literature available, from the characterization of this biome to its chemical and biological diversity, is presented.
2. Characterization and Plant Diversity of the Brazilian Cerrado
2.1. Biosynthesis of Flavonoids
2.2. Chemical Profile of Flavonoids
The investigation of the multiple chemical structures of the flavonoids and how these structures influence their biological profile and environmental properties are essential to the Brazilian Cerrado, impacting strongly on the discovery of new drugs such as anticancer agents [
39
]. In order to understand how the molecular arrangement can exhibit the significant variations of the physical chemical properties of flavonoids, the crystallographic study leads to molecular structure [
40
]. Crystallography is a scientific methodology which enables the discovery of the structure of a flavonoid compound, as long as the compound is in a crystalline solid state [
41
,
42
,
43
,
44
].
The flavonoid molecular skeleton consists of two phenyl rings and a heterocyclic ring (
Figure 3
). They include chalcone compounds, which belong to a subclass of flavonoid intermediates with an important biological profile due to their presence in many pharmaceutical compounds [
42
,
43
,
44
,
45
,
46
,
47
,
48
,
49
]. Chemically, chalcone flavonoids are characterized by aromatic rings bonded through a three-carbon bridge having a keto carbonyl group and one α,β-unsaturation. The knowledge of the three-dimensional structure is important in the structural chemistry of flavonoids. The crystallographic methodology is based on the X-ray diffraction from a single-crystal and studies of the atomic arrangement in the solid state [
50
]. Once the structural model of a flavonoid is obtained, both the accurate atomic molecular position and the supramolecular arrangement are assigned.
Flavonoids, except glycosylated molecules and chalcones, have adequate physicochemical properties (i.e., cLogP, molecular weight, and number of hydrogen-bond acceptors and donors), which indicated drug-likeness potential for Cerrado's main flavonoid subclasses [
51
]. By excavating the relationship between chemical structures and biological effects, results showed the core scaffold and side chain in flavonoids may lead to different biological functions (
Figure 4
). The carboxyl combination and olefin group make a reactive keto-ethylene chain that may promote the conjugation between the two aromatic rings. This feature holds chalcone molecules in almost flat structures which increases their biological potential [
52
,
53
,
54
]. This commonly observed planarity, associated with the conjugated double bonds present in chalcone skeleton structures, is capable of promoting an electronic delocalization on the aromatic rings. The structures of the naturally occurring flavonoids isolated from the Cerrado`s plant species, their natural source, are shown in
Table 1
.
2.3. Biological Profile of Isolated Flavonoid
3. Conclusions
In this review, biosynthetic aspects, chemical profiles, and biological activities have been presented, showing that despite the great natural product biodiversity in the Cerrado biome, flavonoids are little explored. It was verified that besides the antioxidant and antimicrobial properties common to flavonoids, other promising results have been reported, such as anticancer, antiprotozoan, and antichagasic activity. The daily natural product consumption of the Cerrado biome containing flavonoids could prevent chronic diseases, parasitic diseases, and premature aging, and still be used as a solution to one of the main public health problems in Brazil, dengue, due to the antiviral activity reported. The beneficial properties of flavonoids for health should stimulate the food and pharmaceutical industries to develop new products promoting the sustainable development of regions with characteristics of the Cerrado.
Author Contributions
J.d.C.P., B.J.N., H.B.N. and L.P.R. designed and wrote the manuscript. F.G.V., M.G.d.S.B., S.D.S. analyzed, edited the manuscript and prepared the figures. All authors helped in preparing the paper and approved the submission of the final version.
Funding
This research received no external funding.
Acknowledgments
The authors would like to thank Brazilian funding agencies, Conselho Nacional de Desenvolvimento Científico e Tecnológico (CNPq), Coordenação de Aperfeiçoamento de Pessoal de Nível Superior (CAPES), and Fundação de Amparo à Pesquisa do Estado de Goiás (FAPEG), for financial support and fellowships. Hamilton Barbosa Napolitano and Sandro Dutra e Silva are Research Fellows in productivity of CNPq.
Conflicts of Interest
The authors declare no conflict of interest.
| | |
| --- | --- |
| | Sample Availability: Samples of the compounds are not available from the authors. |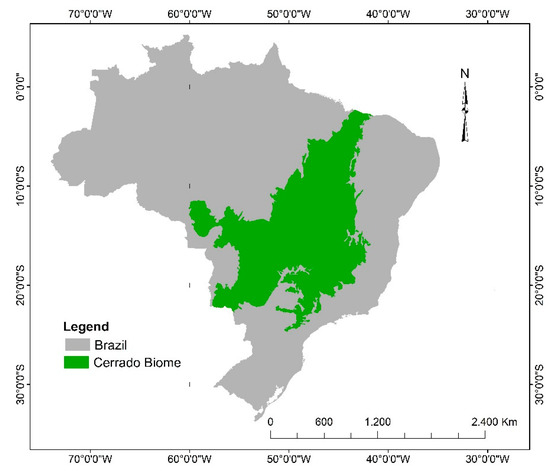 Figure 1.
Brazil map highlighting the Cerrado biome [
6
]. Political Limit–Ministry of the Environment. Elaboration and Organization: Maria Gonçalves da Silva Barbalho LAPAGeo/PPSTMA/UniEVANGÉLICA.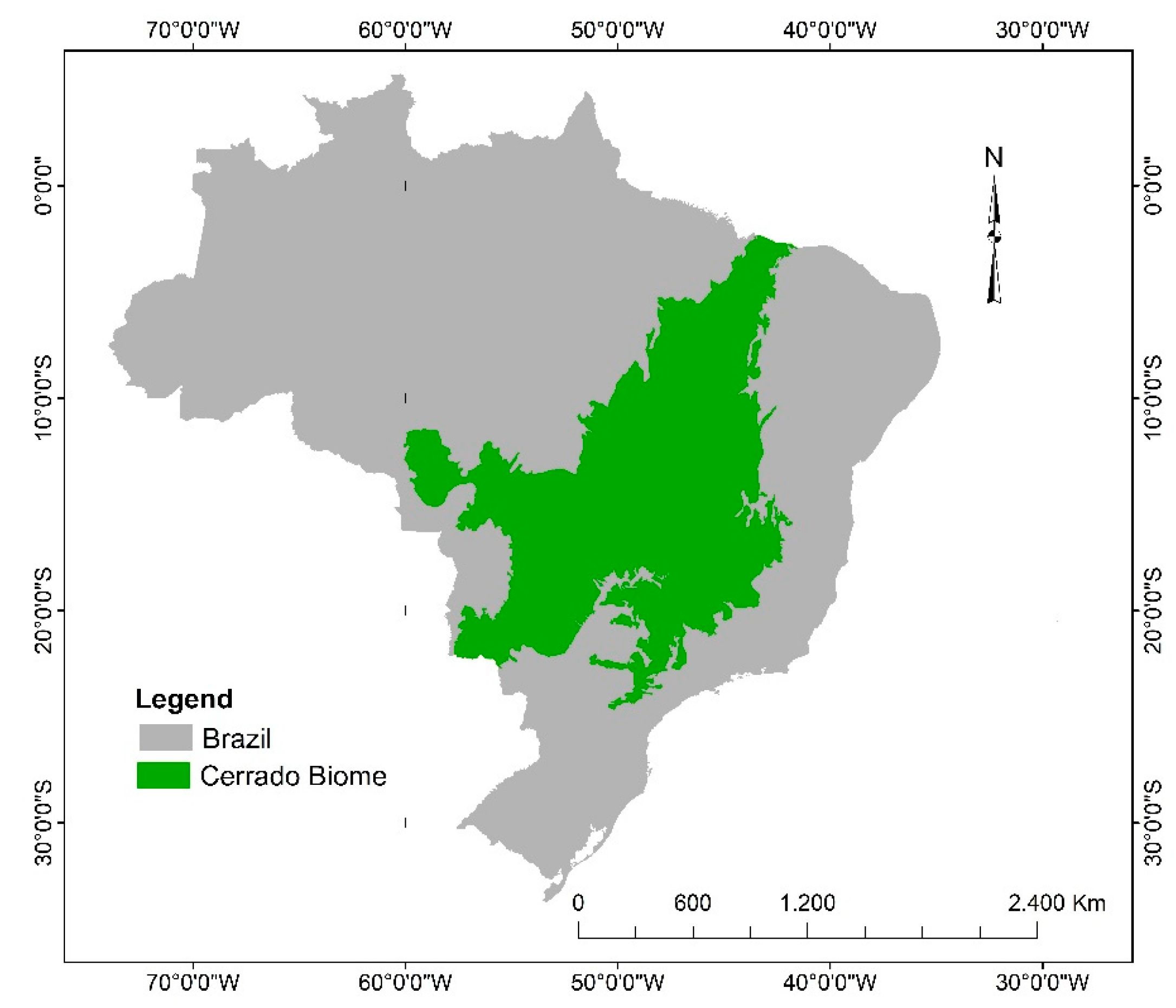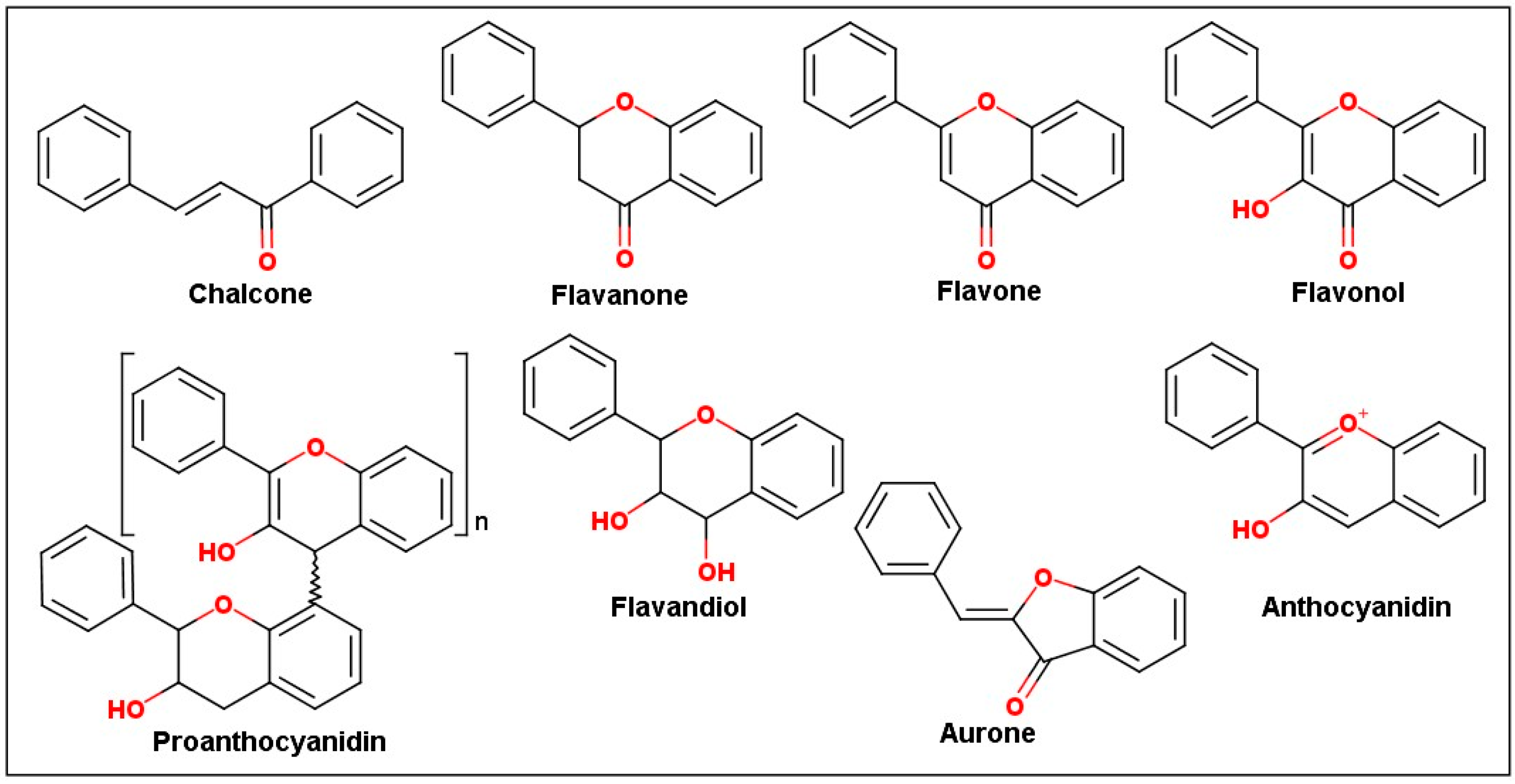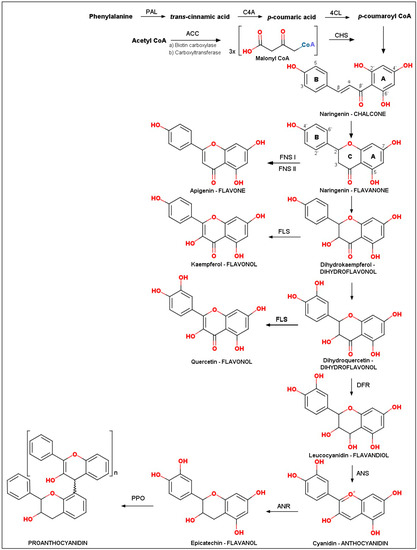 Figure 3.
Schematic of the major branch pathways of flavonoid biosynthesis.
Adapted from [
28
]. PAL, phenylalanine ammonia-lyase; C4H, cinnamic acid 4-hydroxylase; 4CL, 4-coumaric acid: CoA ligase; ACC, acetyl-CoA carboxylase; CHS, chalcone synthase; CHI, chalcone isomerase; FNS I/FNS II, flavone synthases; F3H, flavanone 3-hydroxylase; F3`H, flavonoid 30-hydroxylase; FLS, flavonol synthase; DFR, dihydroflavonol 4-reductase; ANS, anthocyanidin synthase; ANR, anthocyanidin reductase; PPO, polyphenol oxidase.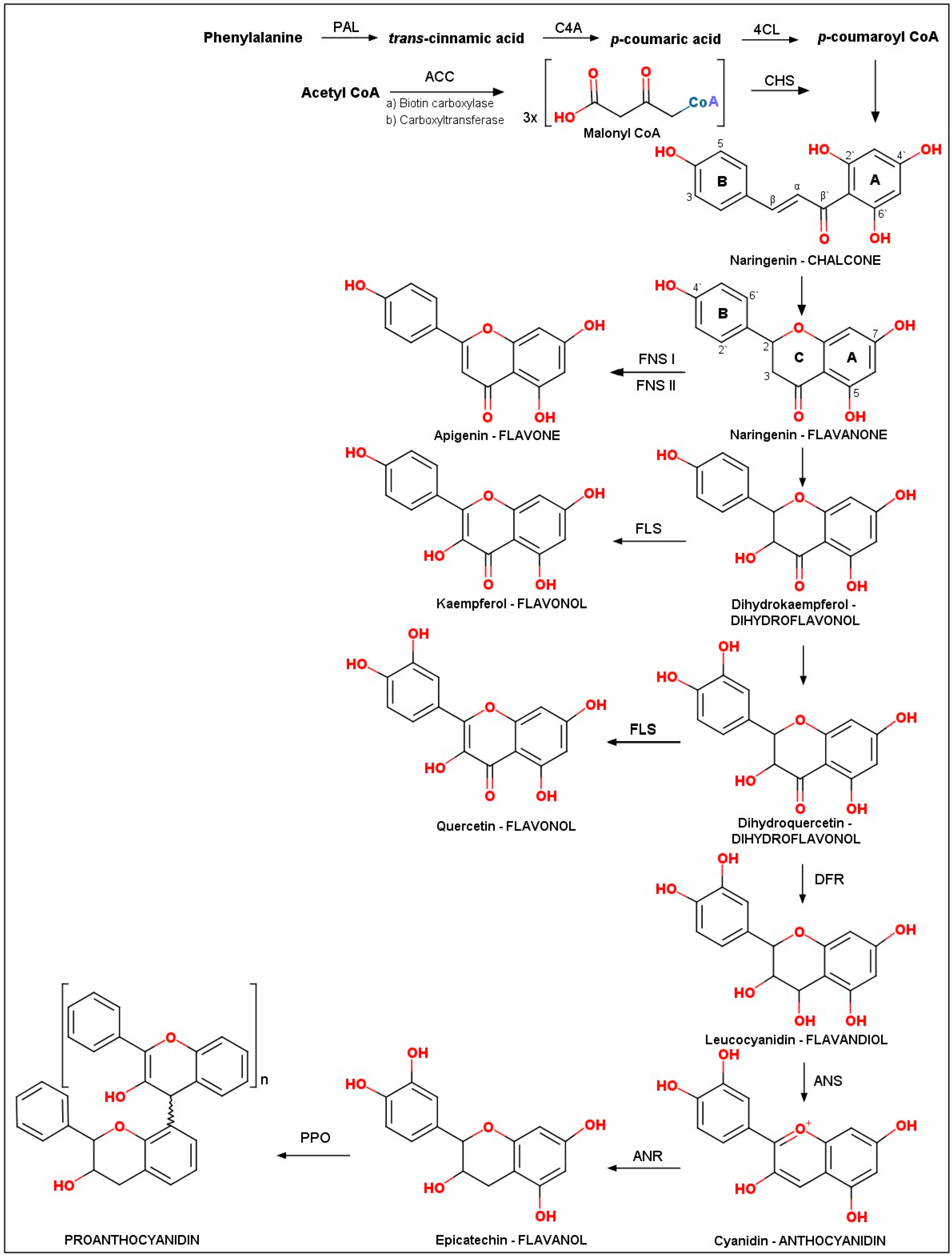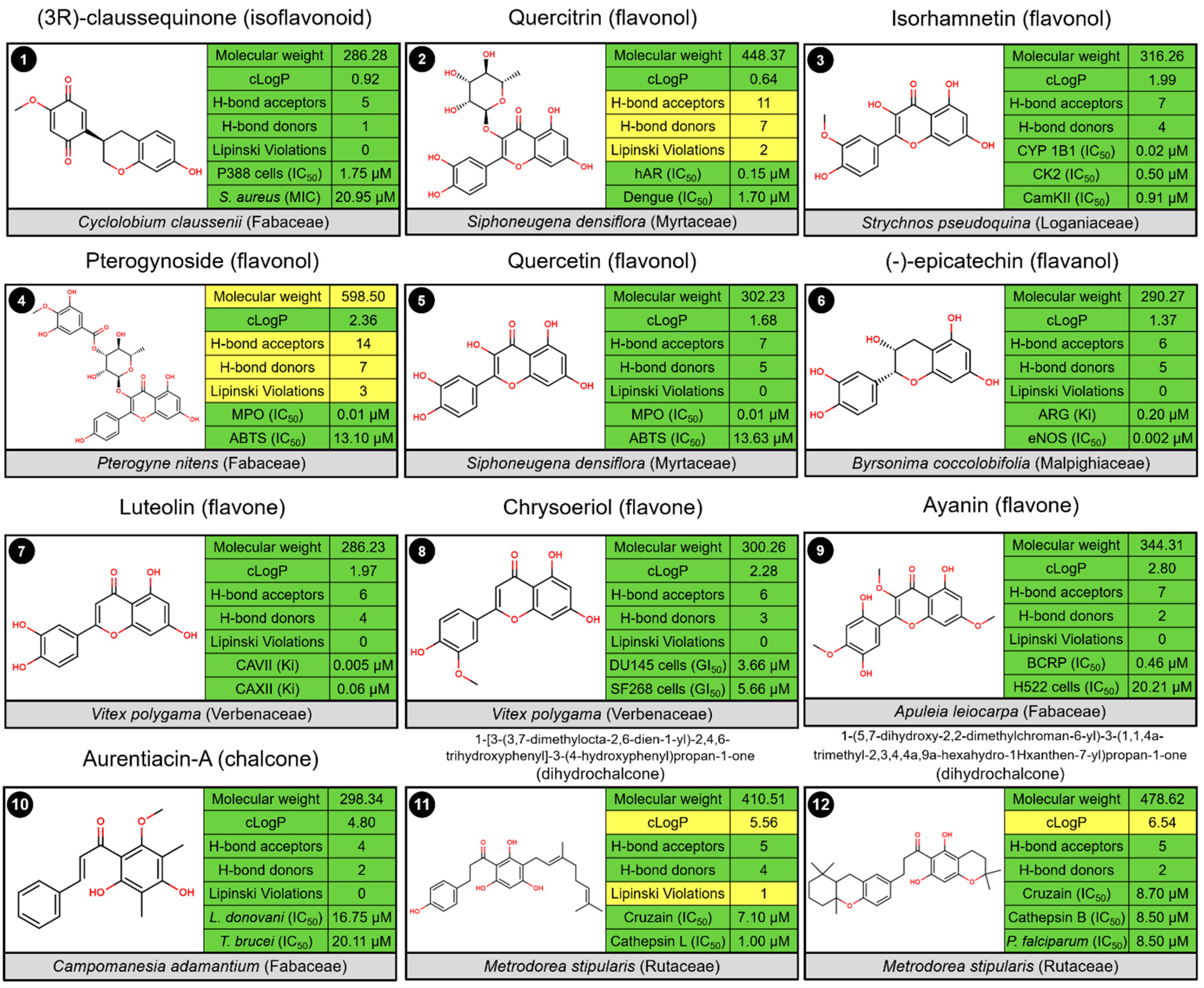 Species Name
Family
Flavonoids

Secondatia densiflora

A.DC.
Apocynaceae
Pterogynoside; quercetin

Tithonia diversifolia

(Hemsl)
Asteraceae
Luteolin

Apuleia leiocarpa

(Vogel) J.F.Macbr.
Fabaceae
Ayanin

Bauhinia candicans

Benth.
Fabaceae
Kaempferol 3-

O

-rutinoside; Kaempferol 3-

O

-rutinosidium

Bauhinia forficata

Link.
Fabaceae
kaempferitrine

Bauhinia guianensis

Aubl.
Fabaceae
4-hydroxy-7-methoxyflavone

Bauhinia manca

Standl.
Fabaceae
Apigenin; Chrisoeriol; Luteolin 5,3-dimethoxy; Kaempferol; Isoliquiritigenin; 2-methoxy isoliquiritigenin; 4-methoxy isoliquiritigenin; Echinatine; 2,4-dihydroxy-4-methoxy-dihydrochalcone; (2

S

)-Narigenin (2

S

)-Eriodiethiol; (2

S

)-Lithiocygenin; (2

S

)-Lithiocygenin 7-methoxy; (2

S

)-Lithiocygenin 4-methoxy; (2

S

)-7,4-Dihydroxyflavone; (2

S

)-7,3-Dimethoxy-4-hydroxy-flavone; (2

S

)-3,4-Dimethoxy-7-hydroxy-flavone; (2

S

)-7,4-Dimethoxy-3-hydroxy-flavone

Bauhinia megalandra Griseb.

Fabaceae
5,7,5′-trihydroxy-2′-

O

-rhamnosyl-flavone; 5,7,2′-trihydroxy-5′-

O

-rhamnosyl flavone

Bauhinia purpúrea

DC. ex Walp.
Fabaceae
Soquercitrin; Quercetin; Astragalin

Bauhinia reticulata

DC.
Fabaceae
Quercetin

Bauhinia splendens

Kunth
Fabaceae
Bausplendin, Quercetin, Routine

Bauhinia tomentosa

Náves ex Fern.-Vill.
Fabaceae
Isoquercitrin; Quercetin; Routine

Bauhinia vahlii

Wight & Arn.
Fabaceae
Quercetin; Quercetin-3-glucoside; Kaempferol; Agathisflavone

Bauhinia. variegata

L.
Fabaceae

Narigenin-5,7-dimethoxy-4-rhamnoglycoside; Kaempferol-3-galactoside; Kaempferol-3-ramno-glucoside

Cyclolobium claussenii

Benth.
Fabaceae
(3

R

)-claussequinone

Pterogyne nitens

Tull.
Fabaceae
Pterogynoside; quercetin

Strychnos pseudoquina

A. St. Hil.
Loganiaceae
isorhamnetin

Byrsonima coccolobifolia

Kunth
Malpighiaceae
(−)-epicatechin

Campomanesia adamantium

(Cambess.) O.Berg
Myrtaceae
Aurentiacin-A

Siphoneugena densiflora

O.Berg.
Myrtaceae
Quercetin

Metrodorea stipularis

Mart.
Myrtaceae
1-[3-(3,7-dimethylocta-2,6-dien-1-yl)-2,4,6-trihydroxyphenyl]-3-(4-hydroxyphenyl)propan-1-one
1-(5,7-dihydroxy-2,2-dimethylchroman-6-yl)-3-(1,1,4a-trimethyl-2,3,4,4a,9a-hexahydro-1H-xanthen-7-yl)propan-1-one

Genipa americana L

Rubiaceae
Quercetin-3-

O

-robinoside, Kaempferol-3-

O

-robinoside, Isorhamnetin-3-

O

-robinoside, Kaempferol-3-

O

-robinoside-7-

O

-rhamnoside (robinin), Isorhamnetin-3-

O

-robinoside-7-rhamnoside.

Spiranthera odoratissima

A. St.-Hil.
Rutaceae
Kaempferol-3-ramno-glucoside

Vitex polygama

Cham.
Verbenaceae
Luteolin; chrysoeriol

Qualea grandiflora

Mart.
Vochysiaceae
kanferol-3-OAL-(4"-Z

p

-cumaroyl) -raminoside (2), squalene, phytol, lupeol, A-amyrin, B-amirin, sitosterol, ursolic and oleanolic acids and sitosterol 3-OBD-glucopyranoside.

© 2019 by the authors. Licensee MDPI, Basel, Switzerland. This article is an open access article distributed under the terms and conditions of the Creative Commons Attribution (CC BY) license (http://creativecommons.org/licenses/by/4.0/).