Unraveling Sugar Binding Modes to DC-SIGN by Employing Fluorinated Carbohydrates
1
CIC bioGUNE, Bizkaia Technology Park, Building 800, 48160 Derio, Bizkaia, Spain
2
Centre for Synthesis and Chemical Biology, University College Dublin, Belfield, Dublin 4, Ireland
3
School of Chemistry, University of Southampton, Highfield, Southampton SO17 1BJ, UK
4
CIC biomaGUNE, Paseo Miramon 182, 20009 San Sebastián, Gipuzkoa, Spain
5
CIBER-BBN, Paseo Miramon 182, 20009 San Sebastián, Gipuzkoa, Spain
6
Ikerbasque, Basque Foundation for Science, Maria Diaz de Haro 3, 48013 Bilbao, Bizkaia, Spain
7
Department of Organic Chemistry II, Faculty of Science and Technology, EHU-UPV, 48160 Leioa, Spain
8
Centro de Investigaciones Biológicas-CSIC, Ramiro de Maeztu 9, 28040 Madrid, Spain
*
Authors to whom correspondence should be addressed.
Academic Editor: Ramón J. Estévez Cabanas
Received: 30 April 2019 / Revised: 12 June 2019 / Accepted: 23 June 2019 / Published: 25 June 2019
Abstract
A fluorine nuclear magnetic resonance (
19
F-NMR)-based method is employed to assess the binding preferences and interaction details of a library of synthetic fluorinated monosaccharides towards dendritic cell-specific intercellular adhesion molecule 3-grabbing non-integrin (DC-SIGN), a lectin of biomedical interest, which is involved in different viral infections, including HIV and Ebola, and is able to recognize a variety of self- and non-self-glycans. The strategy employed allows not only screening of a mixture of compounds, but also obtaining valuable information on the specific sugar–protein interactions. The analysis of the data demonstrates that monosaccharides Fuc, Man, Glc, and Gal are able to bind DC-SIGN, although with decreasing affinity. Moreover, a new binding mode between Man moieties and DC-SIGN, which might have biological implications, is also detected for the first time. The combination of the
19
F with standard proton saturation transfer difference (
1
H-STD-NMR) data, assisted by molecular dynamics (MD) simulations, permits us to successfully define this new binding epitope, where Man coordinates a Ca
2+
ion of the lectin carbohydrate recognition domain (CRD) through the axial OH-2 and equatorial OH-3 groups, thus mimicking the Fuc/DC-SIGN binding architecture.
View Full-Text
►

▼

Figures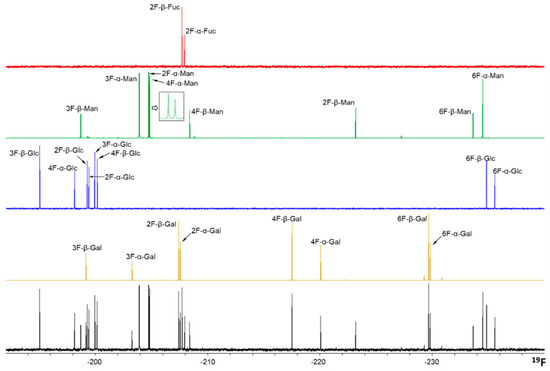 Figure 1
This is an open access article distributed under the
Creative Commons Attribution License
which permits unrestricted use, distribution, and reproduction in any medium, provided the original work is properly cited (CC BY 4.0).

Share & Cite This Article
MDPI and ACS Style
Martínez, J.D.; Valverde, P.; Delgado, S.; Romanò, C.; Linclau, B.; Reichardt, N.C.; Oscarson, S.; Ardá, A.; Jiménez-Barbero, J.; Cañada, F.J. Unraveling Sugar Binding Modes to DC-SIGN by Employing Fluorinated Carbohydrates. Molecules 2019, 24, 2337.
Note that from the first issue of 2016, MDPI journals use article numbers instead of page numbers. See further details here.
Related Articles
Comments
[Return to top]