The PPARγ Agonist Rosiglitazone Suppresses Syngeneic Mouse SCC (Squamous Cell Carcinoma) Tumor Growth through an Immune-Mediated Mechanism
1
Department of Pathology & Laboratory Medicine, Indiana University School of Medicine, Indianapolis, IN 46202, USA
2
Department of Dermatology, Indiana University School of Medicine, Indianapolis, IN 46202, USA
3
Richard L. Roudebush VA Medical Center, Indianapolis, IN 46202, USA
4
Currently in the Department of Pathology, University of Missouri-Kansas City, Kansas City, MO 64108, USA
5
Department of Pharmacology & Toxicology, Wright State University, Dayton, OH 45435, USA
*
Author to whom correspondence should be addressed.
Academic Editors: Raffaele Capasso and Fabio Arturo Iannotti
Received: 16 May 2019 / Revised: 7 June 2019 / Accepted: 8 June 2019 / Published: 11 June 2019
Abstract
Recent evidence suggests that PPARγ agonists may promote anti-tumor immunity. We show that immunogenic PDV cutaneous squamous cell carcinoma (CSCC) tumors are rejected when injected intradermally at a low cell number (1 × 10
6
) into immune competent syngeneic hosts, but not immune deficient mice. At higher cell numbers (5 × 10
6
PDV cells), progressively growing tumors were established in 14 of 15 vehicle treated mice while treatment of mice with the PPARγ agonist rosiglitazone resulted in increased tumor rejection (5 of 14 tumors), a significant decrease in PDV tumor size, and a significant decrease in tumor cell Ki67 labeling. Rosiglitazone treatment had no effect on tumor rejection, tumor volume or PDV tumor cell proliferation in immune deficient NOD.CB17-Prkdc
SCID
/J mice. Rosiglitazone treatment also promoted an increase in tumor infiltrating CD3
+
T-cells at both early and late time points. In contrast, rosiglitazone treatment had no significant effect on myeloid cells expressing either CD11b or Gr-1 but suppressed a late accumulation of myeloid cells expressing both CD11b and Gr-1, suggesting a potential role for CD11b
+
Gr-1
+
myeloid cells in the late anti-tumor immune response. Overall, our data provides evidence that the PPARγ agonist rosiglitazone promotes immune-mediated anti-neoplastic activity against tumors derived from this immunogenic CSCC cell line.
View Full-Text
►

▼

Figures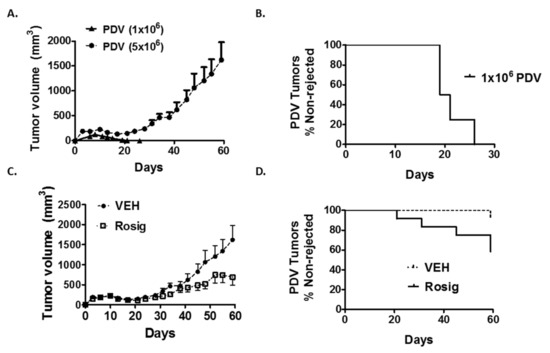 Figure 1
This is an open access article distributed under the
Creative Commons Attribution License
which permits unrestricted use, distribution, and reproduction in any medium, provided the original work is properly cited (CC BY 4.0).

Share & Cite This Article
MDPI and ACS Style
Konger, R.L.; Derr-Yellin, E.; Ermatov, N.; Ren, L.; Sahu, R.P. The PPARγ Agonist Rosiglitazone Suppresses Syngeneic Mouse SCC (Squamous Cell Carcinoma) Tumor Growth through an Immune-Mediated Mechanism. Molecules 2019, 24, 2192.
Note that from the first issue of 2016, MDPI journals use article numbers instead of page numbers. See further details here.
Related Articles
Comments
[Return to top]