Microbiological Evaluation of 5 L- and 20 L-Transparent Polypropylene Buckets for Solar Water Disinfection (SODIS)
1
CIEMAT-Plataforma Solar de Almería, 04200 Tabernas, Almería, Spain
2
Laboratory of Parasitology, Department of Microbiology and Parasitology, Faculty of Pharmacy, University of Santiago de Compostela, 15782 Santiago de Compostela, Spain
3
Institute of Food Research and Analysis, University of Santiago de Compostela, 15782 Santiago de Compostela, Spain
4
Department of Civil and Environmental Engineering, University of Strathclyde, Glasgow G1 1XQ, UK
5
School of Art, Design and Performance, Buckinghamshire New University, High Wycombe HP11 2JZ, UK
6
Department of Environmental Health, University of Malawi, Malawi
7
Department of Physiology and Medical Physics, Royal College of Surgeons in Ireland (RCSI), DO2 YN77 Dublin, Ireland
8
NIBEC, School of Engineering, Ulster University, Newtownabbey BT37 0QB, Northern Ireland, UK
*
Authors to whom correspondence should be addressed.
Academic Editor: Davide Vione
Received: 3 April 2019 / Revised: 4 June 2019 / Accepted: 7 June 2019 / Published: 11 June 2019
Abstract
Background: Solar water disinfection (SODIS) is an appropriate technology for household treatment of drinking water in low-to-middle-income communities, as it is effective, low cost and easy to use. Nevertheless, uptake is low due partially to the burden of using small volume polyethylene terephthalate bottles (1.5–2 L). A major challenge is to develop a low-cost transparent container for disinfecting larger volumes of water. (2) Methods: This study examines the capability of transparent polypropylene (PP) buckets of 5 L- and 20 L- volume as SODIS containers using three waterborne pathogen indicators:
Escherichia coli
, MS2-phage and
Cryptosporidium parvum
. (3) Results: Similar inactivation kinetics were observed under natural sunlight for the inactivation of all three organisms in well water using 5 L- and 20 L-buckets compared to 1.5 L-polyethylene-terephthalate (PET) bottles. The PP materials were exposed to natural and accelerated solar ageing (ISO-16474). UV transmission of the 20 L-buckets remained stable and with physical integrity even after the longest ageing periods (9 months or 900 h of natural or artificial solar UV exposure, respectively). The 5 L-buckets were physically degraded and lost significant UV-transmission, due to the thinner wall compared to the 20 L-bucket. (4) Conclusion: This work demonstrates that the 20 L SODIS bucket technology produces excellent bacterial, viral and protozoan inactivation and is obtained using a simple transparent polypropylene bucket fabricated locally at very low cost ($2.90 USD per unit). The increased bucket volume of 20 L allows for a ten-fold increase in treatment batch volume and can thus more easily provide for the drinking water requirements of most households. The use of buckets in households across low to middle income countries is an already accepted practice.
View Full-Text
►

▼

Figures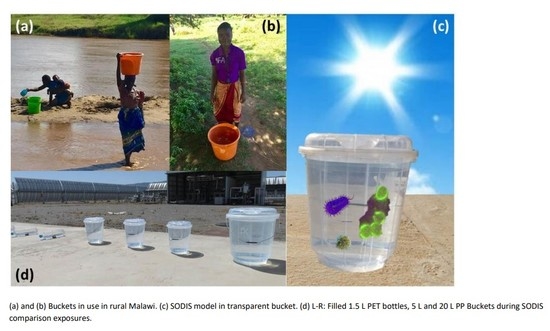 Graphical abstract
This is an open access article distributed under the
Creative Commons Attribution License
which permits unrestricted use, distribution, and reproduction in any medium, provided the original work is properly cited (CC BY 4.0).

Share & Cite This Article
MDPI and ACS Style
Polo-López, M.I.; Martínez-García, A.; Abeledo-Lameiro, M.J.; H. Gómez-Couso, H.; E. Ares-Mazás, E.; Reboredo-Fernández, A.; Morse, T.D.; Buck, L.; Lungu, K.; McGuigan, K.G.; Fernández-Ibáñez, P. Microbiological Evaluation of 5 L- and 20 L-Transparent Polypropylene Buckets for Solar Water Disinfection (SODIS). Molecules 2019, 24, 2193.
Note that from the first issue of 2016, MDPI journals use article numbers instead of page numbers. See further details here.
Related Articles
Comments
[Return to top]