Combined Minimum-Run Resolution IV and Central Composite Design for Optimized Removal of the Tetracycline Drug Over Metal–Organic Framework-Templated Porous Carbon
1
Center of Excellence for Green Energy and Environmental Nanomaterials (
[email protected]
), Nguyen Tat Thanh University, 300A Nguyen Tat Thanh, District 4, Ho Chi Minh City 755414, Vietnam
2
NTT Hi-Tech Institute, Nguyen Tat Thanh University, 300A Nguyen Tat Thanh, District 4, Ho Chi Minh City 755414, Vietnam
3
Department of Pharmacy, Nguyen Tat Thanh University, 298–300A Nguyen Tat Thanh, Ward 13, District 4, Ho Chi Minh City 700000, Vietnam
4
Institute of Hygiene and Public Health, 159 Hung Phu, Ward 8, District 8, Ho Chi Minh City 700000, Vietnam
5
Center of Excellence for Functional Polymers and Nano-Engineering, Nguyen Tat Thanh University, 300A Nguyen Tat Thanh, District 4, Ho Chi Minh City 755414, Vietnam
6
Faculty of Chemical & Natural Resources Engineering, University Malaysia Pahang, Lebuhraya Tun Razak, 26300 Gambang, Kuantan, Pahang, Malaysia
7
Department of Display Engineering, Pukyong National University, Nam-Gu, Busan 608-737, Korea
*
Author to whom correspondence should be addressed.
Academic Editor: Takei Takahiro
Received: 4 March 2019 / Revised: 25 April 2019 / Accepted: 7 May 2019 / Published: 16 May 2019
Abstract
In this study, a minimum-run resolution IV and central composite design have been developed to optimize tetracycline removal efficiency over mesoporous carbon derived from the metal-organic framework MIL-53 (Fe) as a self-sacrificial template. Firstly, minimum-run resolution IV, powered by the Design–Expert program, was used as an efficient and reliable screening study for investigating a set of seven factors, these were: tetracycline concentration (A: 5–15 mg/g), dose of mesoporous carbons (MPC) (B: 0.05–0.15 g/L), initial pH level (C: 2–10), contact time (D: 1–3 h), temperature (E: 20–40 °C), shaking speed (F: 150–250 rpm), and Na
+
ionic strength (G: 10–90 mM) at both low (−1) and high (+1) levels, for investigation of the data ranges. The 20-trial model was analyzed and assessed by Analysis of Variance (ANOVA) data, and diagnostic plots (e.g., the Pareto chart, and half-normal and normal probability plots). Based on minimum-run resolution IV, three factors, including tetracycline concentration (A), dose of MPC (B), and initial pH (C), were selected to carry out the optimization study using a central composite design. The proposed quadratic model was found to be statistically significant at the 95% confidence level due to a low
P
-value (<0.05), high R
2
(0.9078), and the AP ratio (11.4), along with an abundance of diagnostic plots (3D response surfaces, Cook's distance, Box-Cox, DFFITS, Leverage versus run, residuals versus runs, and actual versus predicted). Under response surface methodology-optimized conditions (e.g., tetracycline concentration of 1.9 mg/g, MPC dose of 0.15 g/L, and pH level of 3.9), the highest tetracycline removal efficiency via confirmation tests reached up to 98.0%–99.7%. Also, kinetic intraparticle diffusion and isotherm models were systematically studied to interpret how tetracycline molecules were absorbed on an MPC structure. In particular, the adsorption mechanisms including "electrostatic attraction" and "π–π interaction" were proposed.
View Full-Text
►

▼

Figures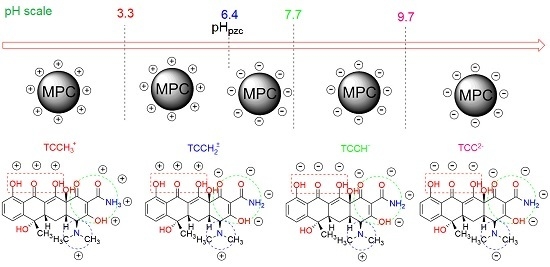 Graphical abstract
This is an open access article distributed under the
Creative Commons Attribution License
which permits unrestricted use, distribution, and reproduction in any medium, provided the original work is properly cited (CC BY 4.0).

Share & Cite This Article
MDPI and ACS Style
Tran, T.V.; Nguyen, D.T.C.; Le, H.T.N.; Bach, L.G.; Vo, D.-V.N.; Lim, K.T.; Nong, L.X.; Nguyen, T.D. Combined Minimum-Run Resolution IV and Central Composite Design for Optimized Removal of the Tetracycline Drug Over Metal–Organic Framework-Templated Porous Carbon. Molecules 2019, 24, 1887.
Note that from the first issue of 2016, MDPI journals use article numbers instead of page numbers. See further details here.
Related Articles
Comments
[Return to top]