Dietary Supplementation of Vine Tea Ameliorates Glucose and Lipid Metabolic Disorder via Akt Signaling Pathway in Diabetic Rats
1
Institute of Medicinal Plant Development, Chinese Academy of Medical Sciences and Peking Union Medical College, Beijing 100193, China
2
Key Laboratory of Bioactive Substances and Resources Utilization of Chinese Herbal Medicine, Ministry of Education, Beijing 100193, China
3
Key Laboratory of Cosmetic, China National Light Industry, Beijing Technology and Business University, Beijing 100048, China
*
Authors to whom correspondence should be addressed.
Academic Editor: Leticia M. Estevinho
Received: 15 April 2019 / Revised: 9 May 2019 / Accepted: 12 May 2019 / Published: 15 May 2019
Abstract
A traditional Chinese tea with many pharmacological effects, vine tea (VT) is considered a potential dietary supplement to improve type 2 diabetes (T2D). To investigate the effect and mechanism of VT on glucose and lipid metabolic disorders in T2D rats, Wistar rats fed a normal diet served as the normal control, while rats fed a high-fat diet combined with low-dose streptozotocin (STZ)-induced T2D were divided into three groups: The model group (MOD); the positive control group (MET, metformin at 200 mg/kg/d); and the VT-treated group (VT500, allowed to freely drink 500 mg/L VT). After four weeks of intervention, biochemical metrics indicated that VT significantly ameliorated hyperglycemia, hyperlipidemia and hyperinsulinemia in T2D rats. Metabolomics research indicated that VT regulated the levels of metabolites closely related to glucose and lipid metabolism and promoted glycogen synthesis. Furthermore, VT had a significant influence on the expression of key genes involved in the Akt signaling pathway, inhibited gluconeogenesis through the Akt/Foxo1/Pck2 signaling pathway, and reduced fatty acid synthesis via the SREBP1c/Fasn signaling pathways. In conclusion, VT has great potential as a dietary supplement to ameliorate glucose and lipid metabolic disorders via the Akt signaling pathway in T2D rats.
View Full-Text
►

▼

Figures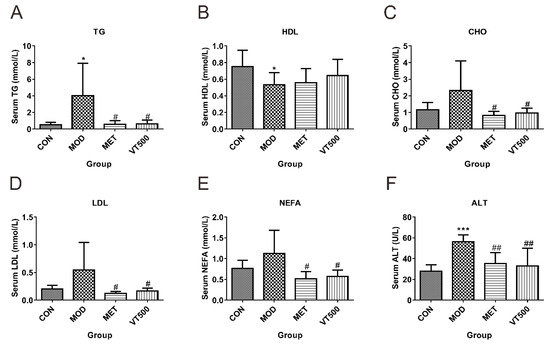 Figure 1
This is an open access article distributed under the
Creative Commons Attribution License
which permits unrestricted use, distribution, and reproduction in any medium, provided the original work is properly cited (CC BY 4.0).

Share & Cite This Article
MDPI and ACS Style
Xiang, J.; Lv, Q.; Yi, F.; Song, Y.; Le, L.; Jiang, B.; Xu, L.; Xiao, P. Dietary Supplementation of Vine Tea Ameliorates Glucose and Lipid Metabolic Disorder via Akt Signaling Pathway in Diabetic Rats. Molecules 2019, 24, 1866.
Note that from the first issue of 2016, MDPI journals use article numbers instead of page numbers. See further details here.
Related Articles
Comments
[Return to top]