Cucurbits

Plants: A Key Emphasis to Its Pharmacological Potential

1

Student Research Committee, School of Medicine, Bam University of Medical Sciences, Bam 44340847, Iran

2

Faculty of Chemical & Metallurgical Engineering, Food Engineering Department, Istanbul Technical University, 34469 Maslak, Turkey

3

Laboratoire de Biotechnologie Végétale et d'Ethnobotanique, Faculté des Sciences de la Nature et de la Vie, Université de Bejaia, Bejaia 06000, Algérie

4

Department of Plant Sciences, LCWU, Lahore 54000, Pakistan

5

G.B. Pant National Institute of Himalayan Environment & Sustainable Development Kosi-Katarmal, Almora 263 643, India

6

G.B. Pant National Institute of Himalayan Environment & Sustainable Development Garhwal Regional Centre, Srinagar 246174, India

7

Department of Clinical Pharmacy, University of Medicine and Pharmacy of Craiova, 200349 Craiova, Romania

8

Department of Toxicology, University of Medicine and Pharmacy of Craiova, 200349 Craiova, Romania

9

Mevsim Gida Sanayi ve Soguk Depo Ticaret A.S. (MVSM Foods), Turankoy, Kestel, 16540 Bursa, Turkey

10

Institute of Fermentation Technology and Microbiology, Lodz University of Technology, Wolczanska 171/173, 90-924 Lodz, Poland

11

Molecular and Applied Mycology and Plant Pathology Laboratory, Department of Botany, University of Calcutta, Kolkata 700019, India

12

Department of Botany, Fakir Chand College, Diamond Harbour, West Bengal 743331, India

13

Department of Medical Biology, Faculty of Medicine, Nigde Ömer Halisdemir University, Campus, 51240 Nigde, Turkey

14

Zabol Medicinal Plants Research Center, Zabol University of Medical Sciences, Zabol 61615-585, Iran

15

Department of Pharmacy, Faculty of Pharmacy, University of Concepcion, Concepcion 4070386, Chile

16

LEPABE, Department of Chemical Engineering, Faculty of Engineering, University of Porto, Rua Dr. Roberto Frias, s/n, 4200-465 Porto, Portugal

17

Department of Pharmaceutical Technology, Avicenna Tajik State Medical University, Rudaki 139, Dushanbe 734003, Tajikistan

18

Faculty of Medicine, University of Porto, Alameda Prof. Hernâni Monteiro, 4200-319 Porto, Portugal

19

Institute for Research and Innovation in Health (i3S), University of Porto, 4200-135 Porto, Portugal

20

Department of Agricultural Sciences, University of Naples Federico II, 80055 Portici, Italy

*

Authors to whom correspondence should be addressed.

Received: 2 April 2019 / Revised: 9 May 2019 / Accepted: 13 May 2019 / Published: 14 May 2019
Abstract
Cucurbita
genus has received a renowned interest in the last years. This plant species, native to the Americas, has served worldwide folk medicine for treating gastrointestinal diseases and intestinal parasites, among other clinical conditions. These pharmacological effects have been increasingly correlated with their nutritional and phytochemical composition. Among those chemical constituents, carotenoids, tocopherols, phenols, terpenoids, saponins, sterols, fatty acids, and functional carbohydrates and polysaccharides are those occurring in higher abundance. However, more recently, a huge interest in a class of triterpenoids, cucurbitacins, has been stated, given its renowned biological attributes. In this sense, the present review aims to provide a detailed overview to the folk medicinal uses of
Cucurbita
plants, and even an in-depth insight on the latest advances with regards to its antimicrobial, antioxidant and anticancer effects. A special emphasis was also given to its clinical effectiveness in humans, specifically in blood glucose levels control in diabetic patients and pharmacotherapeutic effects in low urinary tract diseases.
View Full-Text
►

▼

Figures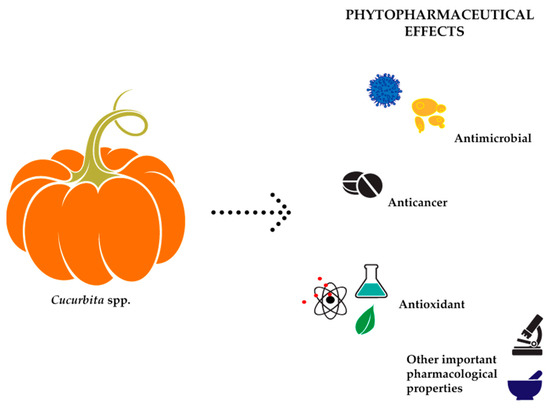 Figure 1
This is an open access article distributed under the
Creative Commons Attribution License
which permits unrestricted use, distribution, and reproduction in any medium, provided the original work is properly cited (CC BY 4.0).

Share & Cite This Article
MDPI and ACS Style
Salehi, B.; Capanoglu, E.; Adrar, N.; Catalkaya, G.; Shaheen, S.; Jaffer, M.; Giri, L.; Suyal, R.; Jugran, A.K.; Calina, D.; Docea, A.O.; Kamiloglu, S.; Kregiel, D.; Antolak, H.; Pawlikowska, E.; Sen, S.; Acharya, K.; Selamoglu, Z.; Sharifi-Rad, J.; Martorell, M.; Rodrigues, C.F.; Sharopov, F.; Martins, N.; Capasso, R. Cucurbits Plants: A Key Emphasis to Its Pharmacological Potential. Molecules 2019, 24, 1854.
Note that from the first issue of 2016, MDPI journals use article numbers instead of page numbers. See further details here.
Related Articles
Comments
[Return to top]