Phenolic Compounds in Honey and Their Associated Health Benefits: A Review
1
Dipartimento di Scienze Cliniche Specialistiche ed Odontostomatologiche (DISCO)-Sez. Biochimica, Facoltà di Medicina, Università Politecnica delle Marche, 60131 Ancona, Italy
2
Departamento de Química Analítica y Alimentaria, Grupo de Nutrición y Bromatología, Universidade de Vigo, 32004 Ourense, Spain
3
Center for Nutrition & Health, Universidad Europea del Atlántico (UEA), 39011 Santander, Spain;
[email protected]
(L.B.L.)
4
Department of Physiology, Institute of Nutrition and Food Technology "Jose Mataix", Biomedical Research Centre, University of Granada, Armilla, 18100 Granada, Spain
*
Authors to whom correspondence should be addressed.
Received: 29 August 2018 / Revised: 10 September 2018 / Accepted: 11 September 2018 / Published: 11 September 2018
Abstract
Honey is a natural substance appreciated for its therapeutic abilities since ancient times. Its content in flavonoids and phenolic acids plays a key role on human health, thanks to the high antioxidant and anti-inflammatory properties that they exert. Honey possesses antimicrobial capacity and anticancer activity against different types of tumors, acting on different molecular pathways that are involved on cellular proliferation. In addition, an antidiabetic activity has also been highlighted, with the reduction of glucose, fructosamine, and glycosylated hemoglobin serum concentration. Honey exerts also a protective effect in the cardiovascular system, where it mainly prevents the oxidation of low-density lipoproteins, in the nervous system, in the respiratory system against asthma and bacterial infections, and in the gastrointestinal system. A beneficial effect of honey can also be demonstrated in athletes. The purpose of this review is to summarize and update the current information regarding the role of honey in health and diseases.
View Full-Text
►

▼

Figures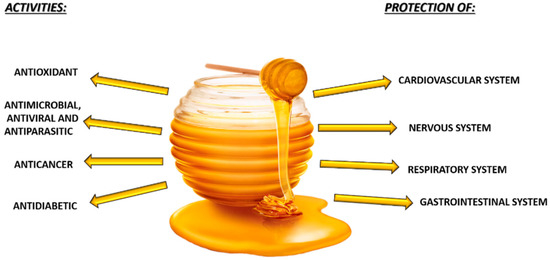 Figure 1
This is an open access article distributed under the
Creative Commons Attribution License
which permits unrestricted use, distribution, and reproduction in any medium, provided the original work is properly cited (CC BY 4.0).

Share & Cite This Article
MDPI and ACS Style
Cianciosi, D.; Forbes-Hernández, T.Y.; Afrin, S.; Gasparrini, M.; Reboredo-Rodriguez, P.; Manna, P.P.; Zhang, J.; Bravo Lamas, L.; Martínez Flórez, S.; Agudo Toyos, P.; Quiles, J.L.; Giampieri, F.; Battino, M. Phenolic Compounds in Honey and Their Associated Health Benefits: A Review. Molecules 2018, 23, 2322.
Note that from the first issue of 2016, MDPI journals use article numbers instead of page numbers. See further details here.
Related Articles
Comments
[Return to top]